Sulfur cream is a topical treatment used to treat and relieve the symptoms of various skin problems, including acne, seborrheic dermatitis, scabies, rosacea, eczema and some fungal infections. It inhibits the growth of bacteria, has anti-fungal properties and exfoliates the skin. Some creams require a prescription while others are available over the counter. Sulfur has a long history of medicinal use, and creams containing sulfur have been used for decades to treat regular acne as well as more serious inflammatory acne and acne lesions. Other active ingredients for treating the skin, like salicylic acid or sulfacetamide, are commonly added to sulfur creams, partly to counteract the strong, unpleasant odor of the sulfur itself.
When the cream is applied, the sulfur reacts with substances in the skin to produce hydrogen sulfide, an antibacterial agent that also has anti-inflammatory properties and causes the skin to shed dead cells. This combination of antibacterial, anti-inflammatory, anti-fungal and exfoliating properties is what makes the cream an effective treatment for so many skin conditions. One advantage of sulfur cream compared to some other antibacterial skin treatments is that it can be used for a prolonged period of time or even indefinitely.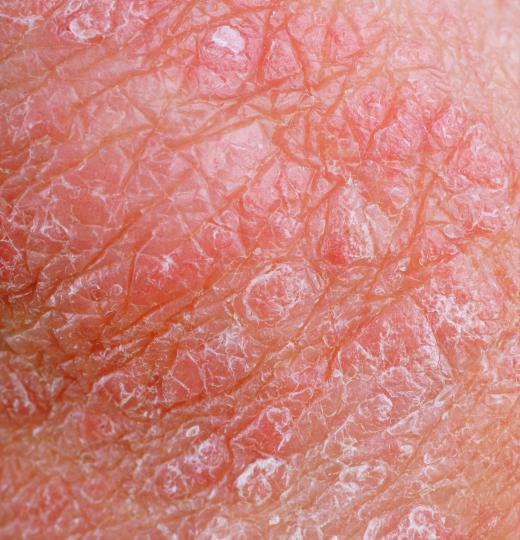 Sulfur cream has few serious side effects, but can cause redness, dry skin, and skin irritation. These side effects are usually mild. Only rarely does this cream produce more serious problems like a rash, swelling, dizziness or itching. If one experiences these symptoms, it is best to consult a medical professional.
The cream should be applied to clean, dry skin and then left on for 24 hours. It is important not to wash the treated area during that time. Sulfur cream should not be applied to broken skin, and one should avoid getting it in the nose, mouth or eyes. It is also advisable to avoid using abrasive soaps or cleansers, cosmetics or skin care products containing alcohol while using this cream.
Sulfur cream is an effective treatment for scabies, a condition where tiny mites burrow into the skin. Creams used to treat scabies usually contain a 10% solution of sulfur for adults or 2.5% for infants. The cream has to be applied to the entire body after washing and drying and then has to be left on the skin, without further washing, for 24 hours. This treatment has to be repeated for several days. Sulfur is also available as an ingredient in lotions, ointments and soaps.
AS FEATURED ON:
AS FEATURED ON:

By: quayside

Sulfur cream can help relieve the symptoms of eczema.

By: picsfive

It's advised to use mild alcohol-free skin care products while using sulfur cream.

By: robert mobley

Sulfur-based over the counter rosacea treatment options are very popular.

By: agephotography

Sulfur cream can help treat some types of fungal infections.

By: Ocskay Bence

Sulfur cream might be used to treat acne.

By: ipag

Sulfur acne treatments should be used in conjunction with a regular skincare routine designed to prevent breakouts.