What is the Difference Between a Wart and a Mole?
A wart and a mole can look similar, but these two skin abnormalities are actually very different. They are caused by different things, and when examined closely, they are often different in appearance and texture. Also, though both can be removed, warts can generally be removed at home with simple home remedies, while most moles can be quite difficult to remove without the help of a medical professional.
Probably the biggest difference between a wart and a mole is the causes. A wart is caused by a viral infection of a small clump of skin cells. Although it is rare, warts can be spread from one person to another by direct contact.
Moles are not considered to be contagious; they cannot be spread to another person, either by direct contact or any other method. They are mostly made up of a clump of skin pigment cells, known as melanocytes. Most scientists believe that moles are genetic, and they often appear after prolonged exposure to sunlight.
Warts are raised bumps on the skin and can often be found on the feet, hands, and arms of an infected person. They are generally white or very pale in color. The top of the bump can feel smooth, like a blister, but many times it will feel bumpy, like cauliflower. Also, a wart will usually feel harder than the skin around it, and some may even be painful.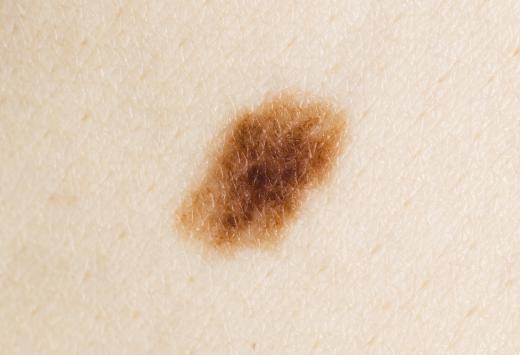 A mole hardly ever causes pain. Unlike a wart, a mole will usually feel just like the skin that surrounds it. Most moles will be darker, however, and some will be raised. Hair can also be found growing out of a mole, but it is extremely rare to find hair on a wart.
Another major difference between a wart and a mole is the length of time that it stays on a person's skin. After a wart appears, it will usually be there anywhere from a few weeks to several years. Warts will often disappear on their own without any type of treatment. Moles, on the other hand, are usually permanent and rarely disappear without some type of medical or cosmetic procedure.
Wart removal rarely involves anything more complicated than an at-home remedy. One folk remedy for removing a wart involves covering it with a small piece of duct tape for an extended length of time. Topical, over-the-counter medicines are also sold to get rid of warts, and these are applied directly to the wart and are available in liquid, cream, or bandage forms. Although there are some products that claim to remove moles at home, a surgical procedure is usually necessary.
AS FEATURED ON:
AS FEATURED ON:

A skin mole.

Flat skin mole.

By: Tiler84

Warts on a hand.

By: leschnyhan

A person applying medicine to a wart.

By: paulandlara

A raised mole.

By: donatellina

Woman with a mole above her upper lip.

By: Fly_dragonfly

Most moles can be difficult to remove without the help of a medical professional.