What Is the Difference between Ketoprofen and Ibuprofen?
Ketoprofen and ibuprofen are drugs that alleviate pain and swelling in similar ways. Though they have the same primary effect on a patient's body, these drugs are chemically different from one another, and patients who have had an adverse reaction to one of these medications may be able to tolerate the other without any problem. These drugs may also cause different side effects and may be used for different purposes.
The main difference between ketoprofen and ibuprofen is the chemical structure of each drug. Like many other organic substances, both of these drugs are made from a mixture of carbon, hydrogen and oxygen atoms, but these atoms occur in different proportions and arrangements in each of the drugs. The chemical formula for ibuprofen is C13H18O2 while the formula for ketoprofen is C16H14O3.
These slightly different structures allow these substances to block pain in slightly different ways. Doctors aren't exactly sure how any non-steroidal anti-inflammatory drugs (NSAIDs) work, but they do know that many of these drugs stop COX-1 and COX-2 enzymes from creating other enzymes that lead to swelling. With the swelling reduced, the pain associated with this swelling naturally goes away.
Another difference between ketoprofen and ibuprofen is the type of side effects that each produces. Ketoprofen may cause side effects not usually associated with ibuprofen, such as headache, difficulty sleeping, and the development of mouth sores. Patients who are having a severe reaction to ibuprofen may also have side effects, such as confusion, aggression, or redness in the eyes that patients having a similarly severe reaction to ketoprofen are not likely to display.
The availability of ketoprofen and ibuprofen also sets these two drugs apart. Ibuprofen is readily available in both prescription strength and over-the-counter strength throughout the world. Ketoprofen is available in many nations as a prescription medication, but it is not always available over-the-counter. It is also common for ketoprofen to be used in veterinary medicine, whereas ibuprofen is usually avoided because it is toxic to many animals.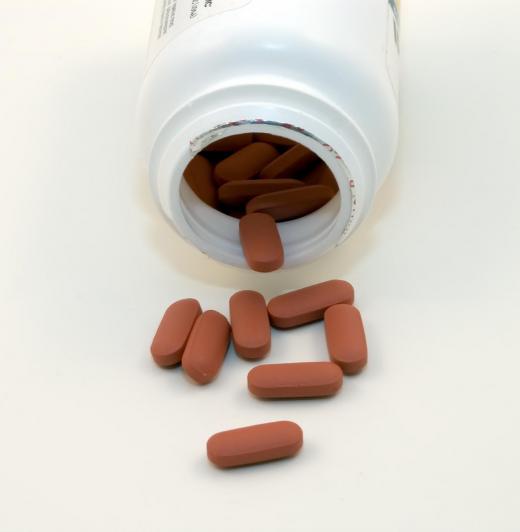 Despite the differences between ketoprofen and ibuprofen, these two medications are relatively similar in the way that they affect patients. Both are NSAIDs that are used to reduce pain, swelling, and fever. They are commonly prescribed to patients with arthritis, injury, or pain due to menstruation. These drugs can also be given to reduce fever, such as that caused by influenza.
AS FEATURED ON:
AS FEATURED ON:

By: Mitarart

Side effects of ketoprofen may include insomnia.

By: uwimages

Side effects of ketoprofen may include mouth sores.

By: Syda Productions

Side effects of ketoprofen may include headache.

By: Richard Seeney

Ibuprofen.

By: evgenyatamanenko

Ibuprofen is often used to relieve fever.