What is the Difference Between Skin Tags and Moles?
Skin tags and moles are both skin growths, but skin tags are always benign and moles sometimes precede the development of melanoma. Generally, these growths are not treated unless there is a pressing reason to do so, such as aesthetic concerns or worries that a growth has become cancerous. Perhaps the key visible difference is that skin tags tend to protrude, while moles are flatter, with a raised surface area.
In the case of skin tags, the growth consists of a benign tumor, usually close to the patient's natural skin color, developing in the form of a flap. These growths can appear anywhere in the body, alone or in clusters. Moles are patches of darker skin that typically become rough and raised over time, sometimes also developing unusually long hair. Some moles are congenital, while others appear later in life, in contrast with skin tags, which always develop as people grow older.
Both skin tags and moles can look unsightly. They can also both be removed in an office procedure by a dermatologist, with cryosurgery being a very common approach to removing unwanted growths. In this procedure, a freezing probe is applied to the growth, causing the cells to explode and die. Within a few days, they will slough off, leaving clean skin behind.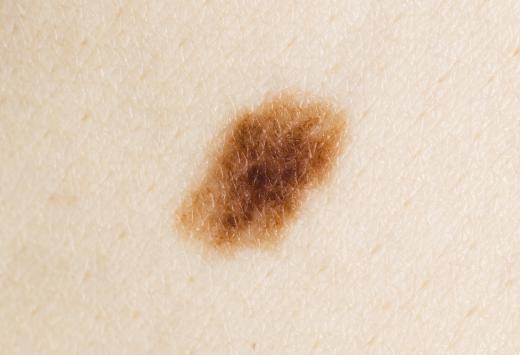 People typically ask for skin tag removal if the protrusions are attracting unwanted attention or causing problems by catching on clothing. In the case of moles, a medical professional may recommend removal and biopsy if it changes color, texture, or shape in a very short period of time since these can be signs of a malignancy. The medical professional will completely remove the mole at the same time a biopsy sample is collected; if the growth does turn out to be malignant, the first step in treatment has already been taken.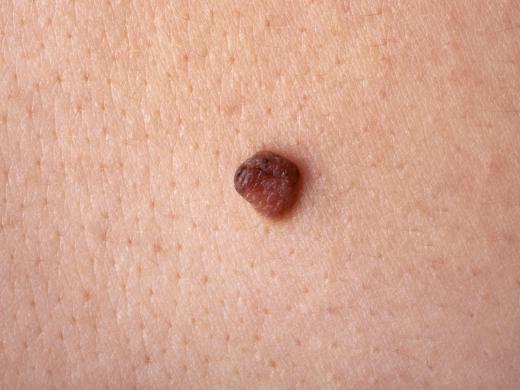 Sometimes, skin tags and moles can look ambiguous, especially if a person hasn't noticed a growth before. A dermatologist can inspect the site to determine what kind of growth is involved and make treatment recommendations to address the issue. A wait and see approach may be recommended to see if the growth changes before aggressive treatments are pursued. People with a history of either type of growth should also have it noted in their charts so new healthcare providers know that they have been documented and discussed.
AS FEATURED ON:
AS FEATURED ON:

By: WavebreakmediaMicro

A doctor may recommend removal and biopsy of a mole to determine if it is malignant.

Flat skin mole.

By: paulandlara

A raised mole.

By: donatellina

Woman with a mole above her upper lip.

By: bertys30

Moles may be malignant if they are asymmetrical, have irregular borders, appear to spread their color into surrounding skin or change in appearance.