What Is the Father Complex?
A "father complex" refers to a collection of ideas surrounding the archetype of the father. These associations develop unconsciously through interactions with a father or father figure and exposure to different models of parenting. Some may be positive in nature, while others may be negative; someone who grows up in an abusive household, for example, may have a father archetype that is violent and angry, and may develop a fear or mistrust of father figures. In many schools of psychotherapy, patients may be encouraged to explore the complexes that influence their interactions with the world so they can come to a deeper understanding of themselves.
Carl Gustav Jung and Sigmund Freud, two psychologists who worked in the early 20th century, famously contributed substantial scholarship to the concept of complexes. Their followers built on these ideas, integrating them into many different branches of psychology and psychoanalysis. Freud famously posited that men experienced a type of father complex known as the Oedipus Complex, named for the Greek play Oedipus Rex. His theory suggested that men experienced jealousy of their fathers, wanting to kill them and sleep with their mothers. He felt that boys experienced this as a natural part of their development, and resolved it by identifying with their fathers as they matured.
The father complex can influence the way people think about fathers and father figures, although they are not consciously aware of it. A person who views the father as a supportive, protective mentor, for example, may seek out father figures and feel comfortable with men who are similar to this archetype. Someone with negative associations might be uncomfortable around men who are reminders of the father; thus, an employee might have a conflicted relationship with a supervisor because of an underlying father complex, for instance.
Other complexes can surround the perception of mothers, siblings, and other important figures in someone's life. In psychotherapy, people may discuss the associations they have built up around these archetypes. This can be an important step in therapy to break down an archetype or repair conflicted relationships with people. The father complex, for example, could interfere with a marital relationship or might become a problem when someone is preparing to become a parent.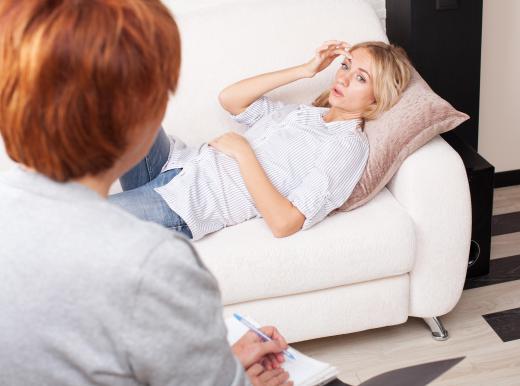 Not all schools of psychology embrace the complex model, and those that do may have differing approaches to it. Freud and Jung themselves debated the role and nature of complexes; they were more central to Freud's work, for example, while Jung discussed them more tangentially. These variations in psychological theory illustrate the divergence of this branch of scholarship over time.
Father Complex in Females
Carl Jung expanded upon Freud's concept of the Oedipus complex. His research suggested that girls can fixate on their fathers similar to how boys fixate on their mothers. Jung dubbed this notion "the Electra complex." When an Electra complex goes unresolved, a girl may experience challenges with forming and maintaining healthy relationships as an adult.
Women who develop a father complex are commonly described as having "daddy issues," a colloquial term that refers to the lingering effects of a girl's relationship with her father. Typically, this relationship is characterized by abuse, neglect or abandonment. The damaging repercussions of a harmful dynamic between daughters and their fathers are long-lasting. They manifest in adulthood in a variety of ways, including self-destructive behaviors and toxic romantic partnerships.
Conversely, when a girl has a loving and attentive father, the complex has a positive impact on her self-image and how she views and connects with men throughout her life. It's widely accepted that father-daughter relationships, whether good or bad, substantially influence a woman's determination of self-worth and her expectations of others, particularly men.
Father Complex in Males
Father complexes affect males differently than females. The nature of a father's involvement in a girl's life shapes how she responds to and interacts with men. For boys, fathers serve as role models for how to conduct themselves as men in all aspects of life.
Men with abusive, absent or emotionally unavailable fathers may experience the following difficulties in adulthood:
Poor work ethic
Mistreatment of women
Attachment issues
Low self-esteem
Career failure
Social ineptitude
Insufficient parenting skills
Healthy and emotionally satisfying father-son relationships enable boys to grow into confident, well-adjusted men. A father who is supportive and affectionate instills in his son attributes that define a good husband and father.
Father Complex in Relationships
Regardless of gender, a child who is insecurely attached to his or her father is likely to carry attachment issues into adult relationships, both platonic and romantic. There are three main insecure attachment styles that have predictable behavior patterns.
1. Fearful-Avoidant Attachment
Parents are a child's primary source of comfort and stability. Children cannot securely bond with fathers who display abusive, erratic or neglectful behaviors. Consequently, they grow into adults who are distrustful and approach relationships with extreme caution. People with this attachment style tend to run from commitment and intimacy rather than risk being hurt.
2. Dismissive-Avoidant Attachment
Attachment styles are rooted in childhood experiences. Dismissive-avoidant attachment can stem from a father who repeatedly fails to meet his child's needs. As a result, the child becomes conditioned to believe that other people cannot be relied upon. Adults in this camp appear self-sufficient, but their tendency to put up walls and withdraw at the first sign of closeness also makes them seem standoffish. Extreme self-reliance prevents dismissive avoiders from building meaningful connections with others.
3. Anxious-Preoccupied Attachment
Individuals abandoned by their fathers may develop a fear of being left. They are desperate for closeness, but constantly worry that their partners will also leave them. This anxiety is expressed through needy and clingy behaviors.
AS FEATURED ON:
AS FEATURED ON:

The Oedipal Complex, developed by Sigmund Freud, suggested that a child might idealize the opposite-gender parent while wanting to eliminate the same sex parent.

By: michaeljung

In psychotherapy, patients are encouraged to discuss perceptions and complexes related to their fathers and other relatives.

By: Tatyana Gladskih

Psychotherapy may deal with the positive and negative associations a patient has with certain archetypes.

By: Ilike

Children may develop a father complex that affects their relationships and behaviors throughout life.