What Is the Interaction between Tramadol and Xanax®?
Tramadol and Xanax® (alprazolam) interact because both medications are central nervous system (CNS) and respiratory depressants. Both drugs cause symptoms like tiredness, dizziness, sleepiness, and slowed or shallower breathing. The similar actions of the two drugs mean they can amplify each other's effects. The two drugs can be used together, but simultaneous use requires caution in the form of physician guidance.
Tramadol is an opioid prescribed for pain relief and Xanax® is a benzodiazepine most often used to treat anxiety. Opioids and benzodiazepines stimulate different receptors. Benzodiazepines influence GABA receptors, while opioids act on mu-receptors. It's been theorized that the close proximity of GABA and mu-receptors enhances interactivity between these two types of drugs.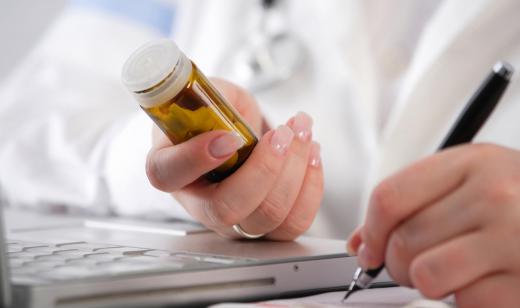 Sometimes this interaction is a good thing. Larger doses of these two drug types may be used in anesthesia. In combination they can produce a more desirable sedating effect. Smaller doses could help to prevent addiction to either drug, and might be appropriate when people have symptoms of both pain and anxiety.
The principal concern about tramadol and Xanax® is that their interaction may endanger improperly supervised patients who take too much of either drug. Larger doses of the two taken together could cause death. Drugs like these that impact breathing may cause sleep apnea, from which people may be too sedated to wake. Most of the time when people have a stop-breathing episode they return to consciousness enough to resume breathing. The cumulative effect of these drugs could cause too much sedation, risking the chance that people won't wake up enough to recommence breathing.
This scenario is unlikely when patients take the prescribed amounts of tramadol and Xanax® under a doctor's supervision. There are variables that can affect the degree of CNS and breathing depression when these medications are used together. Long-term users of Xanax® tend to have fewer CNS and breathing depression symptoms because they've usually built up tolerance.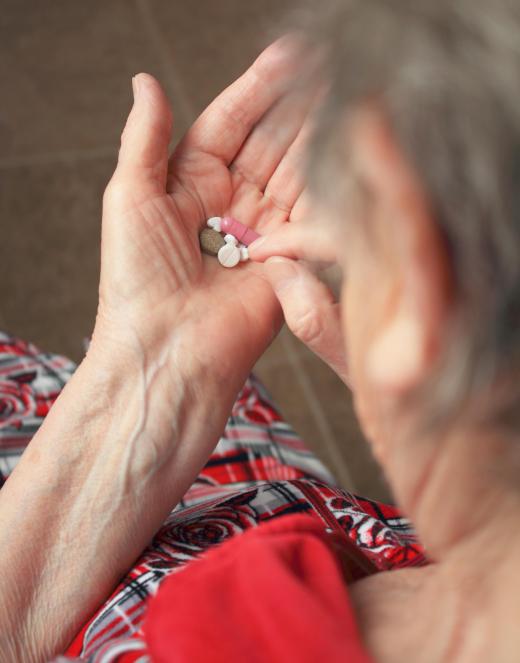 The greater risk of tramadol and Xanax® interaction occurs when use of both drugs is relatively new or when patients take more medicine than is directed. The possibility of dangerous side effects increases with higher doses of each drug. Drugs like Xanax® are notoriously overused because people do build tolerance to them quickly and end up requiring higher doses to achieve the same effects.
Another risk occurs when patients employ a practice called doctor shopping. Patients sometimes get medications from several different doctors, without informing each new physician about other drugs they are using. Doctors may recommend dangerous doses when they think a patient is not taking other medications.
When tramadol and Xanax® are taken together they are likely to interact. Physicians may lower doses of one or both drugs to reduce the effects of the interaction. Patients should always let doctors know about any prescribed medicines, over-the-counter drugs, and herbal or vitamin supplements they use to minimize potential problems. Doctors may also want to exercise a greater level of supervision over patients who are taking these two medications.
Can You Take Tramadol and Xanax Together?
Under the guidance of a doctor, yes these drugs can be taken together in a way that doesn't cause overdose or other negative interactions. These drugs, or similar ones, are often taken together in a regimen prescribed by a doctor for patients who have certain conditions.
These two drugs have a high probability of abuse. Doctors will need to monitor their patients closely, usually with a coinciding drug testing regimen through blood or urine. In some cases, a doctor might specifically request a drug test from patients who take Tramadol or Xanax to curtail abuse.
Is a Xanax and Tramadol Overdose Possible?
It is possible to overdose from taking too much of these two drugs together. Either one of these drugs on its own can cause paralysis, seizure, or death if a patient ingests too much. These are popularly known to be a lethal combination of drugs; a benzodiazepine mixed with an opiate. One drug causes the body to relax too much, while the other causes the body to go unconscious.
The interaction of these two drugs has been studied for a long time. Not just these specific drugs, but the families that these drugs belong to have a long history of pairing together to increase the intensity felt in the patient.
The receptors that these drugs interact with are close cousins, however, the actual reason behind increased abuse for these two drugs in combination is mostly unknown. Common sense indicates that people enjoy these two drugs, and in combination, they seem to amplify euphoria. It shouldn't be a mystery why people tend to abuse these drugs and the methods of obtaining them.
How Many Hours Between Tramadol and Xanax Ingestion?
Always follow the instructions given to you by your physician. If you are meant to mix these two drugs together, then there is no amount of time that needs to elapse before taking one and then the other.
Doctors will likely recommend six hours in-between doses, but can easily vary depending on age, weight, sex, and the reason for prescribing the drug. Your doctor might recommend one of the drugs taken early in the day, and the other drug later in the day. Pay attention to the directions to be certain that mixing the drugs is a legitimate part of the prescription.
The euphoric and drowsy effects noticed from taking Tramadol or Xanax can last as long as six hours. Doctors will rarely recommend taking these medications in higher frequencies than this, unless the treatment is for highly acute episodes, such as panic attacks or post-surgery pains.
What Drugs Are Similar to Tramadol and Xanax?
In case you are learning about a loved one's medications or you are learning about your own prescription, it's handy to know what family of drugs a pill comes from. Other similar medicines from the same family should be treated with similar caution.
Tramadol is from a family of drugs known as opioids.
Similar Opioids
Xanax is from a family of drugs known as benzodiazepines.
Similar Benzos
Valium
Klonopin
Ativan
Librium
AS FEATURED ON:
AS FEATURED ON:

By: emiliau

Doctors should carefully look at a patient's other medications before prescribing drugs that commonly interact.

By: ivolodina

Xanax® causes some people to feel lethargic and overly sedated.

By: krutoeva

The interaction between tramadol and Xanax can be particularly dangerous for seniors.

By: Ambrose

Although commonly used to treat pain, some side effects of taking Tramadol can be beneficial in treating premature ejaculation.

By: Alliance

Both tramadol and Xanax may cause tiredness and sleepiness as side effects.

By: Halfpoint

Taking tramadol and Xanax together without proper medical supervision can lead to an amplification of side effects, including severe sleepiness.

By: Gennadiy Poznyakov

Combining the wrong medications can lead to worsening of symptoms or dangerous interactions.