What Is the Lung Parenchyma?
Lung parenchyma is the medical term used to describe the actual functioning parts of a human or animal lung. It includes the alveolar walls as well as the blood vessels and the bronchi. If any part of the parenchyma becomes damaged or diseased, a person's life may be at risk. Other organs in the body also contain parenchyma and are susceptible to various diseases and conditions that may prove to be fatal if not diagnosed in a timely fashion and promptly treated.
Upon first hearing the term, some people think of lung parenchyma as primarily relating to the tissue lining the lung's air pockets or sacs, known as the alveoli. Lung parenchyma, however, more extensively involves the bronchioles or lung airways, as well as key blood vessels located inside of the lungs. Parenchyma in the lungs essentially includes all systems and tissues pertinent to the lung's healthy functioning.
All healthy humans and animals have lung parenchyma. In fact, parenchyma, defined as the parts which make an organ function, is also present in other parts of the body, such as the liver, spleen, brain and heart. Parenchyma simply refers to any part of an organ that is responsible for that organ working properly.
When testing for possible disease or infection, doctors examine all areas of the lung in search of irregularities. Not to be confused with lung parenchyma, people with lung parenchymal disease often suffer from conditions such as sarcoidoisis, characterized by tissue swelling and the formation of lumps in the tissue. Some people who are affected with sarcoidoisis located in the lung's parenchyma fully recover after receiving adequate medical treatment, but for other people such a condition may lead to chronic health problems or may even lead to death. While sarcoidoisis does occur in the parenchyma, it may also occur in other organs, such as the heart and the brain, and its origins are often unknown. Other conditions commonly found in the lung's parenchyma are emphysema and cancer.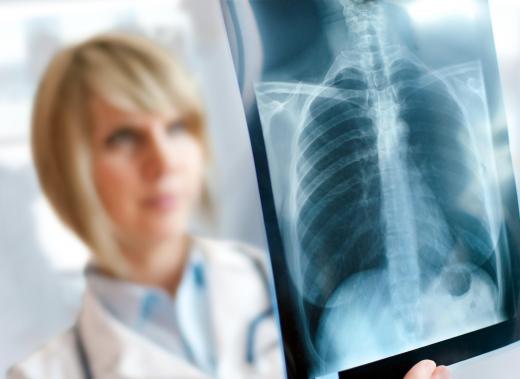 Diseased or infected lung parenchyma can severely inhibit a person's breathing and quality of life. It is possible for people to have sustained damage to the lung's parenchyma or to be affected by disease without immediately realizing that the lungs have been jeopardized. When symptoms do arise, many report feeling a shortness of breath, coughing, wheezing, a racing heart and chest pain. Health experts recommend that people experiencing these or similar symptoms seek immediate medical attention.
What Is Diffuse Parenchymal Lung Disease?
Diffuse Parenchymal Lung Disease (DPLD), also known as interstitial lung disease, is the medical term defining a large group of disorders that primarily affect the area surrounding the air sacs in the lungs. Hundreds of diseases within this group are characterized as causing some form of scar tissue within the lungs.
Environmental pollutants
Certain cancers
Exposure to radiation
Chemotherapy or other anti-inflammatory medications, and
Auto-immune disorders such as rheumatoid arthritis, scleroderma, or Sjogren's syndrome
Other risks include age, smoking, and severe gastroesophageal reflux. The cause of diffuse parenchymal lung diseases may be unknown, which is an idiopathic diffuse parenchymal disease.
Unfortunately, once scar tissue, or pulmonary fibrosis, has formed in the lungs, the damage is usually irreversible. Treatment for diffuse parenchymal lung diseases will depend on the severity of the damage caused. 
However, it usually includes medications that control inflammation, such as corticosteroids, oxygen therapy, and physical therapy aimed toward lung rehabilitation. In severe cases, surgery is also an option.
Healing Pulmonary Fibrosis
While there is no cure for pulmonary fibrosis, there are ways to help prevent more scar tissue from forming through rehabilitation. Pulmonary rehabilitation aims to help increase your lung capacity and elasticity with a regular fitness routine. Improving your fitness routine can help your lung muscles stay strong and healthy.
If you have trouble with breathlessness, your doctor may prescribe you oxygen treatment. Oxygen treatment, when used with rehabilitation exercise, can help reduce breathlessness and improve movement and breathing in daily life.
Your team of care providers and you can identify ways to help your specific needs. Treatments may also include lifestyle changes such as quitting smoking and altering your diet. Pulmonary fibrosis does not have to be a death sentence. Many people with pulmonary fibrosis live long lives with the help of doctors, nurses, and rehabilitation experts. 
Breathing exercises are another fantastic way to maintain your lung functionality. Taking a short 15-30 minute break from your day to do breathing exercises can positively impact your overall well-being and lung function. Breathing exercises help to strengthen the diaphragm and muscles involved in getting oxygen into the bloodstream. 
Foods Recommended For Maintaining Lung Health
There are many foods you can eat to help maintain healthy lung function. Maintaining a healthy and balanced diet full of vitamins and antioxidants can help improve lung function and positively impact your overall health. Here are some foods that you can add to your diet to help improve and maintain healthy lung function:
Coffee and Green Tea
Coffee and green tea are great additions to your diet in moderation. Both of these beverages contain caffeine which can help open up your blood vessels, allowing more oxygen to flow through your bloodstream. Green tea is rich in antioxidants that are known to have significant positive impacts on scar tissue and fibrosis.
Olive Oil
Olive oil contains rich anti-inflammatory antioxidants that can help protect and improve your lung function.
Apples, Tomatoes, and Peppers
Apples, tomatoes, and peppers are all rich in antioxidants, and vitamin C. Vitamin C is proven to have many positive health benefits, including protecting and strengthening the lungs.
Turmeric
Turmeric is known to have many health benefits associated with it, including anti-inflammatory properties and immune system support. 
Oysters and Other Fatty Fish
Some fish, such as anchovies, can help improve your lung function because they are full of Omega-3 fats, calcium, and iron, which all have positively impacted lung health. Additionally, oysters contain tons of essential nutrients for maintaining lung health, such as vitamin b12, copper, and zinc.
Dark Leafy Greens
Dark leafy greens such as swiss chard, kale, and spinach are full of magnesium. Magnesium is proven to help with inflammation and keep your airways clear and open. These leafy greens could also have protective properties against lung cancer and COPD. 
Cocoa
Everyone loves chocolate! Dark chocolate can help relax the airways and keep your lungs functioning smoothly when consumed in moderation. Cocoa contains large amounts of theobromine which helps to keep the airways clear and relaxed. 
Maintaining a balanced diet full of antioxidants and vitamins will help improve your lung function and health. Getting the nutrients you need while maintaining a regular fitness routine can protect you and your lungs against disease and infection.
AS FEATURED ON:
AS FEATURED ON:

By: psdesign1

Lung parenchyma can refer to the functioning parts of the human lung.

By: creo77

Emphysema is commonly found in the lung's parenchyma.

By: Aleksandar Todorovic

Infected lung parenchyma can affect a person's breathing.

By: Naeblys

Parenchyma in the lungs essentially includes all systems and tissues pertinent to the lungs' healthy functioning.

By: Creativa

Damage to the lung's parenchyma can cause symptoms like coughing and chest pain.

By: snapgalleria

Lung parenchyma includes the alveolar walls and the bronchi.

By: pankajstock123

Parenchyma is also present in other parts of the body, such as the liver.

By: CLIPAREA.com

Parenchyma is also present in the spleen.

By: jovannig

Infected lung parenchyma can severely impact a patient's quality of life.