What is the Pathophysiology of Lung Cancer?
The pathophysiology of lung cancer is a complicated issue. Genes that are influenced in the pathogenesis of lung cancer are proteins that are involved in a variety of processes including cell growth and differentiation, cell cycle processes, and angiogenesis, which is the formation of new blood vessels. The proteins also play a role in tumor progression, immune regulation, and apoptosis. Since the cells involved are complex and have such a broad range of functions, the pathophysiology of lung cancer has been hard to determine precisely.
It is estimated that up to 90% of all lung cancer cases are the result of cigarette smoking. Lung cancer accounts for the majority of all cancers worldwide, in both men and women. Besides cigarette smoking, other tobacco products such as pipe tobacco and cigars also contribute to the pathophysiology of lung cancer. Other toxins, such as radon, arsenic, and asbestos also seem to play a role, as does second-hand smoke. The World Health Organization (WHO) estimates that approximately 1.2 million cases of cancer worldwide are due to lung cancer.
There are other contributing risk factors as well including diet, genetic disposition, and possible pre-existing chronic obstructive pulmonary disorder (COPD). A diet high in fat intake has been found to contribute to an increased risk. Conversely, a diet high in fruits and vegetables has been associated with a reduced risk.
Lung cancers are generally classified as either small cell lung cancer (SCLC) or non-small cell lung cancer (NSCLC). Non-small cell lung cancers account for approximately 85% of all lung cancers. NSCLCs are further divided into three sub-categories: adenocarcinoma, large cell carcinoma, and squamous cell carcinoma. Adenocarcinoma is the most common type of NSCLC among non-smokers. SCLC is the lung cancer most associated with smoking, and almost all patients who have SCLC have a history of smoking.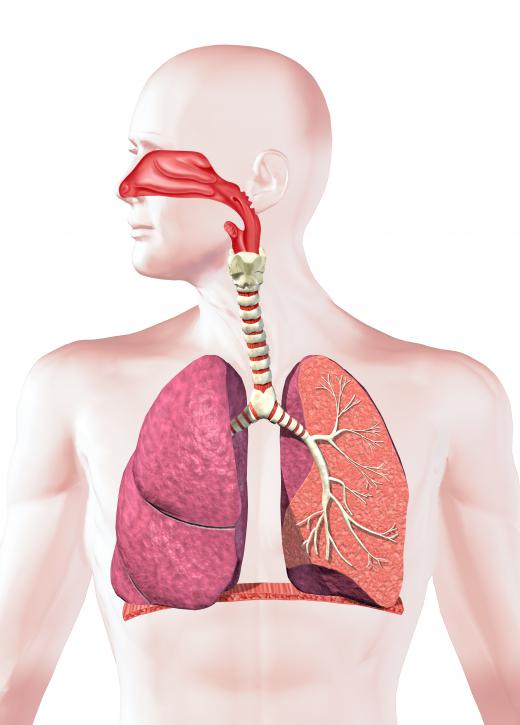 Regardless of the classification, the cancer that arises in the lung is the result of normal mucosal cells mutating into malignant cell structures. The pathophysiology of lung cancer is a very complex course, influenced by many factors. Progress is being made in understanding this very complex pathophysiological system, and as risk factors are identified and preventative measures are implemented, the medical community's knowledge and ability to prevent, diagnose, and treat lung cancers is also growing. Once some of the processes the genes and cells go through have been recognized, therapies and early detection will be possible.
AS FEATURED ON:
AS FEATURED ON:

By: Denys Rudyi

Cigarettes, which are closely associated with lung cancer.

By: pixelcaos

A human respiratory system.

By: derege

Some lung cancers require surgery.

By: Laurin Rinder

Pipe tobacco can be a contributor to the pathophysiology of lung cancer.

By: prudkov

Fatigue and depression can be early signs of lung cancer.

By: creo77

A chest X-ray can be used to confirm a lung cancer diagnosis.

By: Photographee.eu

Parents who smoke may expose their children to secondhand smoke that puts them at risk for developing lung cancer.

By: Aleksandar Todorovic

Chest pains and unexplained headaches may be symptoms of lung cancer.