What Is the Purpose of DNA Replication?
DNA replication, the process by which genetic information is duplicated, occurs in order to ensure that each cell in an organism has a complete and correct copy of the organism's genome, or "library" of genetic data. This occurs during each instance of cell division, the process by which a single cell divides into two cells. DNA, or deoxyribonucleic acid, is a chemical chain that exists in the shape of a double helix. The arrangement of the component parts, or nucleotides, of DNA provide coded instructions that govern almost every process that occurs within an organism. The process of DNA replication ensures that each cell contains a copy of these instructions and is, accordingly, able to function correctly within the organism.
At the most basic level, the purpose of this process is to duplicate the DNA within each cell during every cycle of cell division. One of the most important parts of this process is error checking and correction. A cell's DNA contains the instructions that govern the cell's protein production, growth, positioning, and many other factors. Even slight errors in replication can cause potentially harmful changes in the cell's behavior. As such, extensive and redundant error checking mechanisms are built into the replication process, ensuring that, despite the fact that replication occurs in many cells in the body at any given moment, errors are very rare.
DNA replication occurs in two different forms of cellular division. The first is mitosis, which serves all of the normal needs of growth, maintenance, and repair within an organism. In mitosis, a single cell divides into two, each with its own set of genetic information. A second type of cell division known as meiosis occurs to produce sex cells, such as egg and sperm cells. In this context, DNA replication occurs in order to supply the cells resulting from meiosis with genetic information to pass on to offspring.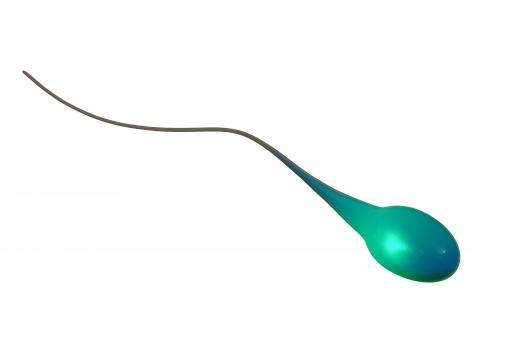 Some laboratory experiments require large-scale DNA replication of specific sequences of DNA rather than of an organism's entire genome. The process used to cause such large-scale DNA replication is referred to as a polymerase chain reaction, or PCR. A few copies of a particular sequence of DNA can be replicated many times until the number of copies of the sequence has increased by several orders of magnitude. This laboratory replication technique allows scientists to study particular sequences of DNA for a variety of purposes, including gene sequencing and diagnosis of genetic disorders.
AS FEATURED ON:
AS FEATURED ON:

By: Luk Cox

A cell dividing into two daughter cells.

By: fotoliaxrender

Sperm cells undergo the cell division process known as meiosis.

By: zentilia

DNA replication happens during each instance of cell division.

By: Monika Wisniewska

DNA is a chemical chain that exists in the shape of a double helix.

By: Darren Baker

Scientists can replicate and organism's entire genome or just specific sequences that appear in that genome.