What Is the Structure of the Circulatory System?
The structure of the circulatory system is a complex network of pumps and vessels that transports nutrients and oxygen throughout the body. Blood travels in a circular path through the circulatory system. The heart pumps blood to all parts of the body, and within about a minute, that blood returns to the heart to be pumped out once again. Blood carries a variety of materials to their destinations within the body, including oxygen and nutrients. All cells of the body get their resources from the circulatory system, either directly or indirectly, depending on their proximity to blood vessels.
Within the structure of the circulatory system, the heart is its center. The left side of the heart carries out systemic circulation, pumping blood to the body, and the right side of the heart pumps blood to the lungs, undergoing pulmonary circulation. Each side of the heart is composed of two chambers, one above the other, connected by valves which ensure that blood only flows in one direction. The top chamber is called the atrium, while the lower chamber is called the ventricle. Blood enters the heart through the atrium, then flows into the ventricle and is pumped out.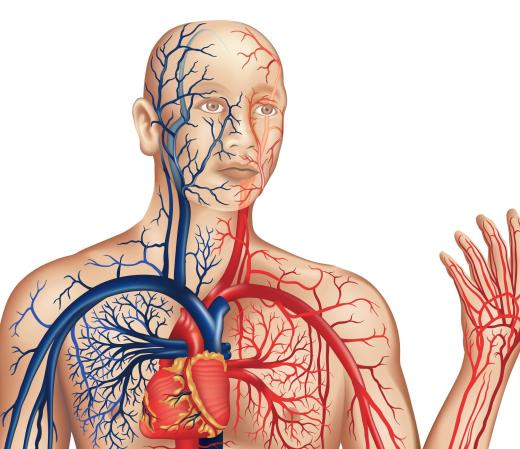 Vessels that carry oxygen-rich blood away from the heart are called arteries, which branch into smaller arterioles and finally into tiny capillaries that can only allow one blood cell to pass through at a time. Artery walls, and those of some arterioles, are quite thick so they can handle the pressure of the blood being pumped out of the heart. This is a particularly beneficial way in which the structure of the circulatory system is optimized; the extra thickness of the vessels near the heart provides protection against possible ruptures and major disruptions of the blood flow.
The vessels that carry oxygen-depleted blood back to the heart are called veins, and the smallest of these, which connect to the capillaries, are called venules. Veins and venules are thin-walled compared to arteries, because they are farther from the heart and don't need to be as strong to handle the pressure from blood flow. This is another optimization of the structure of the circulatory system, creating tubes that aren't reinforced when it isn't necessary. A popular misconception is that veins are blue, but they are actually not; they appear this way because of light refraction through the skin. The related idea that oxygen-depleted blood is blue is also false.
AS FEATURED ON:
AS FEATURED ON:

By: Roman Dekan

The circulatory system.

By: bilderzwerg

The structure of the aorta, part of the circulatory system.

By: dimedrol68

A person with visible blood vessels, which are part of the circulatory system.

By: Alexandr Mitiuc

Arteries carry oxygenated red blood cells to all parts of the body.

By: blueringmedia

The smallest blood vessels are called venules.