What Is Vestibular Therapy?
Vestibular therapy, sometimes referred to as vestibular rehabilitation therapy, or VRT, is a specialized, noninvasive treatment designed to help individuals overcome chronic dizziness and vertigo caused by inner ear disorders. The therapy consists of various exercises designed to improve visual orientation, ocular motor skills, balance, and gait. The therapy is usually performed by an occupational or physical therapist and consists of routines to be performed at a rehabilitation facility as well as at home.
Certain individuals experience chronic bouts of dizziness and vertigo because of certain types of inner ear disorders, such as benign paroxysmal positional vertigo (BPPV), Meniere's disease, and labyrinthitis. The sensations of spinning or tilting often causes a person to be off balance and to lack the coordination necessary to perform everyday activities, such as driving, walking, and working. These conditions can be debilitating and can negatively affect a person's quality of life. Often, doctors recommend vestibular therapy as a way to cope with and eventually overcome the dizziness and vertigo.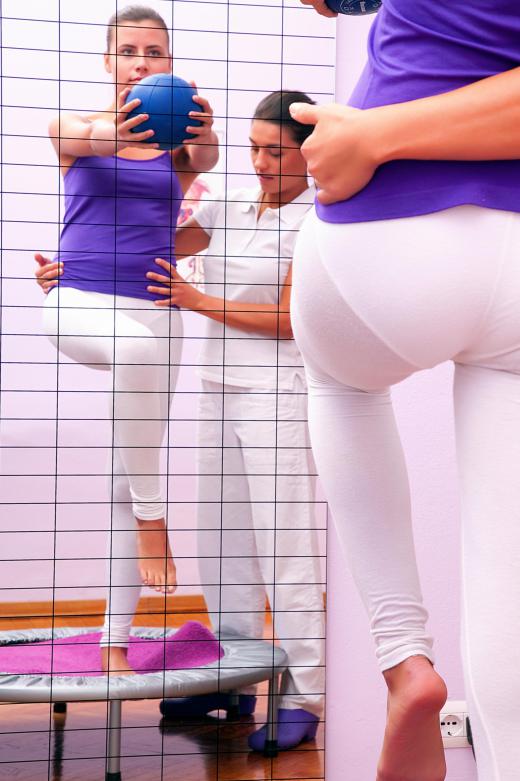 The purpose of vestibular therapy is to retrain the brain so that the incorrect signals generated by the inner ear, causing false sensations of motion, are reinterpreted and corrected. Generally, either occupational or physical therapists guide patients through a series of supervised exercises intended to gradually reduce symptoms of dizziness and vertigo. These exercises are designed to force the brain to compensate for the misinformation. In order to accomplish this, therapists focus on two main areas, namely visual perception and body positioning.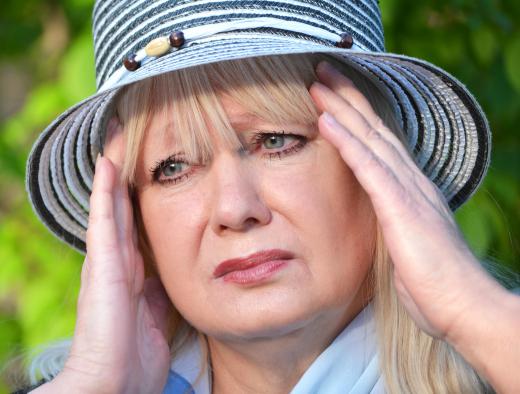 With regard to visual aspects, patients perform certain exercises to reinforce visual perception of stationary objects. They also engage in routines designed to improve eye movement and object tracking. These activities, performed on a regular basis both at home and at the rehabilitation facility, help the brain to compensate for and eventually override the incorrect input coming from the balance centers in the inner ear. Instead, the brain learns to rely on the information generated through visual perception.
The second aspect of vestibular therapy focuses on body positioning and helping a person to regain a sense of balance and normal movement. When a person has the sensation of motion as with vertigo, he or she compensates by altering his or her gait and stance. For instance, many people develop a habit of swaying side to side when they walk in order to maintain balance, much the same as a person walking on a boat or a subway train. This response reinforces the brain's interpretation of the signals generated by the inner ear, basically confirming the perception of motion. By slowly correcting a person's gait and reinforcing a sense of balance, therapists hope to correct the brain's misinterpretation of motion.
With regard to the therapy, once a person has begun to adjust visual perception, he or she performs exercises designed to help restore a sense of balance while standing still. In addition, due to the fact that some patients have altered the way they walk to compensate for the sense of motion, they must relearn the proper way to ambulate using a heel-to-toe motion. Therapists utilize particular exercises to help with that process.
Some people become frustrated with vestibular therapy because the process can take time to work. In fact, initially, the symptoms of vertigo and dizziness might worsen before they get better. In the long run, however, with patience and diligence, vestibular therapy has helped many people overcome chronic conditions and regain their quality of life.
What Does the Vestibular System Do?
The inner ear and the part of the brain that deals with equilibrium represent the vestibular system. This complicated network is responsible for making sure a person can sense their body in relation to the rest of the world.
Many structures inside the inner ear make up the vestibular labyrinth. There are three tubes, or canals, inside the vestibular labyrinth. Each tube identifies a specific gesture: tilting right or left, nodding and turning side to side. The canals contain fluid that moves to a sensory organ located further in the inner ear, called the crista ampullaris. When the head turns, the liquid in the corresponding tube flows to the crista ampullaris. Inside the crista ampullaris, hair cells act as sensory receptors. These cells release neurotransmitters that ultimately give movement information to the brain.
Can the Vestibular Nerve Repair Itself?
The vestibular nerve lives inside the inner ear. It connects many critical inner ear nerves. The vestibular nerve plays a crucial role in motion and body position. This tiny fiber ensures the brain knows the location of the head and body.
When damage occurs, the nerve cannot deliver information about the body's position to the brain. Without proper communication, sensations of dizziness occur. Depending on the type of affliction, the nerve could repair itself.
Damage Due to Inflammation
Most damage involves inflammation in the inner ear that puts pressure on the nerves. Specialists refer to inflammatory damage as vestibular neuritis. A virus, such as mumps or chickenpox, is often the root cause. In some cases, symptoms will fade once the virus runs its course.
Occasionally, medical intervention is necessary. Medication, pressure therapy or changes in diet can help. Many will experience relief within days or weeks. An unlucky few will report symptoms months after they first appear. Experts may refer patients with long-lasting symptoms to a physical therapy program.
Damage Due to Injury
The vestibular nerve may be physically cut or ruptured during head trauma in rare cases. Nerves that are wholly severed cannot recover. But, bruising or stretching can heal on its own with time.
What Are Vestibular Exercises? 
Vestibular exercises strengthen the brain, eyes and neck muscles to aid healing. Specific techniques benefit different parts of the body's balance system.
Vision
Eye movement training helps rewire the brain from any vision impairment. Therapy includes performing various eye motions for several repetitions, such as:
Moving eyes back and forth
Moving eyes up and down 
Focusing on an object in motion several feet from the face
Spatial Awareness
Some therapies help retrain critical functions like spatial perception. Head and whole-body movements include many repetitions of the following:
Bending the head forward and backward while seated, then again while standing
Turning the head side to side while seated, and again while standing
Shoulder shrugs from a seated position
Bending to the floor to pick something up from both seated and standing positions
Balance
Restoring stability is the goal of some routines. These involve repetitive hand-eye coordination and vision activities like:
Shifting from a seated to standing position with the eyes open, then closing the eyes and repeating the move
Standing, turning around in a circle, then returning to a seated position with the eyes open and closed
Throwing a ball between the hands at eye level and behind the legs while both seated and standing
Walking up and down ramps or stairs
Catching and throwing balls with a partner
Not all exercises are mundane and repetitious. Some therapists incorporate fun activities that include bending and stretching, like bocce.
Any physical rehabilitation, including vestibular therapy, will become easier over time. In the beginning, patients may experience symptoms of dizziness anytime they attempt a move. But over time, they should see improvements in the length of time they can spend on tasks.
How Often Should You Do Vestibular Exercises?
Noticeable improvement from physical therapy takes time. The amount and frequency depend on the individual's circumstances. Some patients need to complete treatment once or twice a week for eight weeks. Other's may find relief after one visit with their therapist.
What is Canalith Repositioning?
Sometimes only a physician should perform treatment, like canalith repositioning procedures or CRP. Patients with benign paroxysmal positional vertigo often undergo this treatment. Improper placement of inner ear crystals causes this type of vertigo. The crystals, called otoconia, can sometimes migrate away from their proper position in the inner ear. With CRP, doctors maneuver patients to coax the crystals back to their appropriate spot. These treatments do not offer instantaneous results. Symptoms will likely worsen for a couple of days before they improve.


By: Rob hyrons

Balance is maintained through the combined input from the sense of touch through the feet and legs, vision, and the vestibular system, which is composed of the balance sensing structures in the ear.

By: Monkey Business

Physical therapists may guide patients through supervised exercises intended to gradually reduce symptoms of dizziness and vertigo.

By: Ambrophoto

Vestibular therapy consists of various exercises designed to help the patient regain her sense of balance.

By: elizalebedewa

People who suffer from chronic dizziness may benefit from vestibular therapy.

By: FotolEdhar

Vestibular therapy may benefit some people who have problems with eye movement and object tracking.

By: Syda Productions

Labyrinthitis may cause nausea and dizziness.

By: Wellford Tiller

The initial symptoms of some inner ear disorders may be confused with complications of low blood pressure, so it is important that a doctor make a definitive diagnosis.