What is Wallerian Degeneration?
Wallerian degeneration is a pattern of damage in nerve fibers where the axon of a nerve breaks down because of a lesion damaging the core. When lesions appear along the nerves, the opposite or distal ends can experience Wallerian degeneration. The nerve cells will attempt to grow and regenerate unless a scar or similar obstacle prevents them from doing so. In the peripheral nervous system, regrowth tends to be more rapid than in the central nervous system.
The process starts with an injury to a nerve like a cut or crush, or degeneration caused by neurological disease. Within around a day, the fibers at the other end of the nerve start to atrophy and pull apart because they do not receive sufficient nutrition. If the nerve supplies a muscle, it can grow weak and small. This can happen on a small or large scale, and may result in numbness, tingling, and other unusual sensations for the patient.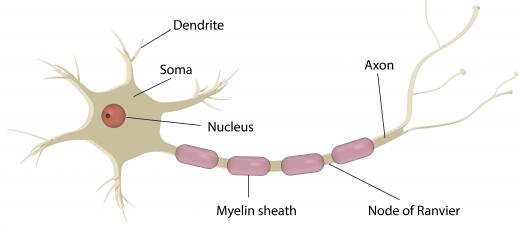 After Wallerian degeneration, small sprouts appear and attempt to reach across the gap left behind after the nerve fibers fall apart. If they are successful, they will jump across, restoring sensation and function to the area. The new nerves may not work quite as well, and the muscle can experience lingering weakness. When scars or other obstacles are in the way, the growing structures may not be able to find their way across, leaving the gap in place. The muscle will continue to atrophy because it is not receiving enough signals from the nerves.
For physicians, understanding the process of Wallerian degeneration is important. The extent of nerve damage can take several days to become apparent as nerves break down, and patients may experience symptoms for months or years because the nerves do not grow back properly, or fail to grow back at all. When working around the nerves, surgeons are careful to avoid creating lesions, and take note of any erosion of the myelin sheath or other problems that might contribute to Wallerian degeneration.
It is possible to use surgery to guide new nerve fibers if they have trouble successfully growing back. This procedure requires a neurologist with substantial experience and training, and can be a very delicate operation. When working with nerves, surgeons want to avoid creating a worse problem than the one the patient started with. In some cases, it is not possible to encourage regeneration and the patient will experience a permanent loss of sensation and function.
AS FEATURED ON:
AS FEATURED ON:

By: joshya

Each nerve cell contains a soma, a single axon and any number of dendrites.

By: Burlingham

Degeneration caused by neurological disease may result in Wallerian degeneration.