When a person is affected with a sunburn, rash, or other skin irritation, it can be very irksome, and even painful. To remedy this distress, a variety of topical ointments and cremes are available for purchase. One such treatment that provides relief through the mineral zinc is called zinc ointment.
Zinc ointment, also referred to as zinc oxide, is usually a thick, creamy, white substance. Its composition is typically only 20 percent zinc oxide. The rest of the salve is often made of paraffin and petrolatum or beeswax. It can also contain benzocaine, lidocaine, and tetracaine. If these chemicals are present, the buyer may wish to consult with a physician prior to use, as they have been found to be toxic in some instances.
The salve is normally available in a metallic or plastic squeezable tube. Zinc ointments work by stimulating the body's enzymes, forcing them to speed up in their normal body processes in regulating the skin. As the skin returns to normal, the irritation usually disappears.
Prior to applying the remedy, the affected area should be cleaned. It is recommended that the ointment be applied once or twice daily. A dressing can be used to cover the area if necessary. Should a dressing be used, it will require replacement daily.
The most common use for zinc as a remedy for skin irritation is its use in zinc oxide diaper rash ointment. This ointment can also be used for a variety of other conditions. These can include dry skin, sunburn, eczema, rashes, dermatitis, and other skin problems.
That said, many of the additives in some over-the-counter treatments can cause additional damage. People requiring the ointment may wish to first consult with a physician. Doctors may recommend a shielding lotion instead of a zinc ointment, depending on the cause of the patient's skin discomfort.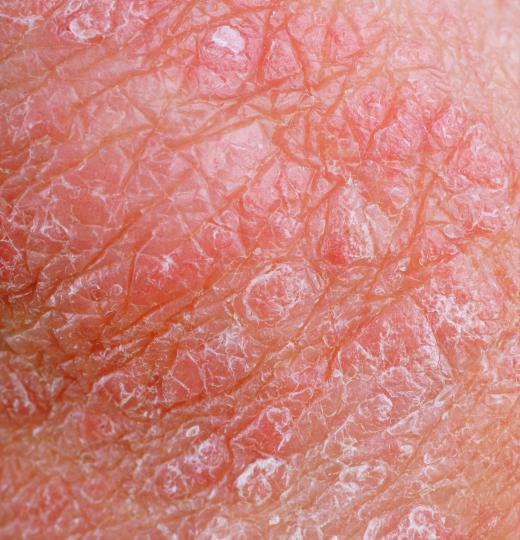 Also useful as an antiseptic and an astringent, zinc ointment should not be used on broken skin or open wounds. No adverse effects from use in conjunction with other medicines have been found. Some patients can develop an allergic reaction, however. A tube of ointment typically expires within five years of purchase.
People who want to avoid skin issues such as dry skin may wish to take a zinc supplement. This can prevent dryness and other skin problems. Diets high in zinc, such as those that include corned beef, cheese, shellfish, tofu, figs, liver, and whole grains, may also help prevent skin issues.
AS FEATURED ON:
AS FEATURED ON:

By: Rostislav Sedlacek

Zinc ointment may be used to treat sunburn.

By: Kaspars Grinvalds

Zinc ointment may be used to treat dry skin.

By: quayside

Zinc ointment can reduce irritation from eczema.

By: matin

Zinc ointment often contains beeswax.

By: FirstBlood

Zinc ointment is available in a plastic squeezable tube.

By: Tomasz Trojanowski

Zinc oxide creams are commonly used to treat diaper rash.