What Should I Expect After an Endoscopy?
An endoscopy is a fairly common procedure that rarely causes any complications. You will be sedated during the procedure, so you can expect to feel the effects of the medication wearing off. The rest of the day following the endoscopy should be spent at home in recovery. Common symptoms of an endoscopy include sore throat, cramping, and bloating.
After an endoscopy, you can expect to feel the effects of the sedation wearing off. Your doctors will want to keep you in the office, most likely in a waiting area. You will probably sit or lie quietly in the waiting area for about an hour or so as the doctors monitor your recovery from the sedation. You may feel very groggy, tired, and confused as the medication leaves your body.
When the doctors determine you are ready, you will be able to spend the rest of your recovery period at home. You should plan to stay home for the rest of the day after an endoscopy. Ask friends or family to run any errands for you, such as picking up prescriptions or food. As time passes, you will feel more alert, but keep in mind that even if you feel fine, the medication is still affecting your judgment and reaction times.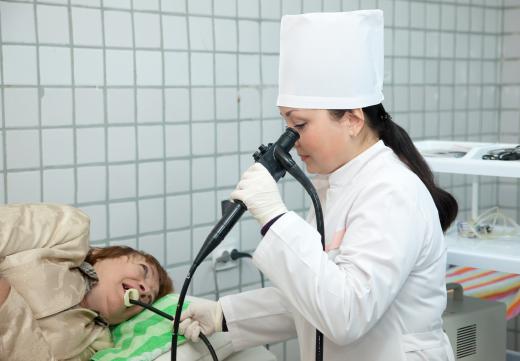 Most people are able to eat a few hours after an endoscopy. When you are able to eat is largely determined by your recovery speed and appetite. Occasionally discomfort from the endoscopy can make it difficult for some people to eat after the procedure. When you do eat, make sure you stick to mild foods that are easily digested and do not cause gas.
You can also expect to experience some discomfort after an endoscopy. During the endoscopy, a tube was inserted down your throat and into your stomach, depending on the specifics of your procedure. This can result in a sore or scratchy throat. The severity of the sore throat will vary with each person, but if you are concerned about your symptoms or are in a lot of pain, contact your doctor.
Another common symptom after an endoscopy is bloating and cramping from gas. When the endoscope is making its way through your digestive tract, it pushes some air into your system. Unfortunately, that air usually cannot escape when the endoscope is removed. It will take some time for this gas to work its way out of your system. Again, if your symptoms are severe, contact your doctor.
Complications do sometimes occur after an endoscopy, but these instances are very rare. Signs that a complication is occurring include severe abdominal pain, a firm and distended abdomen, and vomiting. These symptoms should be reported immediately to your doctor. Fever, severe throat pain, or a crunching feeling under the skin of the neck should also be reported.
AS FEATURED ON:
AS FEATURED ON:

By: ekipaj

Endoscopy equipment.

By: JackF

Some discomfort is normal following an endoscopy.

By: ohmega1982

Individuals may experience uncomfortable bloating following an endoscopy.

By: Max Tactic

Individuals may experience a sore throat following an endoscopy procedure.

By: staras

Many people will experience a sore throat following an endoscopy.