Men go bald for a variety of reasons. The most common of these is an inherited condition called male-pattern baldness, which results in hair loss to the front and top of the hair. Over time, male-pattern baldness can cause total hair loss, though many men go only partially bald. Other times, men lose their hair because of medical conditions, malnutrition, or because of medication.
Male-pattern baldness tends to be the result of genetics, but is not necessarily inherited from the man's mother, as is commonly believed. The condition can be inherited from either parent. It results in high amounts of dihydrotestosterone (DHT) that disrupt normal growth patterns of the hair follicles, causing hair follicles to die.
Also, it may be possible that men go bald because of excess of a chemical called sebum that may make hair feel oilier. Sebum has high levels of DHT and may cause clogged pores that damage hair follicles. Frequent hair washing can help reduce sebum, but does not entirely eliminate risk of hair loss.
Other hormonal conditions can make men lose their hair. High or low levels of thyroid hormone can result in hair loss. Certain autoimmune disorders can also cause baldness. Among these, alopecia areata, where hair follicles are attacked by the body's immune system, results in baldness in patches that does not follow the normal male pattern baldness hair loss patterns. Total alopecia areata can cause hair loss on the head and on the rest of the body.
Another common cause of patchy baldness is fungal infections like ringworm. These usually occur in one to two spots as a result of contact with an infected pet. Normally treatment ends the hair loss and hair can regrow in areas where it was lost.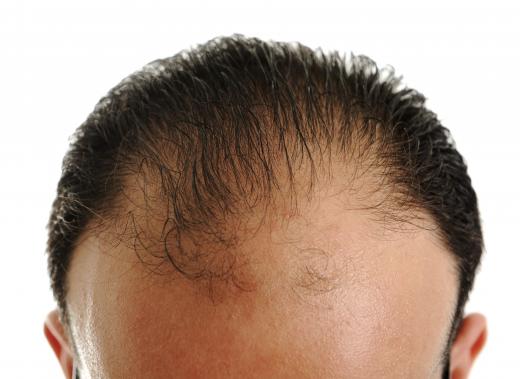 Severe illness may also make men go bald. Hair loss may be noted several months after an illness. Further, some men go bald several months after a major surgery, and may not be able to regrow hair that is lost. Intense stress has also been shown to cause some hair loss in men, women, and children.
Medications, especially those administered during chemotherapy can make men lose their hair. Further, certain medications for heart conditions, such as blood thinners, or for bipolar disorders like Tegretol, can result in some hair loss. Some psychiatric conditions, which are difficult to treat, can cause people to pull out their hair and permanently damage the hair follicles.
Malnutrition is definitely related to baldness in men and women, and even in children. Low-protein diets, or iron deficiency may make men go bald. Where genetics do not appear a factor, and even when they are, a healthy diet with protein and lots of leafy green vegetables may slow hair loss. Medications like minoxidil can also help stimulate hair regrowth if they are used regularly.
When men go bald in present day, it is not treated with distaste, since many young men now sport the shaved head whether or not they experience hair loss. However, conditions other than male-pattern baldness deserve attention by a doctor. Baldness caused by fungal infections, thyroid hormonal imbalance, malnutrition, psychiatric issues, or disease all require medical treatment to treat the underlying causes.
AS FEATURED ON:
AS FEATURED ON:

A small "bald spot".

Receding hairline.

By: David Stuart

A short haircut is often favored by men losing their hair.

By: soleilc1

Many men will sport a shaved head whether or not they experience hair loss.

By: diego cervo

Hair loss can be caused by age, diet and medications.