Athletic Greens Vs. Amazing Grass Green Superfood - Which Is Best?
Let's face it - in today's fast-paced world, it can feel impossible to eat a healthy, nutritious diet. In fact, according to the CDC, 9 out of 10 adults struggle to meet their daily requirement of healthy fruits and vegetables. Superfood drinks like Athletic Greens and Amazing Grass promise to make it easier to meet our nutrition needs, but which is better for you and your family?
Quick Facts



Athletic Greens

Amazing Grass

Health Claims

Improved energy, digestive health, and immunity

Improved stress management

Improved energy, digestive health, and immunity

Ingredients

Over 75 superfood ingredients

25 superfood ingredients

Cost

$3.50 per serving

$0.79 per serving

Taste

Fruity (papaya, pineapple), spicy (ginger), grassy

Ten different flavor options

Thrid-Party Testing

The website does not provide proof of third-party testing.

Third-party tested since 2019.

Serving Size & Directions

One scoop contains:

50 Calories
6 g carbohydrate
2 g fiber
2 g protein

Mix in water, juice, or smoothies

One scoop contains:

30 Calories
5 g carbohydrate
3 g fiber
2 g protein

Mix in water, juice, or smoothies

Safety & Side Effects

May cause bloating, diarrhea, stomach ache

May cause bloating, diarrhea, stomach ache

Organic?

Yes

Some, but not all, ingredients are organic

Money-Back Guarantee?

60 days

No refunds once opened

Made in the USA?

No, made in New Zealand

Yes
What Is Athletic Greens?
Athletic Greens has provided complete, accessible daily nutrition to athletes and everyone else for over a decade. They offer one simple supplement - the AG1 superfood blend - that you mix into water, juice, or smoothies once a day for instant balanced nutrition.
Athletic Greens comes from New Zealand and is NSF Certified for Sport. AG1 is vegan, gluten-free, and free of the most common allergens. Unlike other over-sweetened nutrition beverages, it tastes natural, earthy, and delightfully sweet.
It's undeniably expensive, at over $3.50 per serving, even with the most budget-friendly subscription option. But with its long list of real food ingredients and measurable health benefits, AG1 is worth the price.
Pros
Over 75 powerful superfood ingredients
Natural fruit and veggie flavor
Convenient starter kit for easy storage and mixing
Cons
Expensive
Only one formulation
Bottom Line
Athletic Greens packs tons of nutrition into a simple daily drink mix. It's more expensive than other nutrition mixes, but it offers enough health benefits to justify the price. 
What Is Amazing Grass?
Amazing Grass started as a family farm in Kansas, slowly growing into a popular provider of superfood nutrition. They offer a variety of nutritious products, including protein supplements, smoothie boosters, and even tasty drink mixes for kids, but their primary offering is their Greens Blend.
The Amazing Grass Greens Blend comes in a variety of flavors, including the Original, a natural flavor that you can easily disguise in smoothies, sauces, and other foods. It offers an inexpensive boost of nutrition that makes it easy to eat (or drink) your greens in just one serving per day.
Pros
10 unique flavors to choose from
Easy to mix into other foods unnoticed
Inexpensive
Cons
Not as many superfood ingredients
Fewer health benefits
Bottom Line
Amazing Grass doesn't have a long list of ingredients, but it offers a convenient boost of whole food nutrition at an affordable cost for almost anyone. 
Athletic Greens vs. Amazing Grass Benefits
Sure, you know it's important to get your greens, but do you know all the ways that they can help you? Amazing Grass and Athletic Greens both make some impressive health claims, but Athletic Greens promises much more than its competitor.
Athletic Greens Benefits
Athletic Greens contains tons of whole food ingredients, which offer a long list of health benefits. It boosts immunity with ingredients like Reishi, Shiitake, and loads of Vitamin C foods, and helps your body cope with stress with adaptogens like astragalus, Rhodiola, and ashwagandha.
The AG1 blend also supports digestive health with natural fiber, burdock root, ginger, and slippery elm bark. Each of its 75 ingredients has a unique profile of health benefits. As you'll see below, it certainly has a more comprehensive list of health claims than Amazing Grass.
Amazing Grass Benefits
Amazing Grass boasts several benefits, including natural energy, improved digestive health, and enhanced immunity. They're straightforward claims, but they're powerful. You and your family can get the natural nutrition you need, including fiber, Vitamin C, and Vitamin K, from just one serving a day of the Amazing Grass Greens Blend.
Athletic Greens vs. Amazing Grass Ingredients
Most people choose superfood blends like Athletic Greens and Amazing Grass to boost their nutritional intake. But not all greens mixes are created equal. Here's how Athletic Greens stacks up against Amazing Grass in terms of their superfood ingredients.
Athletic Greens Ingredients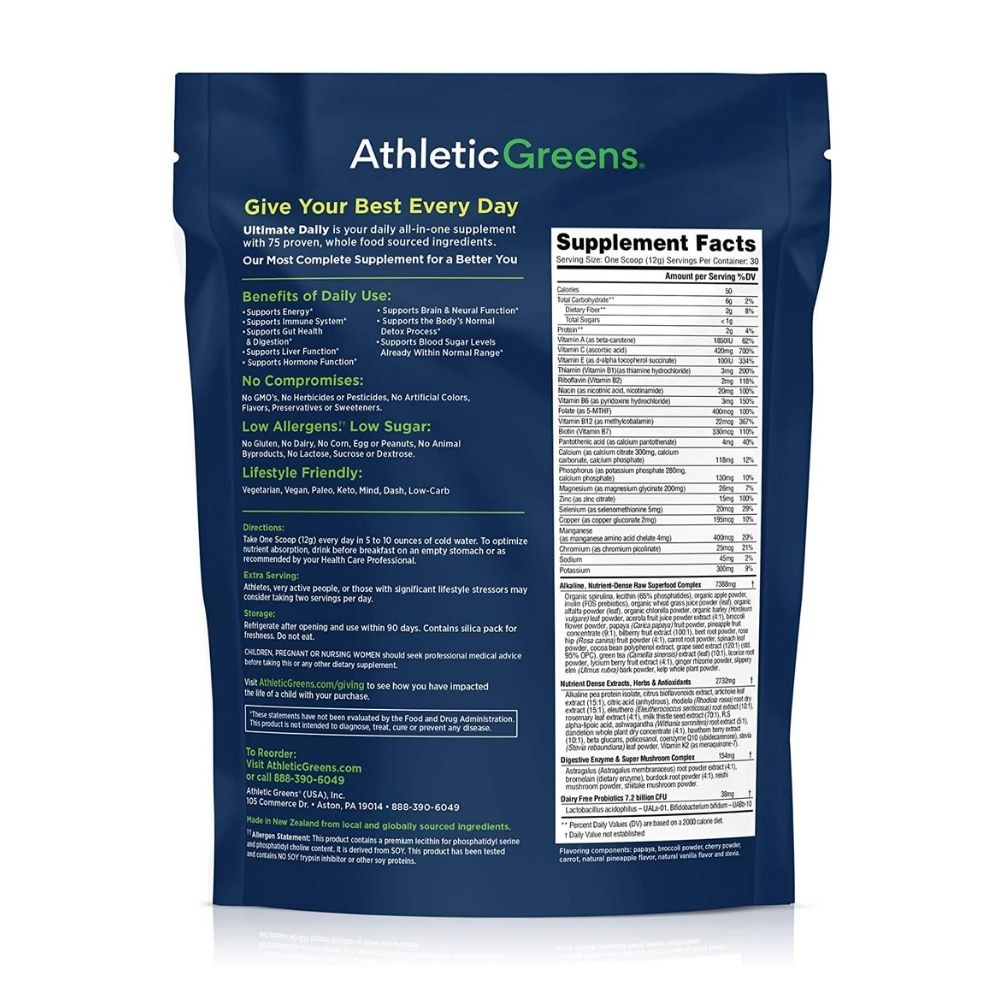 The AG1 blend includes their Superfood Complex, antioxidant extracts, digestive enzymes, and probiotics totaling over 75 real food ingredients. It includes everything you would expect from a superfood blend, including spirulina, carrot, spinach, chlorella, etc. 
You'll find ingredients in AG1 that you won't find in the Amazing Grass Greens Blend, including burdock root, ashwagandha, dandelion, milk thistle, reishi, and shiitake mushrooms. Reishi mushrooms boost the immune system, reduce inflammation, and encourage the production of natural cancer killer cells, while shiitake mushrooms can lower blood pressure and cholesterol.
AG1 does contain wheatgrass and barley leaf powder, so it may not be well suited for people with wheat allergies. It is, however, gluten-free, since gluten is a protein found in the seed of the wheat and barley plants, not in the grass and leaves. However, people with Celiac should consult with their medical team to discuss whether the wheatgrass in AG1 could make them ill.
It's free from the most common allergens, including dairy, corn, egg, and peanuts. It contains no animal byproducts or lactose, so it's vegetarian and vegan-friendly. Finally, it's suitable for people on paleo, keto, and low-carb diets. As you'll see in a moment, the ingredients in AG1 blow Amazing Grass out of the water.
Amazing Grass Ingredients
The Amazing Grass Greens Blend contains wheatgrass, barley grass, and alfalfa grass for fiber, as well as spinach, spirulina, chlorella, and broccoli. Chlorella promotes weight loss and immune health, while broccoli offers vitamin C, vitamin K, and potassium.
It also includes antioxidants from rose hips, pineapple, carrot, acerola cherry, green tea, acai berry, beetroot, raspberry, and maca root. Maca is an adaptogenic herb, meaning it helps your body handle stress more resiliently, but it also boosts energy, libido, and mood.
Finally, the Amazing Grass Greens Blend offers several digestive enzymes and pre and probiotic cultures. Fructooligosaccharide (F.O.S.) promotes healthy digestion, reduces constipation, and lowers blood sugar, while the digestive enzymes amylase, protease, lipase, lactase, and cellulase help with processing fat.
There's no denying that these are all great things, but the proprietary blend makes it difficult to determine how much of each ingredient you're getting from Amazing Grass. Most supplements claim to offer as many antioxidants as a certain number of vegetable servings, but Amazing Grass makes no such claims.
Plus, it's missing a lot of ingredients that I would expect to find in a superfood blend, like reishi or shiitake mushrooms. So, while Amazing Grass is a better choice than no greens at all, it's hard to say just how much your body is getting from it compared to other supplements.
Athletic Greens vs. Amazing Grass Taste
We all know that eating (or, in this case, drinking) your greens isn't always enjoyable. But that doesn't mean you have to settle for unpleasantness. Athletic Greens and Amazing Grass have drastically different flavor profiles to satisfy different taste preferences.
Athletic Greens Taste
Athletic Greens offers one variety of leafy green nutrition, so there's no variation to speak of, but at least that one flavor tastes pretty good. There's no sugarcoating the reality that all these healthy greens usually taste bitter, but Athletic Greens doesn't.
Instead of loading AG1 up with sugar to smother the bitterness of the vegetables, Athletic Greens uses natural fruit flavors that work with the grassier flavors. You'll taste pineapple and papaya with just a hint of vanilla and ginger, rounded out with delicious, earthy superfoods.
Overall, it's a pleasant enough flavor. It's not the fruitiest supplement I've ever tasted, but if you're like me and prefer some veggies in your fruit juice, you'll probably enjoy Athletic Greens.
Amazing Grass Taste
The Amazing Grass Superfood Greens Blend (formerly known as Green Superfood) comes in 10 different flavors, so even picky eaters will find a flavor to enjoy among the Greens Blend line of products. 
The Original Greens Blend flavor is grassy but not unpleasant. It certainly tastes like vegetables but in a subtle way. You can mask the taste in a smoothie or sauce, but you'll notice it in water, milk, or juice.
But if that's not your thing, there are plenty of other options to choose from. The Original Greens Blend also comes in chocolate and berry flavors, while the Energy formulation comes in Lemon Lime and Watermelon. 
Amazing Grass has Sweet Berry, Tangerine, and Elderberry if you're looking for an immune-boosting blend. Finally, the Cleansing and Detox formulas come in Simply Pure and Clean Greens. You'll certainly find a flavor you like in the Amazing Grass collection.
Athletic Greens vs. Amazing Grass Cost
Good nutrition doesn't have to be expensive, but when it comes to Athletic Greens and Amazing Grass, you get what you pay for - and you pay for what you get. Athletic Greens is easily twice as expensive as Amazing Grass, but the ingredients and benefits justify the cost.
Athletic Greens Cost
AG1 comes in a 30-serving pouch that you can purchase for $99, which amounts to a little over $3 per serving. If you'd prefer a little more convenience, you can get a 30-day supply of the travel pouches for $109, or $3.63 each. 
It's pricey, but you can save money by subscribing to one of their monthly subscription boxes. The Single monthly subscription includes a 30-day supply, plus five free travel packs and a free starter kit with a storage jar (single pouch only) and shaker to mix your AG1 smoothies.
The Single monthly subscription is $79 per month ($2.63 per serving) for the single pouch and $89 per month for the travel pouches. Either subscription option saves you $20 per month over buying it every month.
Finally, if you want to share AG1 with a friend or partner, the Double Subscription delivers two 30-day supplies every month for $149 (two single pouches) or $169 (60 travel pouches). You'll receive a free Vitamin D supplement and five free travel packs each month with either Double subscription as a bonus.
Amazing Grass Cost
The Amazing Grass Greens Blend comes in 30, 60, and 100-serving canisters and 15-packet boxes. You can purchase a single canister for $32.99 (30 servings), $54.99 (60 servings), or $79.99 (100 servings). You'll save more per serving with the largest canister ($0.79) compared to the smallest one ($1.09), but they're all less expensive than a monthly supply of AG1.
A box of 15 packets costs $24.19, or $1.61 per serving, which is nearly double the cost of the powder but still less expensive than AG1. If you decide you like the Amazing Grass Greens Blend, you can save 20% with Subscribe and Save for delivery every 30, 60, or 90 days. 
Athletic Greens vs. Amazing Grass: Which is Better?
Athletic Greens has some significant advantages over Amazing Grass. It contains many more powerful superfoods than its competitors, offers a wider range of health benefits, and it tastes better on its own. 
But Amazing Grass has its advantages as well. It costs less than half as much as Athletic Greens, comes in a wider range of flavors, and you can mix the Original Greens Blend into a variety of foods and beverages for a stealth nutrition boost, which is great if you have kids or are yourself a picky eater.
If you're on a budget or just looking to sneak more nutrition into your daily life, Amazing Greens is a great Athletic Greens alternative. But if you're looking for measurable health benefits like more energy, better digestion, and improved immunity, Athletic Greens is worth the extra money.
So, if you're looking for the best athletic greens alternatives, take into account your budget, taste preference, and health goals to decide which option is the best fit for you.
Why We Recommend Ensō Supergreens Instead
Ensō Supergreens offers powerful whole food nutrition designed to improve your physical health, boost your immune system, and increase your natural energy levels. Our blend of over 35 organic superfoods is 100% plant-based, vegan, and gluten-free, so it's safe for most dietary restrictions. 
With an easy-to-consume daily drink that costs less than your daily cup of coffee, Ensō Superfoods can help you improve your overall health, including gut health, with probiotics and digestive enzymes. Studies have shown that gut health is key to your overall health, and Ensō Supergreens is here to help you support both. 
When it comes to greens for bloating, Ensō Supergreens has effective plant-based ingredients that will improve your digestive health. Bloating is about more than vanity. A bloated abdomen is a significant symptom of problems with your overall gut health and hydration. By incorporating a quality nutritional supplement into your diet, you will see noticeable improvements. Ensō Supergreens is not only beneficial to your health, but it tastes good according to other Ensō Supergreens reviews and costs less than most competitor products.
Ensō Supergreens offers the same health benefits as AG1 at a more budget-friendly price, with no artificial flavors, sweeteners, or sugars. Each real food ingredient in Ensō Supergreens offers you organic nutrition and proven health benefits. With Ensō Supergreens, you get more than just your veggies - you get whole, balanced nutrition from real food ingredients.
Other Superfood Brand Comparison Reviews:
Discover the difference with the best greens powder on the market - Ensō Supergreens. Not just a cost-effective alternative, but a wellness powerhouse designed to nourish you from the inside out. It's a fusion of organic nutrition and proven health benefits. Each sip of Ensō Supergreens is a journey towards optimal health, made possible by our unrivaled blend of nutrient-dense, real food ingredients. With Ensō Supergreens, achieving your best health has never been so effortless or so delicious.