How do I Treat a Bruised Knee?
Bruised knees occur because some type of injury has caused the small blood vessels around the knee to leak blood beneath the skin. In some cases, the bruise may be tender to the touch, as well as a little sore. There is also some chance that the bruise in on the bone itself, and more serious than simply a collection of blood beneath the skin. In any event, there are several effective ways to deal with a bruised knee and facilitate the healing process.
One of the first steps to effectively treating an injured knee is to assess the degree of damage that has taken place. This will require the services of a qualified physician. After a careful examination of the knee injury that includes taking x-rays and possibly an MRI, the doctor can determine if any damaged ligaments are involved, or if there is any damage to the bones of the knee. Once the origin of the bruising is identified, it is possible to move forward with treating the condition.
For just about any type of bruised knee, the use of ice packs is recommended. This treatment can be administered immediately, even before seeing a doctor. If an ice pack is not readily available, a bag of frozen vegetables will work. Another quick substitute involves using a resealable storage bad that is filled with ice cubes or chips. Applying ice to the knee immediately will help minimize the swelling and make it easier for a doctor to assess the problem.
In situations where the bruised knee is due to physical stress that causes a few blood vessels to leak blood below the skin, there is usually no cause for alarm. Taking a simple over the counter anti-inflammatory medication, such as aspirin, will help ease the pain. In a few days, the bruising should begin to fade. After a week or so, the bruise should be completely gone.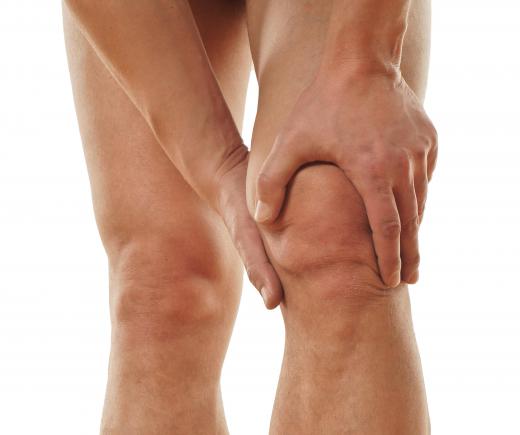 However, if the bruised knee is one of the outward signs of more severe knee problems, the doctor may choose to recommend that the knee be wrapped with a support bandage. Ice packs can still be applied several times a day to help ease swelling. Prescription medications may be necessary to prevent infection and promote healing. In addition, some doctors may counsel patients to increase their intake of vitamins such as A, C, and K in order to strengthen the immune system, fight infection, and promote bone healing.
Regardless of the nature of the bruise, rest is very important to the recovery process. Propping the knee up while sitting and curtailing activities such as running or bike riding for several days will go a long way toward allowing the body to heal itself. In the case of a bone bruise, it may take a month or so for the healing to be complete. Work closely with your doctor to determine what activities are considered safe during each phase of your recovery.
AS FEATURED ON:
AS FEATURED ON:

By: Gennadiy Poznyakov

A doctor wrapping a bruised knee with a support bandage.

By: volff

Ice cubes in a sealed plastic bag can be used as a cold compress on a bruise.

By: underdogstudios

Pain medication can help with knee pain.

By: Distinctive Images

X-rays might be needed for the proper treatment of a bruised knee.

By: roblan

A bruised knee is usually the result of an impact or trauma.