How do I Treat a Bruised Toenail?
Bruising underneath a toenail can be caused by the constant pressure of uncomfortable shoes or frequent impacts associated with running, jumping, or kicking a ball. Also called a subungual hematoma, a bruised toenail can become tender as blood and fluid build up in the nail bed. Most bruised toenails can be treated at home by protecting the injured area, wearing tight but comfortable footwear, and avoiding intense physical activity. A toenail that causes discomfort should be assessed by a doctor, who can manually drain blood from the nail bed.
When a bruised toenail is not painful or tender, it does not typically need to be treated. Instead, a person can simply take care to keep the toenail clipped to avoid snagging it on socks or shoes. If the affected nail becomes loose over time, it can be protected with a bandage to prevent it from completely falling off. Even when taking precautions, the nail may eventually separate from the bed due to insufficient blood flow.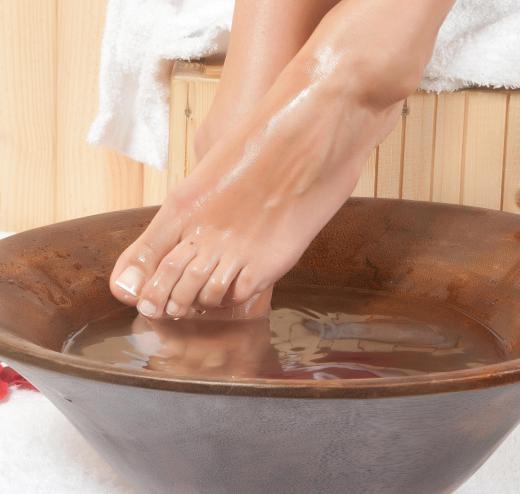 It is important to clean and protect the exposed area until a new nail grows into place, a process that may take several months. A person can relieve tenderness and prevent infection by soaking the toe in warm, soapy water once or twice a day. In addition, topical antibiotic creams and ointments should be applied regularly. Accidental injuries can be avoided by wrapping a bandage around the toe and wearing comfortable-fitting shoes.
When a bruised toenail is accompanied by minor pain, a person can usually alleviate symptoms and shorten healing time with simple home care techniques. Icing and elevating the toe can help to numb the pain and reduce swelling underneath the nail. Over-the-counter anti-inflammatory drugs can also help relieve symptoms. If the bruise persists for a long period of time, and there is no known cause of the injury, it could be a melanoma, so any bruises that occur for a long period of time should have medical attention.
An especially painful bruised toenail can be difficult to treat at home. If possible, a person should visit a podiatrist or emergency room to receive proper medical care. A doctor can inspect the nail and possibly take x-rays to make sure the injury is not accompanied by an underlying bone fracture. After evaluating the severity of the bruised toenail, the doctor can explain treatment options.
In most cases, a podiatrist or trained nurse can relieve symptoms by draining excess fluid and blood. After sterilizing the toe, a professional uses a needle or a cauterizing tool to make a tiny puncture in the center of the bruised area. He or she lightly squeezes the toe, causing fluid to drain from the puncture hole. Once the nail bed returns to a normal color, antibiotics and bandages are applied. Patients are usually instructed to avoid intense activity for several days and return to the hospital if symptoms return.


By: F.C.G.

A bruised toenail.

By: johnnydao

Treatment options for a bruised toenail are determined based on severity of the injury.

By: Tandem

Soaking a bruised toenail in warm water can help to relieve tenderness and prevent infection.

By: adam88xx

A bruised toenail may lead to infection if not properly treated.

By: Andrea Arnold

A bruised toenail that limits mobility may warrant a visit to the podiatrist.