How do I Treat a Knee Fracture?
The word fracture refers to any type of break in a bone, including small cracks as well as injuries that snap a bone into two or more pieces. The bones in the knee include the patella, or kneecap, and parts of the femur and tibia; a knee fracture can involve one or more of these bones. In most cases, the damage caused by such an injury is too serious to self-treat, and failing to get expert medical care can lead to complications. Anyone with this type of injury should seek medical attention as soon as possible. There are some simple self-care measures that can be taken while waiting for treatment, such as stabilizing the knee and applying an ice pack, but these are not a substitute for professional care.
Causes and Symptoms
Injuries to the bones in the knee can occur in several ways, such as a car accident, a direct blow to the knee, or falling, such as off a ladder or chair, or down stairs. Repeated stress of the knee joint can sometimes cause fractures, particularly in older people. These stress injuries typically affect the ends of the tibia or femur that connect with the kneecap, and they are less likely to affect the kneecap itself.
The most common signs of a knee fracture are pain, swelling, and bruising of the affected joint. A person with this injury will typically have trouble standing on the injured leg, and might have go into shock. Symptoms of shock include chills, pale skin, nausea, and vomiting. In some cases, the leg might appear to be crooked or shorter than normal.
Non-Medical Care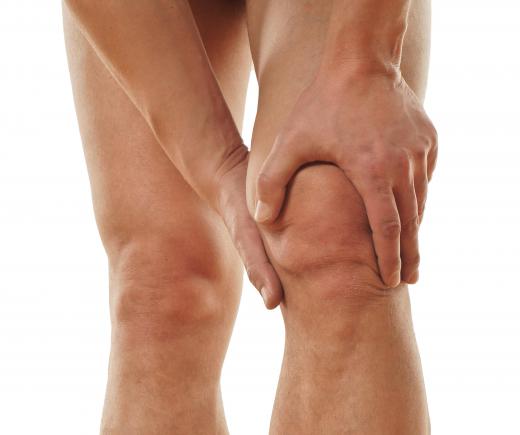 Depending on the circumstances, there might be some waiting time before a healthcare provider can examine the injury, and during this time, taking appropriate self-treatment measures can help prevent further damage. The injured person should not attempt to walk, but instead sit and elevate the leg, if possible, to help reduce swelling. If elevation causes the pain to worsen, this step can be avoided.
Applying ice to the injury can also reduce swelling. An effective home-made ice pack is ice placed in a sturdy plastic bag, or simply a package of frozen vegetables, such as peas or corn. If the skin is broken, ice should not be applied directly, to prevent the wound getting wet. An ice pack can be used for 15 to 20 minutes per session, with a gap of at least an hour between sessions.
Stabilizing the knee joint is another good way to help prevent further injury. A splint, compression bandage, or regular bandage can help provide the necessary stabilization. If anything is wrapped around the joint, care must be taken to ensure that it is firm but not tight, especially if the knee continues to swell.
It is best not to eat anything while waiting to be examined, and to drink only small amounts of water. This is a precautionary measure in case surgery is needed. Pain medication can be taken, but any drugs used must be reported during a medical examination, again as a pre-surgery precautionary measure.
Medical Treatment
In most cases, professional treatment is carried out in a hospital, or perhaps a doctor's office or clinic. The knee is examined and X-rayed to determine the exact nature of the bone breakage, and treatment depends on how extensive the damage is. A relatively minor fracture might only require that a cast or knee brace be worn for four to six weeks, followed by a gradual return to the individual's previous fitness level once it is removed.
Serious fractures might require surgical treatment before a cast or brace is put on. When a bone is shattered into several pieces, surgery is performed to restore the bone to as near its original shape as possible. If necessary, the bone pieces are held in place with metal rods or pins, which provide additional stability while the bone is regrowing. In some cases, a person might need to wear a cast or brace for a few extra weeks.
Rehabilitation
A person wearing a cast or brace might be provided with crutches to help reduce the weight the injured knee must bear. Moderate pain is normal after a bone fracture, particularly in cases where surgery is needed. Typical medications that might be prescribed include ibuprofen or another anti-inflammatory, and pain management drugs such as acetaminophen and codeine.
Depending on the nature of the injury, a healthcare provider might recommend physical therapy after the cast or brace is removed, and perhaps even while it is still on. Initial exercises often include leg lifts to strengthen the thigh muscles to reduce strain on the knee. Once the brace or cast is removed, exercises typically focus on strengthening the knee joint and improving its range of motion. In cases of severe injury, it might be six months to a year before the knee is back to normal; on rare occasions, the joint might not ever fully heal.
AS FEATURED ON:
AS FEATURED ON:

By: Alila

A diagram of the knee.

By: Stephen Coburn

Crutches may be needed to keep weight off of a fractured knee.

By: underdogstudios

Pain medication can help knee pain.

By: Raia

Compression bandages may be helpful in treating a knee fracture.

By: Patryssia

A bag of frozen vegetables may help reduce knee fracture swelling.

By: Distinctive Images

Professional treatment of a knee fracture often involves X-rays.

By: Lovrencg

Gel ice packs can be contoured slightly to the bend of the knee, which makes them ideal for treating the swelling around the fracture.