Orthopedics — or more correctly, orthopaedics — is the medical specialty that pertains to the diagnosis and treatment of disorders, conditions, and injuries of the skeletal system and the muscles, joints, and ligaments associated with it. Both spellings of this term are generally accepted, but the second is technically correct and how most official medical organizations spell it. Medical professionals who specialize in this field are called orthopaedists, but the layman's term is orthopedic surgeon or orthopedic specialist.
These healthcare professionals treat a wide variety of conditions pertaining to the body, including problems like arthritis, sports injuries, back pain, leg and foot pain, and carpal tunnel syndrome. Orthopedic surgeons are specially trained to deal with common conditions associated with the skeletal system and to perform surgical repair when necessary.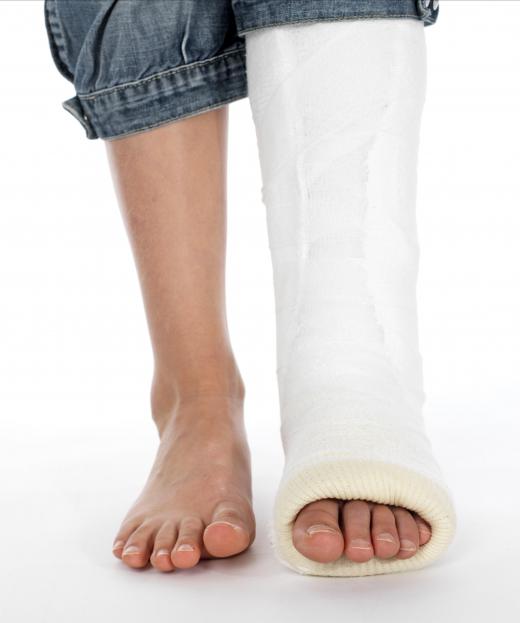 Common surgical procedures performed by surgeons in this field include joint replacement and repair of damaged nerves or relocation of compressed nerves. Some specialize in only one type of injury, and others may exclusively treat one particular part of the body, such as hands or feet. Some doctors further specialize by exclusively treating children. These doctors are called pediatric orthopedic surgeons.
A pediatric specialist may treat problems that arise with the growth and development of children, such as curvature of the spine, or scoliosis, and limb length discrepancy. The field is a specialty that can be called upon in emergency situations as well. Fractures, severe sprains or strains, and dislocated joints are all common injuries suffered by active children. These medical professionals will treat the child while keeping in mind that his or her body is still growing and developing.
Patients can also consult with a doctor specializing in this area about bone health and prevention of bone loss. Medical professionals in the field often work closely with physical therapists to help heal an injury that might otherwise require surgery.
AS FEATURED ON:
AS FEATURED ON:

By: kameel

An orthopedist may diagnose and care for patients with broken bones.

By: flik47

Orthopedic specialists work with the muscles, joints and ligaments associated with the skeletal system.

By: ruigsantos

An orthopedist may help treat patients suffering from carpal tunnel syndrome.

By: Syda Productions

An orthopedic specialist may treat a patient who is suffering from back pain.

By: Alison Bowden

Orthopedists may recommend the used of crutches during the recovery of a sports injury.