How Do I Use Cod Liver Oil for Acne?
Many doctors and health experts recommend ingesting small doses of cod liver oil each day as a way to prevent and clear up acne breakouts. Cod liver oil is a nutritional supplement, which means that it is available over the counter in most places and does not come in fixed dosages. The oil should always be taken orally for acne — there are few known benefits to topical cod liver oil application, and for acne, it can actually make the problem worse. Most acne sufferers start by swallowing a small amount of oil at a set time each day.
Cod liver oil, as its name suggests, is oil that is derived from the liver of a codfish. It is naturally rich in vitamin A, vitamin D and omega-3 fatty acids. All three of these elements are important to maintaining healthy skin, and the proportions and concentrations in which they appear in cod liver oil make the oil ideal for treating acne.
Although it is most commonly available in liquid form, cod liver oil also comes as a gel capsule supplement in some places. Most people who use cod liver oil for acne do so by swallowing a spoonful of the oil or a single capsule once a day, usually with a meal. There usually is not a distinction between the liquid and the capsules. Liquid often costs less, but the taste is, to many people, unpleasant. Some manufacturers have begun selling flavored oils that are designed to make the swallowing easier.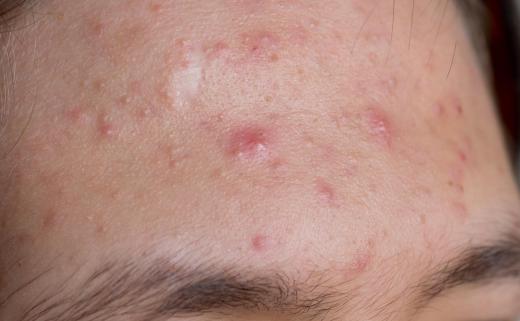 Pure cod liver oil typically is rather uniform, no matter where it comes from or where it is sold. There is some variance between brands, but the contents and general instructions usually are consistent. Using cod liver oil for acne generally is the same as using it for any other purpose. Follow the package directions for nutritional supplement use to approximate the right amount for adults and teens. It usually is a good idea to consult with a doctor before starting children on a regimen of cod liver oil.
Cod liver oil is an oil, but it is what is commonly known as a "good" oil. The omega-3 fatty acids that it contains are renowned for their antioxidant and general health properties and carry none of the risks of other trans fats and saturated fats. High levels of omega-3s help the body regulate its production and excretion of toxins. Ingesting cod liver oil can actually help clear up the oil on the face that causes acne in the first place.
Adding vitamins A and D to these fatty acids makes cod liver oil something of a wonder food, which is one of the key reasons why cod liver oil for acne is so effective. Vitamins A and D are both essential to skin and hair health. They promote hydration, elasticity and strength. Cod liver oil often yields results in as little as one or two days.
The benefits often outlast initial breakouts. Cod liver oil has been shown in many people to be effective at treating acne scars as well as promoting general skin health. There are no known side effects of prolonged use, and many people who begin taking cod liver oil for acne continue with their regimens long after the skin has cleared.
AS FEATURED ON:
AS FEATURED ON:

By: Stephen VanHorn

Cod liver oil may be helpful in preventing and treating acne breakouts.

By: olavs

A close up of acne.

By: ipag

Those using cod liver oil to prevent or treat acne should also continue their regular skin care routine with a gentle cleanser.

By: Budimir Jevtic

Topical application of cod liver oil can actually make acne worse.