How Effective Is Almond Oil for Acne?
Studies have indicated that using almond oil for acne is effective. Users often prefer almond to other oils because it is not greasy, it has a pleasant fragrance, and it works well in many cases. As with any remedy, whether homeopathic, prescription, or over-the-counter, results may vary from person to person. With its high levels of fatty acids, almond oil has been used to treat skin problems, such as acne, eczema, or psoriasis, since the 1500s, making it one of the most-used oils for acne treatment.
Some may wonder why using almond oil for acne actually works. In general, some people produce too much of a fatty substance called sebum from their sebaceous glands, which causes their facial pores to become clogged. Eventually, the clogged pores will lead to a mild infection, creating acne. Almond oil is made up of fatty acids that dissolve substances such as sebum. As a result, using the oil works to clean the pores and repair the damage to the skin.
There are several different ways to use almond oil for acne. For example, a user can wash her hands and face to provide a clean surface. She can then place a couple drops of almond oil on her hands and rub it onto her face, letting it soak in. This is often done in the evenings before going to bed.
Other ways to use it include rubbing the oil onto an unwashed face with clean hands. The oil will clean off any debris, makeup, or other substances. It should then be rinsed off and the skin dried. A second layer of almond oil may then be applied to the clean skin to treat the acne and moisturize the face.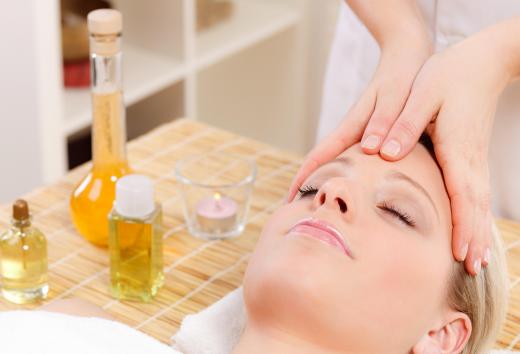 There are a few factors that should be considered before using almond oil for acne. For example, it generally is best to use therapeutic grade oils for the most effective treatment of acne. It is also important to select sweet almond oil versus bitter almond oil. Testing a small area of skin for a few days may be beneficial as well, to ensure the oil doesn't irritate sensitive skin or result in breakouts or other skin issues.
People who are allergic to nuts should avoid using almond oil or start by using very small amounts. The oil can be purchased at most apothecaries and in many beauty supply stores. It is a relatively inexpensive oil as well, making it a good alternative to many other acne treatments.
AS FEATURED ON:
AS FEATURED ON:

By: Dionisvera

Use almond oil to treat acne.

By: Picture-Factory

An almond oil facial to clear and prevent acne.

By: Dmitry Rukhlenko

Almonds.

By: Jörg Hackemann

A boy with acne.

By: ipag

Almond oil may be applied after the face is washed in many cases.