How Do I Use Vinegar for Toenail Fungus?
Vinegar is a popular home remedy for toenail fungus. There are a couple of different ways you may use vinegar for toenail fungus. One way is to soak your feet in a solution of vinegar on a daily basis; the other involves dripping or painting vinegar on the affected toenails once or twice each day. Some people assert that either one is an effective treatment for toenail infections. Members of the medical community are, however, more likely to choose prescription medications for treating toenail infections.
One way to use vinegar for toenail fungus is to prepare a foot bath using apple cider vinegar and water. You may do this by adding enough vinegar and water to a basin to just cover your feet, making sure you don't add so much that it spills over. To make sure you have a good concentration of vinegar in your foot bath, you may do well to add equal parts water and vinegar. Soaking in this solution for about an hour a day is said to help fight toenail fungus. It is important to note that many people prefer apple cider vinegar for toenail fungus treatment, but any type of vinegar may be used for this purpose.
If you prefer not to spend a lot of time soaking your feet, you can still use vinegar to treat toenail fungus. Instead of soaking in it, you can apply it directly to the affected toenail instead. For example, one way to use vinegar for toenail fungus involves putting a couple of drops on each affected toenail a couple of times each day. Alternatively, you can use a clean nail polish brush to paint the vinegar on your toenails twice daily. When you choose to apply the vinegar directly to your toenails, use straight vinegar rather than mixing it with water.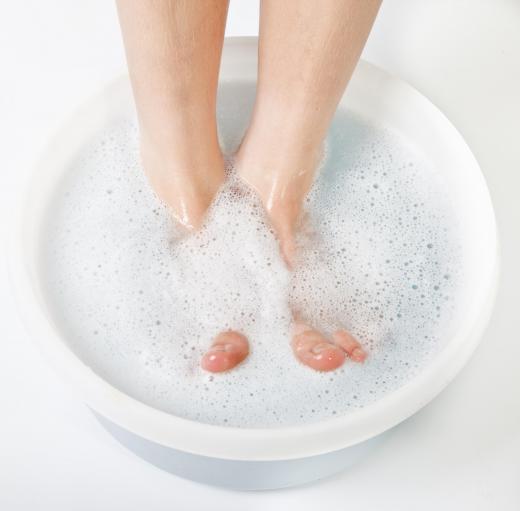 Some home remedy experts have an additional suggestion for ensuring that your vinegar treatment is as effective as possible. Many recommend clipping the infected nail and then filing its surface so that the infected part of the nail is as thin as possible before you soak your feet or apply the vinegar. If you choose to do this before you use vinegar for toenail fungus, you may do well to use only new or sterilized equipment for clipping and filing your nails. Additionally, you can use different nail care tools on your uninfected nails to avoid spreading the infection to them.
Why Does Vinegar Have Antifungal Properties?
Vinegar has antifungal properties because of the acetic acid in its formula. Studies have shown that vinegar has slowed down toenail fungus growth by reducing the bacteria that cause the infection, which is dermatophyte fungi. 
Acids work to kill the microorganisms present in fungal infections. Regular vinegar treatments can degrade the bacteria in the toenail fungus to restore the infected area over time. 
While, in some cases, you may have to purchase an over-the-counter toenail fungus medication to finish the healing process, the acids in vinegar can slow down fungus spread. If left untreated, the fungus can spread to other uninfected toenails, making a bad situation worse. 
What Is pH?
pH stands for Potential Hydrogen. It measures how many hydroxyl ions and free hydrogen are in a substance. 
As pH levels in a substance get lower, there are more hydrogen ions which means they are more active. A one to six on the pH scale shows acidity.
A substance with a pH level of about seven, such as blood, is considered neutral. Neutral pH shows an equal balance of acidity and alkaline properties. Alternatively, a substance that rates 8-14 on the pH scale is considered alkaline and has fewer hydrogen ions than an acidic one. 
What Is the pH of Vinegar?
Vinegar is one example of a substance with more hydroxyl ions, which means it is acidic.The pH of vinegar depends on its overall formula makeup and if it is homemade or commercially created. Typically, some kinds of vinegar are comprised of about 94% to 95% water and 5% to 6% acetic acid, depending on the vinegar type. 
A scientific study found that homemade vinegar has a slightly higher pH than commercially made vinegar. Homemade vinegar ranges from 2.58 to 3.67 on the pH scale, while commercially made vinegar is about 2.22 to 2.86 on the pH scale. 
How Do You Make Homemade Vinegar?
If you want a higher acidity to treat your toenail fungus than the acidity of commercially made vinegar, you can make homemade vinegar. Follow these steps:
Sterilize a glass jar. 
Choose wine, cider, or beer as a base. 
Measure out equal parts of water and your chosen alcoholic base. 
Add a vinegar starter to the formula. 
Use a paper towel or cheesecloth to place over the jar opening. Close it off with a rubber band around either cloth.
Why Do pH Levels Matter When Eliminating Toenail Fungus?
pH levels matter because they are responsible for eliminating toenail fungus. Dermatophyte fungi die from acidic environments. According to the United States Geological Survey, vinegar is about two on the pH scale. A pH of seven or lower depicts acidic contents in the formula. 
For example, one over-the-counter medication for toenail fungus and athlete's foot is Lotrimin. One of the ingredients is salicylic acid. While over-the-counter remedies can work to reduce toenail fungus, you can use vinegar as a cost-effective home remedy. 
Why Is Apple Cider Vinegar More Effective Than White Vinegar For Eliminating Toenail Fungus? 
White vinegar only contains acetic acid in its formula. You can still use it to treat your toenail fungus if that is what you have on hand. However, the smell is more potent and only has one acid compared to the many in apple cider vinegar. 
Alternatively, apple cider vinegar has a more pleasant scent than the white version. The added benefit of fruit in its formula gives it a healthier profile than its cousin. 
Apple cider vinegar contains multiple phenolic compounds responsible for the hydroxyl ions in this acid substance. Review the significance of each acid amongst these phenolic compounds below. Hence, these acids in apple cider vinegar play a part in its antimicrobial properties for treating toenail fungus. 
| | |
| --- | --- |
| Name of Acid | Significance |
| Caffeic acid | Has antioxidant properties and improves skin health. |
| Gallic acid | Antimicrobial and antioxidant benefits. |
| Chlorogenic acid | Has anti-inflammatory and anti-obesity benefits. |
| Catechins | Have average antimicrobial abilities and can prevent cancer while helping heart health. |
| Epicatechin gallate | Provides antioxidant benefits, lowers inflammation, and reduces weight. |
| Vanillic acid | Treats fungal infections, reduces obesity, and aids in decreasing diabetes symptoms. |
| Phlorizin | Is found on unripe apples and apple tree bark; it treats high blood sugar and aids in lowering diabetes symptoms. |
Final Thoughts
Vinegar can be an excellent home remedy for treating toenail fungus. However, if this is not treating the bacteria accordingly, try an over-the-counter medication for faster healing. Remember to find an acidic alternative approved for treating toenail fungus so that it can adequately kill the dermatophyte fungi. 
AS FEATURED ON:
AS FEATURED ON:

By: GeoM

Red and white vinegar.

By: Jan Andersen

A person having a foot bath with vinegar in it.

By: Melinda Nagy

Vinegar is a popular remedy for nail fungus.

By: Comugnero Silvana

Apple cider vinegar is a popular option to treat toenail fungus.