How does the Human Body Eliminate Dead Cells?
The human body is a complicated system which operates much like a self-contained city. Some organs produce new cells, others use cells to perform their jobs, and eventually certain scavenger cells arrive to remove dead cells from the system. In the case of the human body, these scavengers are specialized white blood cells called macrophages. Macrophages remove the cells essentially by eating them, which helps to explain why the word macrophage means "big eater" in Greek.
When external skin cells die, there are a number of mechanical and chemical methods used to slough them off. Exfoliants and scrub brushes are often employed to remove dead cells and encourage new cell turnover. But cells that have died within the human body are not so easily removed. They go through a much more complicated elimination process, which is not always as efficient or thorough as one might hope.
Living cells die through two different processes. Many body cells are programmed to die at a prescribed time, through a process called apoptosis. Red blood cells, for example, are programmed to die after 120 days of service. Other cells, such as white blood cells, may be programmed to die an apoptotic death after only a few days. These dead cells may continue to flow through the body's bloodstream or collect in various organs, but they are clearly no longer contributing to the system.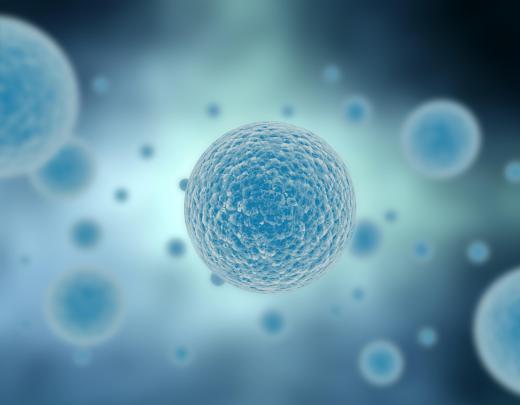 The other process of cells dying is called necrosis. Necrotic cell death usually occurs after a trauma or infection or other shock to the system. When cells become necrotic, they may be removed through surgery or other medical intervention, but often they enter the bloodstream in the same way as apoptic cells. The body cannot function well with an overabundance of dead cells, so macrophages take on the mission of breaking down the excess.
A macrophage cell can literally detect cells that have died through smell, much like a scavenger bird detects dead animals. Whenever dead cells reach the part of the bloodstream patrolled by a macrophage, the macrophages surround them and convert them into easily removed components. At the same time, the macrophage covers the dead cells with a substance known as an antigen. This action tags the cells for further attack from other types of cells in the body's immune system. Ideally, the macrophages and killer T-cells should render both dead cells and foreign invaders harmless enough to re-enter the bloodstream for elimination.
When macrophages become overwhelmed, however, they may allow some cells that have died to pass through unprocessed. The DNA from those cells may trigger an inflammatory reaction as the cells combine with other substances. This process is the basis for many autoimmune diseases such as Crohn's disease or lupus. Bolstering the body's macrophages is often a course of treatment recommended for autoimmune diseases and even some forms of cancer.
The dead cells are eventually eliminated in a number of ways. Macrophages and other immune system components have essentially digested the body's cells, parts of which may be reused. Material from these cells also makes up part of the solid waste we call fecal matter.
AS FEATURED ON:
AS FEATURED ON:

By: Gennadiy Poznyakov

Exfoliating will help remove dead skin cells.

By: Jezper

A cell.

By: nobeastsofierce

Cells dividing.

By: Alexandr Mitiuc

Red blood cells are programmed to die after 120 days.

By: Deyan Georgiev

Humans naturally shed their old epidermal cells to expose new cells on the skin's surface.