How Effective Is Cortisone for Sciatica?
Cortisone for sciatica can provide temporary relief from persistent nerve pain caused by a compressed or injured sciatic nerve. Treatment can include injections directly into the area around the nerve, as well as oral medications for patients to take. As part of the overall treatment program, the patient might need to take other medications as well, and could need physical therapy, rest, and other measures to address the pain and irritation. Patients may respond very differently to treatments, and thus something that works for some people may not be effective in others.
Historically, there were some concerns about using cortisone for sciatica because of the high doses involved. Advocates were worried that taking high doses in the long term could expose people to a high risk of side effects and complications. Changes in prescribing practices have resulted in much lower dosages, reducing risks for patients while retaining the benefits that caused practitioners to recommend cortisone for sciatica in the first place. Patients who are unsure of the appropriateness of the dosage can ask for more information from their doctors.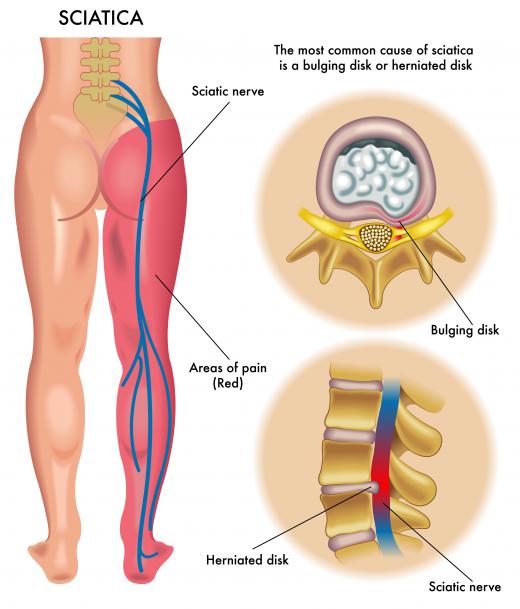 In direct injection form, cortisone for sciatica can suppress immune responses to reduce inflammation. This should make the patient feel more comfortable, because the sciatic nerve and surrounding tissue will not be as swollen. Cutting back on swelling can reduce the pressure that causes the nerve pain, alleviating the symptoms. The injections may last several weeks or months, depending on each individual case.
Oral medications can be taken as a maintenance drug to keep inflammation down. Higher doses may be required because the drugs aren't delivered directly to the site, and the patient can be at a higher risk of side effects. Whether such medications are appropriate can depend on patient history, the doctor's experience, and the specifics of the case. If the patient does need to stop taking oral cortisone, it may be necessary to slowly taper off the dosage to avoid complications.
Patients who choose to use cortisone for sciatica may be able to delay surgery to treat the condition. In some cases, controlling the inflammation and keeping the patient comfortable eliminates the need for surgery altogether. The outcome of treatment can depend on what is causing the problem, the patient's general level of health, and how early the patient started receiving treatment. People who receive care early may be able to prevent the long-term damage that eventually leads to a need for surgery.
AS FEATURED ON:
AS FEATURED ON:

By: rob3000

If the sciatic nerve becomes irritated, it can cause pain and numbness down the leg.

By: WavebreakmediaMicro

Physical therapy can be used with cortisone to help relieve pressure on the sciatic nerve.

By: Lisa F. Young

Some doctors recommend chiropractic care in addition to cortisone to manage the symptoms of sciatica.

By: 夢見る詩人

Stretching may be used to relieve sciatica pain.