How Effective Is Ginseng for Weight Loss?
Most health experts agree that, on its own, ginseng is not very effective for weight loss. Ginseng is an herb that has many documented benefits and uses. Many people use it in conjunction with other weight loss plans and may claim that it can speed results or make it easier to shed excess weight — but in most cases these results are highly individualized and aren't based on any sort of scientific backing. The herb is most commonly used as a stimulant, and can actually encourage appetite in people who take it. It might also help reduce blood sugar, which can make it really useful for diabetics. Adding ginseng to an already healthy diet might help a person improve his or her health, but unless that person is also and already really carefully watching calories and incorporating physical activity into each day, the supplement alone is unlikely to cause any significant weight changes.
Understanding Ginseng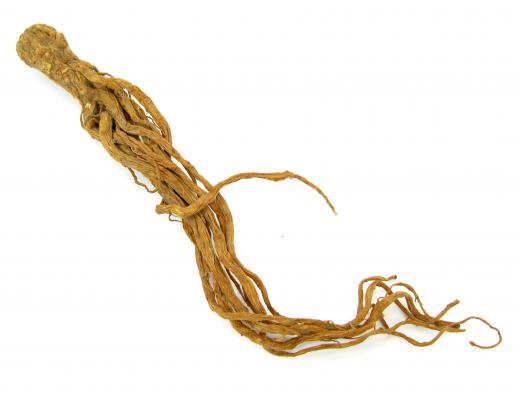 Some dieters use ginseng for weight loss because it is reported to speed up a sluggish metabolism and increase energy levels. This could help a person to feel better and be more active, and thus increase weight loss. These claims aren't always universal and they tend to depend a lot on the person. To an extent they can also depend on the type of ginseng being taken, too.
It's important for dieters to realize that there are several different herbs that go by the name "ginseng," including American, Siberian, and Asian varieties. American ginseng, known formally as Panax quinquefolius, and Asian ginseng, or Panax ginseng, are some of the most common varieties to be included in energy drinks for their purported ability to improve mental sharpness and physical stamina. Anything that carries the "ginseng" name is biologically related to these two types of plant, but may not necessarily carry the same benefits.
Use as a Stimulant
Other reported — although not proven — benefits of taking ginseng include relieving fatigue, improving stamina, and treating conditions such as erectile dysfunction. All of these uses suggest that ginseng acts as a stimulant that may help increase a person's metabolic rate. With a faster metabolism, dieters could consume a healthy intake of food all the while having fewer calories converted into fat.
A reduction in fat calories will normally result in weight loss, particularly if combined with physical activity. Whether or not this is an inherent benefit to the herb is mostly unknown, though. The few studies that have been performed on the different types of ginseng show that the supplement might offer some of these benefits for mice, but corresponding studies in humans have not been as successful. A lot depends on the individual, and it's hard to make generalized conclusions.
Another reported use for ginseng is as a treatment for loss of appetite, which would seem to contradict the use of ginseng for weight loss. Although the supplement may give people more energy, it could also make them eat more. This could be related to the ability of some types of ginseng to lower blood sugar; when blood sugar levels are low, people get hungry and often crave foods that are high in sugar. People who use ginseng with hopes of losing weight will likely get the most benefit by increasing their intake of healthy foods and exercising regularly to help keep blood sugar levels normal.
Ability to Control Blood Sugar
Although there is no clear proof that any type of ginseng can help with weight loss, studies do suggest that both American and Asian varieties may help lower blood sugar, also called blood glucose, in people who have Type 2 diabetes. Type 2 diabetes is a medical condition in which the pancreas is no longer able to produce the insulin required to break down and buffer sugars in foods.
Safety and Side Effects
Medical professionals caution people not to take ginseng for weight loss or any other purpose except under supervision. This is particularly true for diabetics. A person who is already taking medication to help regulate his or her blood sugar levels may find that taking ginseng lowers levels too much, which can lead to a dangerous condition called hypoglycemia. Diabetics who take ginseng should monitor their blood glucose levels regularly.
Ginseng is usually considered safe when taken over a relatively short period of time, although some people may have an allergic reaction. The most common side effect is insomnia. It is not recommended that women who are pregnant or breastfeeding take this supplement. In addition, American ginseng should not be used by people who are taking warfarin or other anticoagulant medications because of a risk of serious interactions. The supplement may also impact the effectiveness of certain types of antidepressants.
Setting Healthy Weight Loss Goals
Although some people claim success from using ginseng for weight loss, consumption of this supplement should not be the only method used to achieve weight goals. Eating a healthy diet and getting regular physical activity are usually the most important parts of long-term weight control. Ginseng might help dieters achieve results faster, but not in the absence of other healthy behaviors.
Most experts also recommend setting incremental weight loss goals rather than looking for an immediate solution. Ginseng can be part of this plan, but shouldn't be the only tool in a dieter's arsenal.
AS FEATURED ON:
AS FEATURED ON:

By: Uros Petrovic

Ginseng root has been used for medicinal purposes for thousands or years.

By: sommaiphoto

So far, there is no scientific proof that ginseng aids in weight loss.

By: Lsantilli

Maintaining healthy eating habits and a routine exercise program will likely aid any weight loss endeavor.

By: milosducati

Ginseng supplements are said to increase energy levels.

By: Rob Byron

Diabetics who take ginseng should check their blood sugar levels regularly.