How Effective Is Metronidazole for Urinary Tract Infection?
Metronidazole is a prescription antibiotic used to treat infections caused by anaerobic bacteria and certain parasites. While metronidazole was not designed to fight urinary tract infections, it is sometimes prescribed to treat cases of reoccurring and persistent nongonococcal urethritis. When used as directed, metronidazole can eliminate urethritis-causing bacteria within seven days. Before using metronidazole for urinary tract infection, patients should discuss dosage and possible side effects with their physician.
There are several common uses of metronidazole. This medication is commonly used to treat vaginal, skin, stomach, heart, blood, joint and bone infections. Physicians usually only prescribe metronidazole for urinary tract infection when patients are suffering from a particularly resistant case of nongonococcal urethritis.
Urethritis is a urinary tract infection that only affects the urethra. In uncomplicated cases of urethritis, certain antibiotics are usually used to fight the infection. If these medications are ineffective or if the infection keeps returning, a physician may decide to use metronidazole for urinary tract infection. Metronidazole is not used to treat urinary tract infections that have traveled to the kidneys or bladder.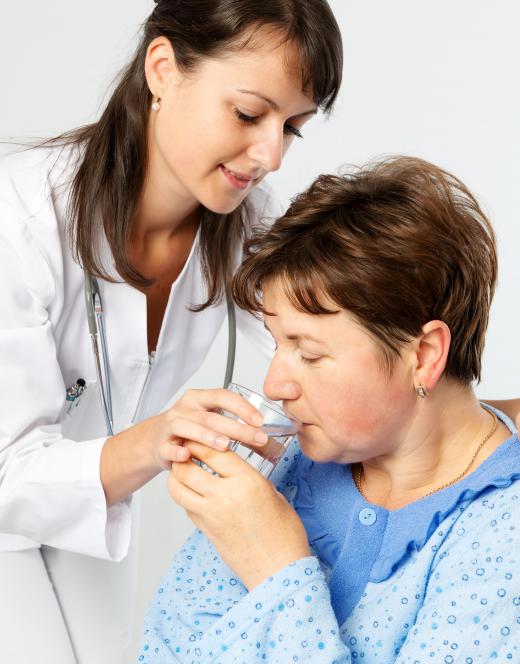 Infections caused by Chlamydia trachomatis or diplococci bacteria will not respond to metronidazole. The medicine is also ineffective when treating gonococcal urethritis. If a patient believes that he or she might be suffering from a gonorrheal infection, this issue will need to be eliminated before treating the urethritis.
Metronidazole is most effective when combined with either erythromycin or erythromycin ethylsuccinate. These medications should be used for seven days to treat reoccurring urethritis. After completing seven days of treatment, the patient's symptoms should be eliminated. It is important that patients follow all metronidazole dosage instructions as given by their physician. Missing doses or failing to finish the prescription will negatively impact the effectiveness of the medication.
Before taking metronidazole, patients should let their physician know about any medications or herbal supplements they are taking. Certain medications, such as cimetidine and phenytoin, may impact the effectiveness and safety of metronidazole. Pregnant women and those who are nursing should also avoid this medication.
Patients should also be aware of certain metronidazole side effects. Metronidazole may cause stomach pain, cold-like symptoms, dizziness, dry mouth, vaginal itching and swelling of the tongue. More serious side effects include fever, hives, seizures, painful urination, mood swings, vision problems, and swelling of the face, throat, or tongue. If a patient experiences these side effects, he or she should seek immediate medical attention. When used as directed, metronidazole is usually very effective in treating persistent, nongonococcal urinary tract infections.


By: kathy libby

Metronidazole is not designed to treat UTI, but it sometimes prescribed for nongonococcal urethritis.

By: Ocskay Bence

It is important to report any side effects of Metronidazole, especially serious ones like fever.

By: koszivu

Patients recovering from a urinary tract infection should drink plenty of water.

By: fred goldstein

The presence of a urinary tract infection may cause fever in infants.

By: joshya

Individuals who experience frequent urinary tract infections may have an increased risk of developing bladder cancer.