The kidneys are a pair of small organs located in the lower back in humans, and they are vital to life. They are found within many types of animals and play a crucial role in the urinary system of these animals. Other functions that they perform relate to homeostasis within the organism, electrolyte balance, and blood pressure.
In humans, each kidney has a bean-shaped appearance with a convex and concave side. The outer skin of the organ is called the renal capsule. The inside can be divided into two main sections, the central part and the peripheral part.
The two parts of the peripheral section are the cortex, which is the outer part of the inside, and the medulla, which is most innermost part. The medulla is further divided into many sections called the medullary pyramids. Nephrons are tiny structures that are located inside the medullary pyramids, where they filter water out of the bloodstream.
The central part of the kidney contains a calyx, which can further be divided into the major and minor calyx, and the pelvis, which is a dilated part of the ureter. The ureter is a tube that has a primary function of draining any urine produced into the bladder. Both the major calyx and minor calyx are found surrounding a group of tissues within the organ known as the malpighian pyramids.
The main function of these organs is to retain water, electrolytes, and salts while removing urea, wastes, and toxins from the bloodstream. Electrolyte balance is maintained by filtering the electrolytes, secreting them into the bloodstream, and reabsorbing them from other byproducts. The kidneys' production of rennin plays a role in homeostasis of both water and electrolytes.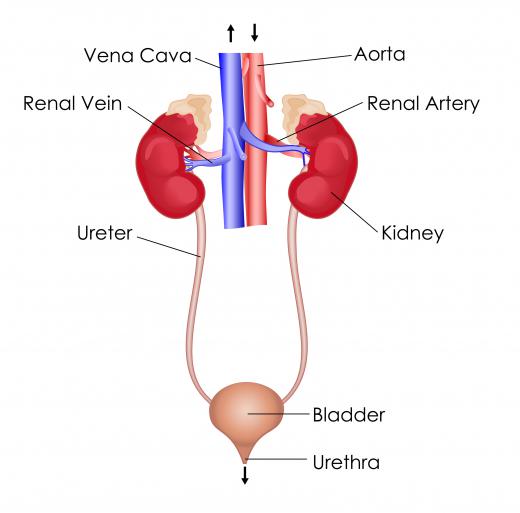 The kidney also plays a crucial role in the endocrine system. It is responsible for the activation for erythropoietin, a hormone that is needed for the production of red blood cells. The organ also is needed for regulating calcium metabolism, because it activates vitamin D to regulate calcium metabolism.
Although humans are born with two kidneys, it is possible for a person to survive with only one. This is because each is packed with renal tissue, which is more than enough for daily use and is quite capable of carrying out the necessary functions all on its own. Kidney trouble will result when this renal tissue is below the required amount needed for the organ to be able to carry out its daily functions.
AS FEATURED ON:
AS FEATURED ON:

By: underdogstudios

Man reaching back and pressing on the location of his kidneys.

A diagram of a human kidney.

By: snapgalleria

The kidneys are part of the larger excretory system.

By: stockshoppe

The kidney plays a crucial role in the endocrine system, as it activates the hormone erythropoietin.

By: Sebastian Kaulitzki

Kidneys play a crucial role in the urinary system, electrolyte balance and blood pressure.

By: Yuriy Shevtsov

The kidneys retain water while removing toxins from the bloodstream.