How Effective Is Naproxen for Headaches?
Naproxen is a painkiller that is part of the family of non-steroidal anti-inflammatory drugs (NSAIDs). As with other NSAIDs, taking naproxen for headaches is a common remedy. This medication is effective at treating a variety of headaches, although it is not always the most efficacious option compared to other drugs. Additionally, potential side effects and drug interactions can limit naproxen's utility in some patients.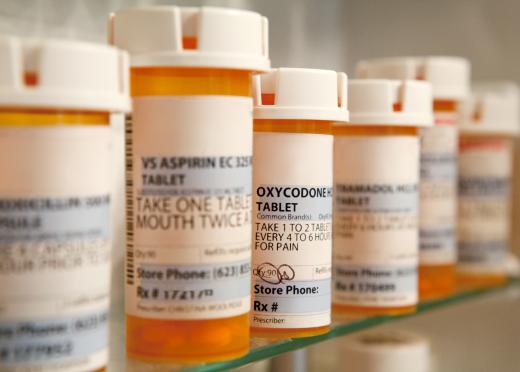 Research has demonstrated that one of the more common headaches, known as tension headaches, can be effectively treated by this drug. A study of 149 patients taking naproxen to treat headaches showed greater pain relief from this drug than from another NSAID, acetaminophen, or a placebo. Other studies using larger doses of acetaminophen showed a greater benefit from this drug than from naproxen, however. Different patients may respond better to one medication or another depending on dose.
Patients may also use naproxen for headaches in a preventative fashion, known as prophylaxis. Studies performed on individuals with migraine headaches found that this drug was effective in reducing the severity of the pain from the headaches. Women experiencing menstrual migraines on a regular basis also found that naproxen generally helped reduce pain for most people. Other medications, such as tricyclics, are sometimes used instead of naproxen in a clinical setting, however. This is due to their ability to reduce the frequency of migraines, which naproxen does not generally achieve.
Potential side effects from this drug can determine whether a patient should take naproxen to treat headaches. Studies reveal that this medication is usually well-tolerated by most people, but minor side effects like nausea, upset stomach, bloating, or even headaches can occur. Normally, these do not require medical attention unless they occur often in a severe fashion.
A doctor should be notified immediately if side effects such as bloody stool, chest pain, difficulty urinating, or coughing blood occur. Taking naproxen for headaches can occasionally lead to severe medical problems such as stomach bleeding or liver damage. These side effects can indicate that such conditions have occurred, and that prompt medical attention is required, as they can be life-threatening.
Drug interactions from this medication may also determine if a person should take naproxen for headaches. Alcohol may increase the risk of stomach and kidney damage, so frequent drinkers may want to avoid this medication. Blood thinners like warfarin, and some medications that affect the heart, known as angiotensin-converting enzyme (ACE) inhibitors may also be harmful when taken with naproxen.


By: sframe

Side effects of naproxen may include bloating and stomach pain.

By: JJAVA

Interactions with certain other medications can limit the use of naproxen.

By: Ana Blazic Pavlovic

Naproxen can be used to effectively treat tension headaches.

By: Andy Dean

While naproxen can be effective in treating severe headaches, it does nothing to reduce their frequency.

By: orcea david

Most people believe it is best to limit alcohol consumption while taking naproxen.