How Effective Is Naproxen for Pain?
Naproxen is a painkiller that is one of the non-steroidal anti-inflammatory drugs (NSAIDs). This drug works by inhibiting an enzyme involved in the inflammatory response resulting in a reduction of pain and swelling. Generally, using naproxen for pain that is mild or moderate is effective for most individuals. Its ability to control pain is comparable to other NSAIDs, such as acetaminophen or ibuprofen.
Research has shown that taking naproxen for pain from surgery is another effective use for this medication. A study of individuals that had recently had operations found that doses of 500 milligrams (mg) naproxen were able to reduce pain levels by half in about 50 percent of the patients. Pain relief lasted around nine hours for individuals that felt these effects. This length of pain relief is longer than many other NSAIDs, although these results also indicate that some individuals may not experience enough relief from severe pain to warrant the use of naproxen in this situation.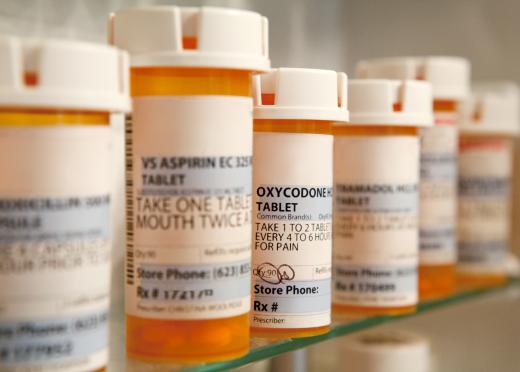 Other research has focused on a preventative use of naproxen for pain. The drug pegfilgrastim, which helps to increase immune cell production from bone marrow, is used to assist the body's defenses during chemotherapy for cancer. A side effect of pegfilgrastim is that it tends to cause extreme bone pain. Patients given naproxen before pegfilgrastim therapy often had the duration and severity of their pain reduced. This NSAID did not completely reduce pain for all individuals, but it did show significant effects that were superior to a placebo.
Taking naproxen for pain can sometimes lead to side effects similar to those caused by other NSAIDs. Stomach distress, nausea, and headaches are all common effects that are not serious in nature. Long-term, high-dose use of this medication can lead to ulcers, which require medical attention. Allergic reactions, convulsions, and bleeding from the stomach also call for immediate medical assistance, as they could be signs of a life-threatening problem.
Individuals taking naproxen for pain should also be aware of the possibility for adverse interactions with other medications. Other NSAIDs, including aspirin, should not be taken with naproxen, to avoid an increased chance of developing ulcers. Many antidepressant medications may increase the chances of bruising or internal bleeding when taken with naproxen. Blood thinners like warfarin may be less effective when taken with this pain killer, as well. A doctor or medical professional should always be consulted before combining this drug with any prescription or over-the-counter medications, so that potentially harmful interactions can be avoided.
AS FEATURED ON:
AS FEATURED ON:

By: JJAVA

Negative drug interactions with certain other medications can limit the use of naproxen.

By: Amy Walters

Naproxen can be taken to relieve sunburn pain.

By: Photographee.eu

Naproxen and other non-steroidal anti-inflammatory drugs (NSAIDs) can help mitigate mild to moderate pain and discomfort.

By: lusielia

Stomach distress and nausea are common side effects of taking naproxen.

By: Sandor Kacso

Side effects of naproxen may include headache.

By: Piotr Marcinski

Taking naproxen on an empty stomach may cause nausea and vomiting.