How Effective Is Oregano Oil for Herpes?
Using oregano oil for herpes may help prevent breakouts and relieve symptoms of skin irritation, blisters, and inflammation. Studies have shown that oregano oil has antimicrobial properties and may reduce inflammation, so it may help eliminate symptoms of cold sores, shingles, and genital herpes. Cold sores, shingles, and chicken pox are conditions caused by viruses in the herpes simplex family.
The use of oregano oil may irritate the mucus membranes, which may cause inflammation and pain. The topical application seems to be more effective in treating herpes than consuming it in oral form. Even though oregano oil is considered natural and safe, it can produce side effects, like nausea, vomiting, and diarrhea, when consumed in high concentrations, but they are usually mild and temporary. A healthcare provider should be consulted before treating a herpes infection with oregano oil to make sure it's safe prior to beginning treatment.
The herpes virus produces inflammatory symptoms that may be soothed by the application of oregano oil. The oil should be divided into multiple doses throughout the day, rather than taking large amounts of it at one time. The standard dose is approximately three drops every two hours at the start of symptoms.
Oregano oil may burn when it is initially applied, but this sensation usually will subside after a few minutes, as will itching and inflammation of the lesions. Prior to using oregano oil for herpes, a small amount should be applied to a non-affected area of the skin to make sure an allergic reaction does not occur.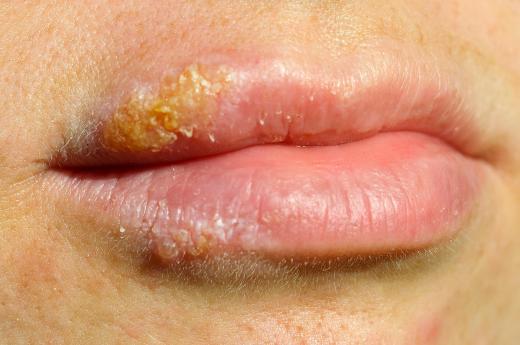 Oregano oil should not replace conventional medical treatment. When symptoms such as blisters, tingling, itching, inflammation, and burning of the skin occur, a medical professional needs to be notified. Other treatments, such as ant-viral medications, may need to be prescribed, either in topical forms or orally. When a herpes viral infection occurs, systemic symptoms may also be present. An over-the-counter anti-inflammatory medication will help reduce pain, fever, and inflammation, but getting enough rest, eating healthy diet, and drinking plenty of fluids should also be considered to maintain a health immune system.
What Is Carvacrol, Oregano's Active Ingredient?
The active ingredient in oregano oil is carvacrol, which has antiviral, antibacterial, and anti-inflammatory effects. These properties make it an effective treatment for cold sores and other viral infections. Carvacrol inhibits the ability of the herpes virus to replicate, which reduces the severity and duration of outbreaks.
A 2012 study found that oregano oil was just as effective as acyclovir, a common antiviral medication, in treating herpes simplex virus-1 (HSV-1), the type of virus that causes cold sores. The study found that oregano oil reduced the severity of symptoms and sped up the healing process.
Oregano oil helps inhibit the growth of the herpes virus and reduce an outbreak's duration and severity. It can also help prevent future flare-ups.

If you're considering using oregano oil for herpes, you should talk to your doctor first. Oregano oil can interact with certain medications, such as blood thinners and immunosuppressants. It may also slow blood clotting and lower blood sugar levels. So be cautious if you take anticoagulants, antiplatelet drugs, or antidiabetes drugs. 
Carvacrol has many health benefits beyond its antiviral effects. It can also help to boost your immune system, fight inflammation, and improve your digestion. Some studies suggest oregano oil may aid weight loss and lower cholesterol. Carvacrol is a non-toxic substance that works to expedite cancer cell death.
Oregano oil has side effects, such as skin irritation, heartburn, and diarrhea. If you experience any side effects, stop using the oil immediately and talk to your doctor. Additionally, if you are allergic to plants such as basil, lavender, mint, or sage, contact your doctor before taking oregano oil or applying it to your skin.
How To Make Oregano Oil at Home
Infused oils can be expensive, but did you know you can make your own at home? Oregano oil is popular and has many uses, from helping mitigate herpes symptoms to boosting the immune system.
It is pretty simple to make oregano oil at home. You will need:
One cup of olive oil
One-quarter cup of dried oregano
A clean glass jar with a lid
To make the oil, combine the olive oil and dried oregano in the glass jar. Place the glass jar in boiling water for ten minutes to extract the oil.
Screw on the lid and shake well to combine. Store the oil on a window sill for two weeks, shaking the jar every few days.
After two weeks, strain the oil through a cheesecloth or coffee filter to remove the oregano debris. Pour the strained oil into a clean glass bottle and screw on the lid. Your oregano oil is now ready to use.
There are many ways to use oregano oil, but one of the most popular is to apply it topically to help soothe a cold sore or herpes outbreak. Dab a small amount of oil on the affected area and allow it to penetrate for 10 minutes before rinsing off.
So, is oregano oil effective for treating herpes? Although a study has shown that oregano oil impairs the herpes simplex virus-1 viral envelope from infecting host cells, there is still no concrete scientific evidence to say for sure. However, many people swear by its healing properties. If you're looking for a natural remedy to help ease your cold sore or herpes symptoms, oregano oil is worth trying.
How To Make Oregano Oil Suppositories at Home
Suppositories are a great way to get the benefits of oregano oil without encountering the digestion issues some people experience when taking herbal oils.
The cocoa butter and coconut oil in this preparation moisturize sensitive tissue and help prevent irritation. 
Combine one-third cup cocoa butter with one-third cup coconut oil in a saucepan and heat until melted. Add three teaspoons of powdered oregano. Mix well and pour the mixture into suppository molds. Refrigerate until ready to use.
When ready to use, insert a suppository rectally and lay down for at least 30 minutes to allow the oil to absorb.
The benefits of suppositories are that the oregano oil is in direct contact with the affected area. This contact makes it more likely to be effective in fighting off a herpes outbreak. The active compounds cross the blood-brain barrier immediately, so this method of administration is more efficient than oral consumption.
AS FEATURED ON:
AS FEATURED ON:

By: Okea

Oregano oil may help alleviate some symptoms of inflammation from herpes, but it should not replace medical treatments.

By: Marco2811

Oregano oil is one of the most common homeopathic treatments for cold sores, caused by herpes simplex 1.

By: Photozi

Oregano oil can be relieve itchiness caused by chicken pox.

By: Peter Atkins

Oregano oil can be used to eliminate the symptoms of genital herpes, which may be spread despite the use of condoms.

By: librakv

Oregano can help eliminate symptoms of shingles, which is caused by a virus in the herpes simplex family.

By: nikomi

Drinking a lot of fluids and getting adequate rest are important parts of treating the herpes virus.