How Effective Is Oregano Oil for Herpes?
Using oregano oil for herpes may help prevent breakouts and relieve symptoms of skin irritation, blisters, and inflammation. Studies have shown that oregano oil has antimicrobial properties and may reduce inflammation, so it may help eliminate symptoms of cold sores, shingles, and genital herpes. Cold sores, shingles, and chicken pox are conditions caused by viruses in the herpes simplex family.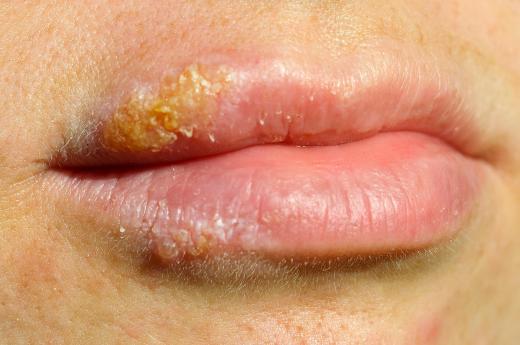 The use of oregano oil may irritate the mucus membranes, which may cause inflammation and pain. The topical application seems to be more effective in treating herpes than consuming it in oral form. Even though oregano oil is considered natural and safe, it can produce side effects, like nausea, vomiting, and diarrhea, when consumed in high concentrations, but they are usually mild and temporary. A healthcare provider should be consulted before treating a herpes infection with oregano oil to make sure it's safe prior to beginning treatment.
The herpes virus produces inflammatory symptoms that may be soothed by the application of oregano oil. The oil should be divided into multiple doses throughout the day, rather than taking large amounts of it at one time. The standard dose is approximately three drops every two hours at the start of symptoms.
Oregano oil may burn when it is initially applied, but this sensation usually will subside after a few minutes, as will itching and inflammation of the lesions. Prior to using oregano oil for herpes, a small amount should be applied to a non-affected area of the skin to make sure an allergic reaction does not occur.

Oregano oil should not replace conventional medical treatment. When symptoms such as blisters, tingling, itching, inflammation, and burning of the skin occur, a medical professional needs to be notified. Other treatments, such as ant-viral medications, may need to be prescribed, either in topical forms or orally. When a herpes viral infection occurs, systemic symptoms may also be present. An over-the-counter anti-inflammatory medication will help reduce pain, fever, and inflammation, but getting enough rest, eating healthy diet, and drinking plenty of fluids should also be considered to maintain a health immune system.


By: Okea

Oregano oil may help alleviate some symptoms of inflammation from herpes, but it should not replace medical treatments.

By: Marco2811

Oregano oil is one of the most common homeopathic treatments for cold sores, caused by herpes simplex 1.

By: Photozi

Oregano oil can be relieve itchiness caused by chicken pox.

By: Peter Atkins

Oregano oil can be used to eliminate the symptoms of genital herpes, which may be spread despite the use of condoms.

By: librakv

Oregano can help eliminate symptoms of shingles, which is caused by a virus in the herpes simplex family.

By: nikomi

Drinking a lot of fluids and getting adequate rest are important parts of treating the herpes virus.