In Fitness, what is a Set?
In fitness, a set is a grouping of repetitions of one particular exercise. Exercises are frequently broken up into sets to allow the body periods of exertion and rest, and to assist the exerciser in keeping track of progress, and time spent working out. This is a concept best illustrated with an example.
A bicep curl is a common exercise in weight training, and one complete bicep curl is known as a repetition, or a "rep." This consists of the entire movement; the concentric phase, when the muscle is contracting, followed by the eccentric phase, when the muscle is lengthening. A set, then, is a grouping of reps. For instance, one might choose to do three sets of ten reps.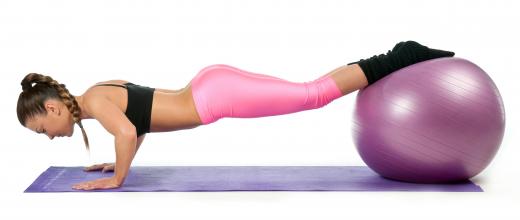 This means that one would do ten bicep curls, followed by a brief rest period, followed by ten more bicep curls, another brief rest, and then the final set of ten. The rest period may last anywhere from 30 seconds to a minute and a half, and is based on the exertion needed to complete the exercise as well as the amount of rest that the exerciser feels is needed. It is simple to use sets and reps to create an effective workout routine.
Breaking difficult exercises into a set is one easy way to manipulate a workout routine for the desired result. Most people choose to do between eight and 15 reps per set, based on their level of physical ability. One might begin with two or three sets of eight reps, and as time passes and physical fitness and muscular strength increase, one might then begin doing three sets of ten reps, or four sets of eight reps.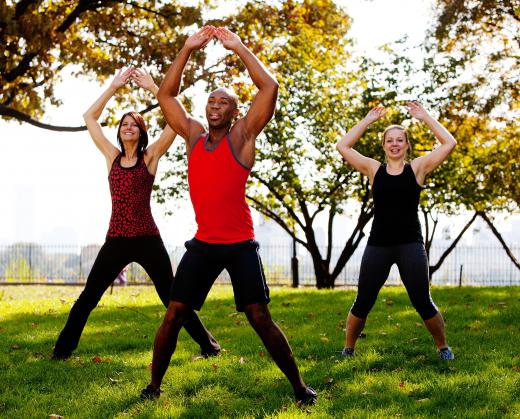 Exercising in this manner, by counting sets and repetitions, is an excellent way to progress slowly through a workout, gradually and safely increasing endurance. The periods of rest in between sets help to prevent muscle injury due to overexertion, and they also allow the muscles to work harder and therefore get stronger by preventing them from creating momentum. Momentum can occur when one does a movement too quickly, thereby allowing gravity to take over rather than using the muscles.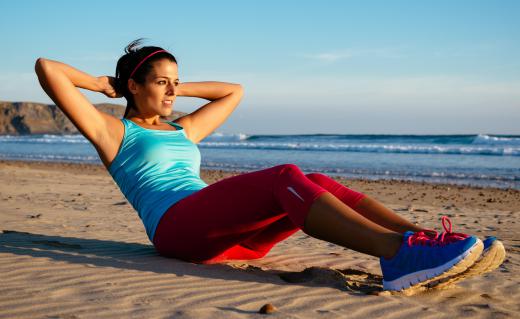 It is possible to develop a comprehensive workout routine on one's own. Sets and repetitions can be used with any exercise where individual movements may be counted, such as weight training, crunches, push-ups, squats, or even aerobic activities such as jumping jacks. In addition, there are many free workout programs online, or a personal trainer at a gym will be able to provide instruction regarding effective techniques.
AS FEATURED ON:
AS FEATURED ON:

By: bertys30

A "set" usually involves completing a predetermined number of repetitions of a given exercise.

By: Rido

Weight lifters perform sets.

By: Tyler Olson

Jumping jacks can be done in sets.

By: Dirima

Sets and repetitions can be used with any exercise where individual movements may be counted, such as sit-ups or crunches.