Is It Safe to Combine Azithromycin and Ibuprofen?
It's common to worry about side effects and drug interactions when using antibiotics, as some of these drugs can have unwanted effects when taken with other medications. Generally, this isn't believed to be the case when combining azithromycin and ibuprofen, as no significant drug interactions have been reported by those using both medications. Azithromycin and ibuprofen can likely be taken together safely, with no risk of drug interactions. Ibuprofen is used for pain, while this antibiotic is taken to control infection.
Azithromycin is a type of antibiotic called a macrolide, a term that refers to the presence of a chemical formation called a macrolide ring. The macrolide ring is the site of activity of the antibiotic, and works by preventing bacteria from synthesizing new proteins. Azithromycin can be toxic in people with kidney or liver disease or certain types of heart problems, but is safe to take for most other people.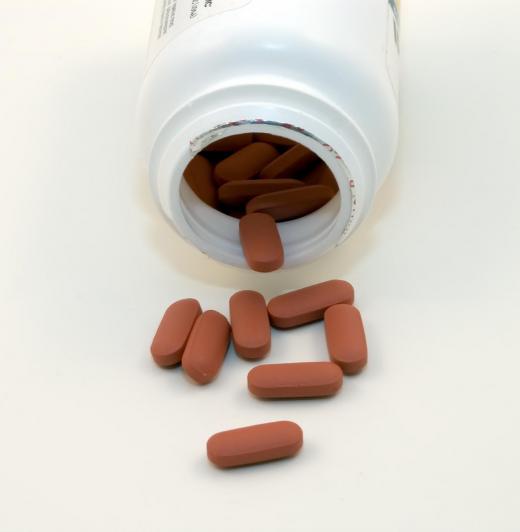 Ibuprofen is a nonsteroidal anti-inflammatory drug (NSAID) that reduces pain and inflammation by reducing levels of inflammatory hormones. Even though this drug is available over-the-counter, it can be dangerous when used in the long term, particularly for people with liver or kidney disease, and circulation or heart problems. It is safe for most people to use as long as dosage instructions are followed correctly.
Both azithromycin and ibuprofen do, therefore, have some side effects that users must be aware of when taking the drugs to treat infection or pain. Despite this both medications are safe to take by anyone who is otherwise healthy. Most people are at risk of only minor side effects such as upset stomach, mild digestion issues, and tiredness.
Some antibiotics can have serious interactions with other medications, including over-the-counter drugs such as ibuprofen. The consequences of such interactions can range from the relatively minor, to life-threatening. For example, some drug interactions reduce the effectiveness of one or both of the medications being used, while others can cause violent reactions that demand medical attention. In a situation where medication is being taken for a heart condition or another serious illness, this might be a lethal drug interaction. In the case of azithromycin and ibuprofen, however, there have been no significant reports of these interactions, and it is generally considered safe to use both of these medications together as long as they are taken as recommended by medical professionals.


By: 7activestudio

People with kidney disease should not take azithromycin or ibuprofen.

By: Dragos Iliescu

Minor side effects of azithromycin and ibuprofen may include stomach pain.

By: Richard Seeney

Ibuprofen.

By: Syda Productions

Azithromycin is prescribed to treat various types of bacterial infections.

By: Lisa F. Young

Azithromycin is frequently prescribed to treat ear infections.

By: emiliau

Ibuprofen can interact with certain medications, so it is important that people discuss the drug with their doctor before any new prescription for azithromycin is filled.