Is It Safe to Combine Doxycycline and Dairy?
The combination of doxycycline and dairy is not inherently dangerous, but it does decrease doxycycline's effectiveness. Dairy products — milk, cheese, yogurt, and other milk-based foods — contain calcium, which interferes with the absorption of doxycycline into the bloodstream. It is recommended that patients avoid dairy products at least two hours before or after taking doxycycline. Depending on the dosage and frequency of the medication as well as the severity of the infection, the prescribing doctor may recommend not consuming dairy products at all while on doxycycline.
Doxycycline is a broad-spectrum antibiotic that can be used to treat urinary tract infections, acne, respiratory infections, and various bacterial sexually transmitted diseases. This medication works by stopping the proteins in bacteria from replicating. It is commonly prescribed because it is less expensive and has fewer side effects than other broad-spectrum antibiotics like ciprofloxacin. Unlike some antibiotics, however, it is absorbed best on an empty stomach, thus the problem of taking doxycycline and dairy together.
The decrease in effectiveness when combining doxycycline and dairy also applies to some other foods. Patients who normally take dietary supplements such as calcium, iron or a multivitamin should stop taking those while on doxycycline unless their doctor or pharmacist says otherwise. They should instead try to get these nutrients through dietary sources as much as possible during the course of treatment.
Some patients routinely eat yogurt as a probiotic while on antibiotics to maintain a healthy amount of bacteria in the body, especially in the digestive system. Doing so reduces the risk of side effects, such as upset stomach, yeast infections, or other fungal infections that are common while taking antibiotics. Since yogurt is of course a dairy product, this is not recommended while on doxycycline. Patients can instead take over-the-counter, commercially produced probiotic supplements or other non-dairy probiotic foods, such as coconut yogurt, to avoid combing doxycycline and dairy.
How Long Do Doxycycline Side Effects Last?
Doxycycline is an antibiotic from the tetracycline group. They stop protein synthesis in microbial RNA of bacteria by disrupting ribosomal processes that build those proteins from amino acids. This prevents infection-causing bacteria from multiplying. Eventually, the bacteria die out without additional organisms to replace them.
Good Bacteria Vs. Bad Bacteria
To understand why doxycycline has certain side effects, a quick lesson on good bacteria is in order. If the idea of "good bacteria" sounds a little strange, you're not alone. We do need some bacteria in our bodies. Those good bacteria are probiotics, which aid your body in staying healthy. They mostly help out your digestive system, aiding it in processing food so that your cells can receive the nutrients they require. Good bacteria are also at work in our urinary tracts, mouth, lungs and even on our skin. Besides digestion, they keep harmful bacteria in check so you don't get sick.
The downside to doxycycline and other antibiotics in its class is the inability to discriminate between good and bad bacteria. When it eliminates the germs that cause your illness, it also reduces the good bacteria in your body. That's why you may experience side effects like nausea, diarrhea, vomiting, itching, yeast infections, sore throat and loss of appetite.
Side Effects and Elimination Half-Life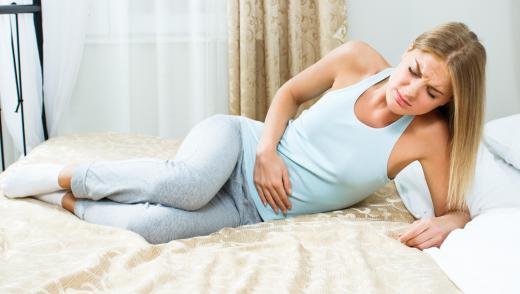 Of course, not every doxycycline side effect comes from losing good bacteria. Photosensitivity, for example, comes from interactions between chemicals in the medication and UV rays from the sun. Dizziness and fatigue may result from immune hemolytic anemia brought on by the medication.
Now that you know what causes doxycycline's side effects, you'd like to know how long they'll last. To answer this question, it's helpful to understand the concept of elimination half-life. Also known as the biological half-life, it refers to the amount of time it takes for the concentration of a substance to reduce down to half of its starting dose. Doxycycline has an elimination half-life of between 16 and 22 hours.
Typically, it takes 5.5 times a drug's biological half-life period to completely leave your bloodstream. For doxycycline, that works out to about 121 hours max — about five days. Keep in mind that factors like dosage, metabolism, age health and body mass can lengthen or shorten this elimination period. With this in mind, you can expect side effects to subside within a few days to no more than a couple of weeks.
How Long Does It Take for Doxycycline To Work?
On the flip side, doxycycline can start to work almost right away. That's because your body begins to absorb the medication shortly after you ingest it. The drug can reach its peak concentration about two to three hours after taking it. Most medical professionals advise allowing up to 48 hours for your systems to alleviate. That gives the antibiotic enough time to interrupt the bacterial agent's protein-making process and thus stopping it from reproducing.
Doxycycline is also used to treat severe acne and rosacea. In those cases, you may start to see results in a couple of weeks. Most medical experts advise allowing about 12 weeks for full therapeutic benefits. You won't be able to take it for an extended period of time, but your physician can suggest additional treatments after you go off the doxycycline.
What To Eat With Doxycycline to Avoid Stomach Upset
Nausea, diarrhea, vomiting and appetite loss may occur after starting doxycycline. However, there are some things you can do to minimize these side effects. The antibiotic's directions usually advise taking it on an empty stomach, typically about one hour before or two hours after eating. But if drug-related nausea doesn't go away, taking the drug with a small amount of food can help reduce it.
Calcium and Doxycycline
One thing to remember while taking doxycycline is that it can bind with calcium in the stomach. Unfortunately, that means you'll have to steer clear of dairy products at or near your typical dosage times. You don't have to completely stay away from dairy, but limit these to two hours before or after taking doxycycline.
If you're considering switching to plant-based dairy alternatives, remember that some food producers add extra calcium to these items. Check their nutrition labels for details. The milk product itself isn't the problem, but the calcium content in these foods.
Additional Self-Care Tips
Doxycycline can be an effective treatment for many conditions. Because of how it works and its side effects, taking care of yourself is even more important. Be sure to drink plenty of water while on the antibiotic. Also, add a probiotic supplement to replace the good bacteria killed off by doxycycline.
AS FEATURED ON:
AS FEATURED ON:

By: vgstudio

Individuals should avoid dairy products at least two hours before or after taking doxycycline.

By: badmanproduction

Doxycycline may be used to treat acne.

By: lidante

Dairy foods contain calcium which can decrease doxycycline's effectiveness.

By: Anton Maltsev

Some people routinely eat yogurt as a probiotic while on antibiotics to maintain a healthy amount of bacteria in the body.

By: joshya

Doxycycline is an antibiotic that can be used to treat urinary tract infections.

By: inesbazdar

Consuming yogurt while taking antibiotics reduces the risks of certain side effects, such as upset stomach.