Is It Safe to Mix Acyclovir and Alcohol?
Acyclovir is an antiviral drug that is most commonly used to treat herpes infections such as shingles, cold sores, and genital herpes. Antiviral drugs such as this are usually given to help control acute viral outbreaks. It is best not to mix acyclovir and alcohol, because the combination may cause side effects to be more severe.
Antiviral drugs are especially helpful in minimizing the chances of spreading genital herpes to a sexual partner, though they do not guarantee that the herpes won't spread. These medicines can also help to reduce the pain associated with these conditions. They usually speed the healing process and can be helpful in minimizing the risk of complications that may be associated with some viral outbreaks.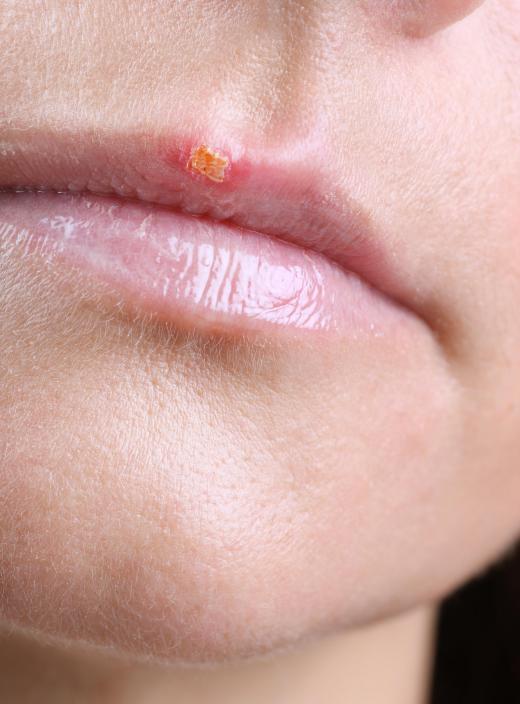 The main problem that can arise from mixing acyclovir and alcohol is that the medication may cause dizziness as one of its side effects. Combining the drug with alcohol makes the effect worse, resulting in a significant and potentially dangerous level of dizziness. This can cause impaired functioning and may pose a safety issue, especially when driving a car, operating machinery, or running heavy equipment.
Acyclovir comes in several different formulations, and can be given orally or applied topically. People who use the drug in ointment or cream form should know that there is very little chance that dizziness will result from topical application. In such an instance, it is likely to be safe to use it with alcohol. Despite this, a number of medical professionals continue to recommend that patients not mix the two, since there is a possibility that the alcohol could affect how well the antiviral medication works, even though it is not a safety issue.
This medication is quite often given as an injection, or as tablets or capsules, and typically, users will get the best possible results by avoiding taking it with alcohol. There is always the chance that dizziness may result from such a combination, even if it has not happened in the past, especially if there can be other contributing factors, such as tiredness, heat, hunger, or stress. If a person on acyclovir were to become dizzy while driving a car or operating machinery, a serious accident could result. It is best not to take risks, both to be sure the medication is able to work without interference and to avoid potentially harmful side effects.


By: Valua Vitaly

The dizziness associated with acyclovir can be worsened with alcohol.

A herpes blister.

By: orcea david

Mixing acyclovir and alcohol can lead to dangerous levels of dizziness.

By: Artyom Yefimov

Acyclovir may be used in combination with some topical treatments for HSV-1.