Is There a Connection between Sertraline and Acne?
Sertraline is a type of selective serotonin reuptake inhibitor (SSRI) that is used to treat depression, obsessive compulsive disorder, and other types of mental illnesses. There are risks associated with all types of medications for mental illnesses, but there is an increased risk between sertraline and acne. Not all patients will experience acne with this type of medication, but any concerns should be addressed with a medical professional before changing a treatment plan. Other side effects are more common with sertraline, such as decreased libido.
SSRIs increase the level of serotonin in the brain, which helps to reverse various types of mental disorders and depression. Serotonin also can also affect skin cells in some patients, which can affect oil production. Oily skin types are more prone to sertraline and acne problems, because they already secrete more sebaceous oils from their pores. Cells generally take up to four weeks to cycle to the surface of the skin. Sertraline and acne might possibly increase cell production, causing clogged pores and subsequent breakouts.
Sertraline and acne might be mistaken for a rare, but more serious, side effect of the prescription medication. An allergic reaction to the drug can cause an itchy, severe skin rash that can also burn and peel. Hives associated with a drug allergy can also be misconceived as acne. Patients who experience signs of an allergic reaction should call their physicians immediately. Heartbeat changes, sleeping difficulties, and mood swings are other side effects of sertraline that should be addressed with a doctor.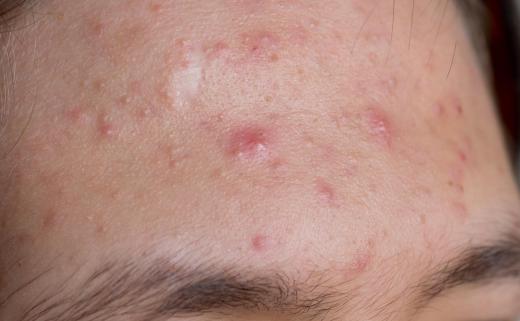 Breakouts associated with sertraline or any other factors can be alleviated through simple lifestyle changes. Proper hydration through drinking plenty of water and a healthy diet can help to minimize the occurrence of acne. Breakouts can be kept at bay with regular face washing and by using hypoallergenic cosmetics that will not clog the pores. Prescription-strength acne medications are also available for severe breakouts.
Acne is classified as a less common side effect of sertraline, although the possibility does exist. This type of skin condition is undesirable, and some patients might have the urge to stop taking sertraline in the middle of treatment. Quitting prescription medications can have serious repercussions, so it is always advisable that patients discuss any acne concerns with their doctors first. Nausea, dizziness, and uncontrollable shaking can occur if a patient suddenly stops taking sertraline. In some cases, adjusting the dosage of sertraline might be enough to reduce acne while increasing serotonin levels in the brain.


By: Halfpoint

Sertraline may be prescribed to treat depression.

By: Tatty

Sertraline may be prescribed to treat obsessive compulsive disorder.

By: zoomyimages

Side effects of sertraline may include decreased libido.

By: olavs

A close up of acne.

By: snyggg.de

In some cases, adjusting the dosage of sertraline might be enough to reduce acne while increasing serotonin levels in the brain.