Acne nodules are large lesions that form under the skin's surface when a hair follicle gets clogged with skin oils and dead skin cells. People who develop several nodules are classified as having severe acne, a condition which can be extremely difficult to treat and control. Many patients who suffer from nodular acne also develop acne cysts. Cysts are similar to acne nodules, but are soft and filled with pus and fluid, while nodules feel hard.
Severe acne is not just a cosmetic condition. Acne nodules are often tender and painful, and they may last for several weeks or even months. Nodular acne often leaves behind discoloration of the surrounding skin. This hyperpigmentation typically corrects itself several months after the patient's acne is under control. Nodules and cysts often leave behind deep, pitted scars as well. This type of scarring generally requires cosmetic treatments from a dermatologist, such as dermabrasion or injected skin fillers, to reduce the appearance of the scars.
Patients who suffer from acne nodules should visit a dermatologist for help controlling the condition. Over-the-counter acne medications and home remedies are usually ineffective for severe acne, and nodules that are left untreated often reoccur. Some cases of severe acne can be controlled with short-term doses of oral antibiotics or prescription-strength creams that contain benzoyl peroxide and topical antibiotics.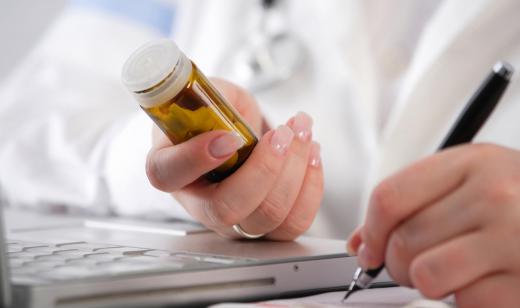 Isotretinoin is a prescription-strength drug used to treat nodular and cystic acne that does not clear up with other treatment methods. The medication is extremely effective in controlling even the most severe acne, but it does have potentially serious side effects. Patients who take isotretinoin must be carefully supervised by their doctors or dermatologists for high cholesterol, severe depression, and suicidal thoughts or actions. Women who take isotretinoin should use contraception because the drug can cause birth defects.
Dermatologists often treat individual acne nodules with cortisone shots to reduce inflammation and speed the healing time of the lesion. Cortisone is a steroid hormone naturally produced by the body to reduce swelling. Injecting extra cortisone directly into a large nodule can help reduce its size immediately, which is particularly helpful for extremely large or painful nodules.
It is important for patients who suffer from severe nodular or cystic acne to continue with their dermatologist's recommended treatment even after all of their acne lesions have disappeared. Failing to cleanse the face appropriately, wearing pore-clogging cosmetics, or irritating the skin with harsh soaps or scrubbing can cause further acne flare-ups. Refraining from touching acne-prone areas, using a mild cleanser to wash the face, neck, and any other acne-affected areas twice daily, and applying any topical products recommended by a dermatologist once or twice per day are the best ways to prevent new acne nodules from forming.
AS FEATURED ON:
AS FEATURED ON:

By: soupstock

Severe acne may be extremely difficult to treat.

By: emiliau

Isotretinoin is frequently prescribed to treat acne nodules, but can have serious side effects.

By: Syda Productions

Some cases of severe acne can be controlled using short-term doses of oral antibiotics.

By: ipag

Using specially formulated facial and body wash may help reduce the bacteria that causes acne nodules.

By: michaeljung

Acne nodules may be best treated by a dermatologist.

By: Budimir Jevtic

Prescription topical ointments are often effective in reducing the occurrence of nodular acne.