What Are Aspartame Allergy Symptoms?
The most common aspartame allergy symptoms are headaches, dizziness, nausea, and vomiting. Some have asserted that these headaches lead to painful migraines that can present with an additional crop of aspartame-related side effects, including decreased vision, eye pain, and increased sensitivity to noise. Supplementary eye-related issues such as blurriness and tunnel vision have also been described.
The majority of published research, leading health organizations, and regulatory bodies around the world have found that aspartame is typically safe for use. A significant percentage of the general public and anti-aspartame activists, however, continue to warn of the product's downsides. In fact, close to 100 unverified allergy symptoms have been associated with aspartame and include effects related to neurological, behavioral and digestive issues.
Gastrointestinal-related upsets tend to be another major complaint by those who have aspartame allergy symptoms. Typical digestive issues that may occur include diarrhea, dehydration, and vomiting that generally occurs with abdominal pain and cramping. For some, allergies triggered by aspartame show up as neurological complications, such as memory loss, lethargy, and mood swings. Others state that their symptoms are dermatological and present with hives; rashes; and swelling of the lips, hands, or other areas of the body.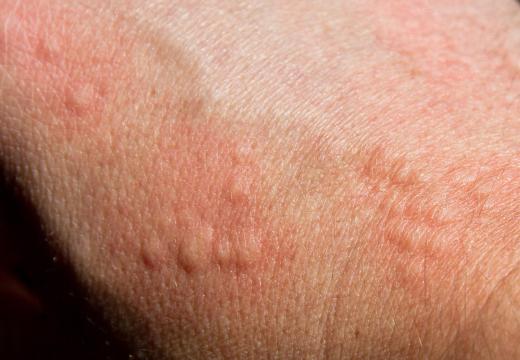 Although not an aspartame allergy, phenylketonuria (PKU) should prompt sufferers to take care to avoid any products containing aspartame. Anyone suffering from this inherited disorder is unable to process phenylalanine, an amino acid that aspartame breaks down in the small intestines. Persons with PKU who then consume aspartame could end up with high levels of phenylalanine in the body. For PKU patients, high levels of the substance can do serious damage to the central nervous system, leading to permanent brain damage and mental retardation.
It can be hard to tell if a person is actually allergic to aspartame. There is no way to test if synthetic substances like aspartame could trigger allergic reactions. To complicate matters even further, the artificial sweetener is found in a wide range of food and drink products, including diet sodas, flavored bottled waters, and table top sweeteners.
Multiple individuals who believe they suffer from aspartame side effects report that their symptoms start out mild and steadily become more progressive over the ensuing weeks and months. For many, these symptoms apparently begin to disappear once they stop consuming products that include aspartame. Generally, the recommended method of determining if an adverse reaction to aspartame is responsible for negative effects is to completely remove all sources of the artificial sugar from the diet. A consultation with an allergist or a medical professional might also be the most appropriate course of action.
How Common Is Aspartame Allergy?
There is still a lot of research that needs to be done into the effects of aspartame on the human body. Since it is technically a synthetic substance and not a food, measuring allergic reactions to it can be challenging. In fact, nutrition and allergy specialists often describe reactions as a result of consuming aspartame as an aspartame intolerance rather than an allergy.
How Common is Phenylketonuria?
One of the main risk factors for aspartame poisoning is having the preexisting health condition, phenylketonuria. This condition is not especially common, only occurring in one in every 10,000 to 15,000 people in the United States. Having phenylketonuria makes consuming anything with aspartame dangerous. 
Phenylketonuria is a genetic condition that can be passed down to children from their parents. It is usually identified by doctors shortly after a baby is born, so those who have it are generally well aware of their condition from an early age. 
How To Test for Aspartame Allergy
Unless you have phenylketonuria, it can be difficult to determine whether you are intolerant to aspartame or not. For some people, allergy symptoms similar to that of other food allergies may arise, while in others, the substance may cause gastrointestinal problems. 
One of the things you can do if you are concerned about aspartame's effect on your health is to pay attention to how you feel after eating certain foods. This advice only applies to people who consume aspartame regularly and are wondering if it is causing them to feel somewhat unwell. Be aware that if you have a serious allergy to the substance, the reaction could be lifethreatening. If a doctor or medical professional has advised that you do not consume it, it is best to avoid it altogether. 
Respiratory Reactions
While research into the potential reactions that aspartame can cause to the body is ongoing, there are a few to watch out for. Firstly, are common allergy symptoms that affect the respiratory system. While they can be as minor as an itchy throat and mouth, they can also become serious.
A reaction becomes dangerous when shortness of breath and swelling around the throat makes breathing difficult. This may cause pain, itchiness, and dizziness. Regardless of what you have been eating, if you begin to experience these symptoms you should call 911. They can be a sign of a serious allergic reaction that could cause anaphylactic shock, which is potentially deadly.
Gastrointestinal Reactions
Gastrointestinal reactions include anything related to the stomach and digestion. Common reactions to eating a food that your body is intolerant to include diarrhea or constipation, gas, bloating, and pain. In most cases, these are less serious than respiratory reactions, but if they start to feel urgent or intense it may be a good idea to see a doctor. 
Staying hydrated and eating simple foods that do not irritate the stomach can be a good way to treat symptoms at home. Even if you are not diagnosed with an allergy or intolerance to aspartame, being aware of foods that give you indigestion or make you feel sick can be important to your self-care. Even feeling mildly sick can affect your ability to operate at your best, so avoiding these foods is usually a good idea. 
Can You Develop an Aspartame Allergy?
The FDA has approved aspartame for use in food, and many scientific studies have shown that it is safe in small amounts. That being said, it may be more likely for you to have adverse reactions to it if it is consumed frequently.
Since some people consume aspartame in large quantities by sipping on diet soda throughout the day, overdoing it is a concern to be aware of. While you may not currently notice any adverse reactions to consuming aspartame, it can be a good idea to monitor how you are feeling afterwards and take note of any changes that occur. 
Removing Aspartame From Your Diet
Some companies, such as Pepsi, have removed aspartame from various products in response to health concerns from customers. If you are looking to cut it out of your diet, consider shopping carefully for options that do not contain it.
If you want a diet-friendly sweetener to reduce your sugar intake, you might try natural options such as stevia or monk fruit. These options have fewer calories than sugar but can still add a sweet flavor to food. Some diet sodas are beginning to use them in place of aspartame. You can also avoid purchasing foods labeled as diet options and stick with traditional sweeteners.
Aspartame Allergy Hives
Hives are one of the less commonly reported symptoms of an aspartame allergy, but it's not unheard of. Those who say they've experienced this reaction describe a breakout of intensely itchy patches on the skin that are swollen and red. This breakout can be accompanied by other symptoms such as difficulty breathing or swelling of the lips and mouth.
Aspartame-induced hives are sometimes called urticaria and angioedema—both of which are medical terms for hives. The exact causal relationship between aspartame and hives is yet to be determined, but there are several studies that have confirmed the phenomenon. One such study concluded that a hive reaction to aspartame may be chronic, but it may also appear in an acute or delayed form, too.
There are several lines of treatment that may be used to treat hives that emerge after an allergic reaction to aspartame. Prior to 1999, an antihistamine drug called astemizole was identified as a promising treatment option, but this drug was pulled from the market due to reports of side effects that were potentially fatal. A standard treatment regimen has not been established since.
Aspartame and Nausea
Hives aren't the only problem that can emerge in the wake of aspartame exposure. Many people who experience an allergic reaction report that they also have feelings of nausea after they've consumed aspartame. In fact, this is sometimes reported even amongst people who have no known allergy to aspartame.
For those who are allergic — or who suffer from phenylketonuria — nausea can be caused by the body's struggle to metabolize aspartame after consumption. For those who aren't allergic — but who still experience nausea — it can be triggered by the gastrointestinal upset that frequently happens as the body struggles to digest the aspartame. Both reactions may cause feelings of unwellness and nausea immediately after consumption.
To combat nausea after aspartame, you can drink some cold water and eat some bland foods like crackers or rice. You should avoid any rigorous physical activity, and if at all possible, lay down to get some rest. Supplements that contain ginger, peppermint, or cinnamon may also be helpful in calming the stomach. If you regularly get nauseous after eating aspartame, you should be careful to avoid it in the future.
How To Treat Aspartame Poisoning
In severe cases, an adverse reaction may be serious enough that it constitutes aspartame poisoning. Symptoms may include breathlessness, a spike in blood pressure, and heart palpitations. You may also have symptoms of gastrointestinal distress such as diarrhea, vomiting, and cramps in the abdomen.
These symptoms are most commonly associated with phenylketonuria. In these cases, the accumulation of phenylalanine may cause aspartame poisoning, and this can lead to the damage of nerve cells. If this happens, it's important to seek medical attention immediately in order to prevent any further damage caused by the aspartame. Aspartame poisoning is not usually considered a fatal condition, but if left untreated, it can cause serious distress and injury in the affected person.
Frequently Asked Questions
What are the most common symptoms of an aspartame allergy?
Skin irritation, hives, itchy eyes, runny nose, headaches, nausea, stomach pain, chest tightness, and trouble breathing are some of the most typical symptoms of an aspartame allergy. Dizziness, mood swings, and weariness are possible additional symptoms. Anaphylaxis, a life-threatening allergic response, may sometimes happen.
How do I know if I am reacting to aspartame?
Being mindful of your body and any changes after ingesting an aspartame-containing product is the most effective technique to determine whether you have an aspartame allergy. You should get medical help right away if you suffer any of the common symptoms indicated above.
Are there any long-term effects of an aspartame allergy?
Yes, an aspartame allergy may have long-term effects. They include things like headaches, stomach issues, and persistent weariness. It is crucial to remember that these symptoms may also be caused by other health conditions, so it is advisable to speak with your doctor for an accurate diagnosis.
Is there a way to avoid an aspartame allergy?
Avoiding goods that contain aspartame is the best method to prevent an aspartame allergy. It is crucial to check the ingredient lists on every product and drink you consume to make sure aspartame isn't mentioned.
What should I do if I am experiencing an aspartame allergy reaction?
It's critical to get medical assistance immediately if you think you're experiencing an aspartame allergic response. Tell your doctor about your symptoms and any aspartame-containing goods you've recently ingested. To determine if aspartame is the source of your symptoms, your doctor may advise an elimination diet.
AS FEATURED ON:
AS FEATURED ON:

By: casi

Dermatological effects from aspartame use can include rashes and hives.

By: Jürgen Fälchle

An aspartame allergy may cause skin hives.

Headaches are a common symptom of aspartame allergies.

By: Tatyana Gladskih

Some people report mood swings and memory loss after ingesting aspartame.

By: 9nong

Dizziness is a common symptom of an aspartame allergy.

By: Photographee.eu

An aspartame allergy may result in dizziness and vomiting.