What Are Common Causes of Frontal Neck Pain?
The neck is an essential part of the body that supports the head. Several vital structures are housed inside the neck, such as the thyroid gland, carotid artery, etc. Abnormalities of these structures and hard or soft tissues can lead to frontal neck pain.
There are many causes of frontal neck pain, including thyroid conditions and bone spurs in the neck. Front neck pain may also be caused by a goiter, which occurs when the thyroid gland becomes enlarged and painful, either from infection or other health issues. Other causes of neck pain may be stress related. Some cases may be caused by slouching or unsatisfactory posture.
Causes of Frontal Neck Pain
Frontal neck pain is the outcome of various other underlying conditions, which are discussed below:
Muscle Strain
Research suggests that the distribution of load and force in the cervical (neck) muscles are varied. A pulled muscle in the front of the neck can lead to discomfort and pain in the frontal region.
Neck muscle strain is a condition when the muscle fibers are overstretched. This issue arises mainly due to overuse. Slouching over your smartphone screen or sleeping in an awkward position can cause muscle strain. Shoulder pain and headaches may also accompany neck pain.
Neck Cramps
A spontaneous and involuntary contraction of a muscle is known as a cramp. Neck cramps or spasms can induce pain in the frontal neck. Overexertion, stress, temperature changes, and dehydration can cause neck cramps. Vitamin D deficiency can worsen musculoskeletal issues in the neck.
Temporomandibular Joint Disorder
A condition known as temporomandibular joint disorder (TMJ) may cause joint pain in the jawbone and neck pain. In cases of TMJ, the temporomandibular joint becomes sore and tender. This joint connects the upper jaw to the base of the cranium. There may be underlying causes for this condition, including misalignment of the teeth or jaw, or dental problems. According to a study, neck pain is present in 39% of temporomandibular joint disorder cases. There may also be a strong correlation between muscle tenderness, joint dysfunction (TMJ), and neck disability. Patients can feel referred pain from TMJ disorder in the front of the neck.
Arthritis may also cause this affliction. As per reports, gouty arthritis may present as acute neck pain in old patients.
Lymph Node Swelling
A series of lymph nodes are present in the neck, known as the cervical lymph nodes. Swollen lymph nodes may cause front neck pain in some people. This may be caused by a viral infection, or, in some cases, a form of cancer.
Kikuchi's disease is a self-limiting condition in which the cervical (neck) lymph nodes become inflamed and tender. Majority of patients with the disease present with frontal neck pain. An abscessed tooth may also cause swollen lymph nodes, leading to pain in the front of the neck.
Heart Attack
Pain radiating into the front of the neck can be a serious complication. Heart attack or myocardial infarction is a severe condition when a blood clot stops proper flow to the heart. It can be life-threatening if left untreated.
A heart attack usually begins with dull pain in the chest, which becomes severe with time. As per an NHIS survey, 47.2% of patients experience the five typical heart attack symptoms, i.e., jaw/neck pain, lightheadedness, chest discomfort, shortness of breath, and arm/shoulder pain.
You should immediately report to the emergency room (ER) if you are experiencing radiating pain in the frontal neck and heart attack symptoms like shortness of breath, cold sweats, etc.
Whiplash (Injury)
Whiplash may cause pain in the front of the neck. Whiplash refers to an injury to the neck, typically incurred from a quick or jerky movement with increased force. Automobile accidents may cause whiplash in some individuals, resulting in severe neck pain.
A whiplash injury can damage ligaments, tendons, and muscles in the neck. Therefore, the sudden jerk can cause rear and front neck pain. A whiplash injury increases the patient's pain sensitivity. A cervical collar or brace is typically worn by the patient to stabilize the neck.
Carotidynia
The carotid artery is a vital vessel located in the neck. It supplies blood to the neck, face, and scalp. Carotidynia or Fay syndrome is a rare disorder characterized by facial and neck pain. There is also tenderness over the carotid artery bifurcation area. The exact mechanism and cause of carotidynia are unknown.
As per research, throbbing neck pain and tenderness are the most common symptoms of carotidynia. It usually manifests as unilateral pain on the side of the neck but may also be felt on the front side.
Auto-Immune Disorders
Lupus may cause neck pain in some individuals. Occurring more commonly in women, this disease is a chronic condition. Lupus patients may suffer a host of symptoms, all with inflammatory side effects. With a patient suffering from lupus, the immune system misfires and mistakenly assaults organs and other structures within the body.
According to research, neck pain is an evident feature of auto-immune musculoskeletal disorders such as systemic lupus erythematosus and rheumatoid arthritis.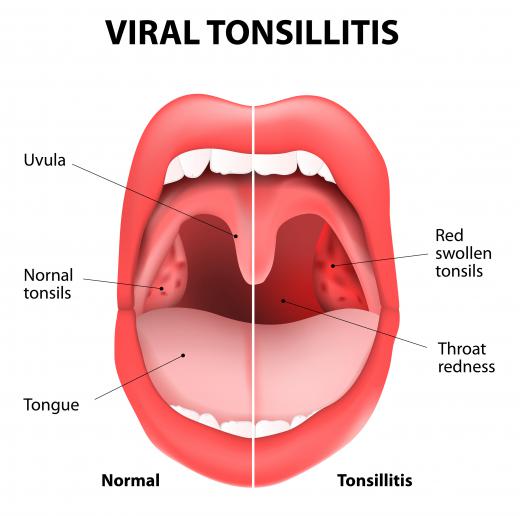 Patients who are afflicted with lupus may also suffer from swelling in various areas of the body. Joints are often affected and become rigid and inflamed. Joints in the neck may also become painful and tender, and frontal neck pain is one symptom of the disease.
Sore Throat And Sinusitis
Other miscellaneous causes of front neck pain include sinusitis and throat infections, such as tonsillitis. Common cold, laryngitis (inflammation of the larynx), and flu can develop frontal neck pain. Severe cases of sore throat can cause anterior neck pain and tenderness. Frontal neck pain is usually paired with pain in swallowing and a hoarse voice.
Herniated discs may also produce localized neck pain. These injuries to the neck may be an acute condition or occur gradually over time. Bone spurs in the neck, although not common, may be another cause of frontal neck pain.
Cancer
Different types of cancer can present as localized neck pain. Sore throat and neck pain can be initial symptoms of oral cancer patients. 
In a study, sore throat and neck mass are initially seen in oropharyngeal squamous cell carcinoma (OPSCC) cases. Most anaplastic thyroid cancer patients complain of neck pain and tenderness along with swallowing difficulty and breathing difficulty.
Other cancers that can cause neck pain in the front include esophageal cancer and cervical lymphomas.
When to Seek Medical Help for Frontal Neck Pain
Frontal neck pain that is mild typically subsides within a couple of weeks with home treatment. However, severe neck pain that continues to persist warrants immediate medical attention, especially if it causes nausea, vomiting, or affects or arms or legs. Neck pain resulting from an accident or fall should also be reported to your medical professional without further delay. 
Frontal Neck Pain Diagnosis
Symptoms of frontal neck pain may be difficult to accurately diagnose. This is because many conditions and illnesses may cause neck, jaw, or spine pain. Therefore, when a person complains of front neck pain, a physician will try to determine what other medical issues exist. 
A doctor usually orders imaging tests, including X-rays, CT scans, MRI scans, and blood tests, and pairs the data with a physical examination to diagnose frontal neck pain.
AS FEATURED ON:
AS FEATURED ON:

By: Kasia Bialasiewicz

Thyroid conditions and swollen lymph nodes can cause frontal neck pain.

By: Klaus Eppele

Swollen lymph nodes may cause front neck pain in some people.

By: Silvia Ottaviano

Symptoms of frontal neck pain can be difficult to diagnose, as there are many conditions that could lead to neck, jaw or spine pain.

By: Monkey Business

Car accident injuries are the most common cause of whiplash, which leads to head, neck and back pain.

By: Max Tactic

Symptoms of frontal neck pain may be too difficult to diagnose.

By: STOLBTSOV ALEXANDRE

A cervical collar is usually worn to stabilize the neck following whiplash.

By: rob3000

It's possible for a herniated disc to produce localized neck pain.

By: designua

Tonsillitis may cause frontal neck pain.

By: Von Schonertagen

An ear infection can cause an abscess to form in the neck, causing pain.