What are Compression Shorts?
During many athletic activities, the muscles of the groin and thighs often rub together, causing the sciatic nerve along the outer thigh to become irritated and the surrounding skin to chafe. Separating and compressing the groin and thigh muscles seems to provide relief from these problems, however. Compression shorts are specially constructed from nylon and Lycra® to provide support for the waist, groin and thighs during physical activity.
Perhaps the most recognized use of compression shorts is among professional bicyclists. The tight-fitting biker's shorts which extend from the waist to mid-thigh provide separation of the groin and thigh muscles through compression. Similar shorts for other sports are based on this same principle. The nylon fabric provides a cool, comfortable fit while the lycra provides enough elasticity to compress and separate the muscles. Some compression shorts are also designed to wick away excess sweat, which should reduce chafing and overheating.
Some athletes believe that compression shorts provide a performance advantage, because the hamstrings and other thigh muscles used for power are held under uniform compression. This is preferable to energy lost through wasted motion and vibrations. If the groin muscles are kept separate from the thigh muscles, friction and other momentum-robbing factors are also reduced. There is little scientific proof of such advantages, but many professional athletes prefer to wear them during competition.
Compression shorts are often suggested to those who suffer from a form of back pain called sciatica. The sciatic nerve runs along the outer thigh and can be irritated during exercise. Many sufferers find relief from sciatic nerve pain while wearing compression shorts under their normal workout gear. Many non-athletes also find that these garments provide support to the groin area, reducing the chances of injury while biking or using training equipment.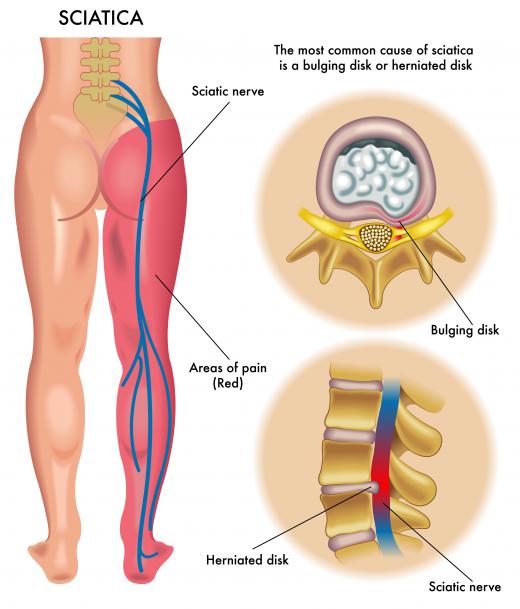 Some compression shorts also include a protective cup for male athletes or additional groin support for females. There are also compression shirts for the support of the upper torso and back muscles. The fit should be snug but not overly constrictive. A good pair of compression shorts should form a noticeable gap between the thighs and groin area. Look for a higher percentage blend of Lycra® if more support is needed. Some also provide odor protection, so consult the label for a complete list of benefits.
AS FEATURED ON:
AS FEATURED ON:

By: nito

Compression shorts.

By: Ljupco Smokovski

Road cyclist wearing compression shorts.

By: rob3000

Compression shorts may offer relief for problems with the sciatic nerve, which can cause pain and numbness down the lower back and leg.

By: Maridav

Runners may benefit from compression shorts.

By: Sebastian Kaulitzki

Compression shorts often are suggested for sciatica sufferers.