What are Corrective Lenses?
Corrective lenses are glass or plastic lenses worn over, on, or in the eye to help the eye focus so a person can see clearly. There are three main types of corrective lenses: glasses, contacts, and intraocular lenses. An eye care professional such as an ophthalmologist or optometrist can determine whether or not a person needs corrective lenses with a routine eye exam, and the exam can also be used to arrive at a prescription for a specific pair of lenses.
Eyeglasses
Eyeglasses consist of a frame with glass or plastic lenses that sits on the bridge of the nose and is supported by two legs, called temples, that rest on the ears. Glasses come in several varieties, primarily:
Regular monofocal glasses — these only have one focal point, so they can be used to help the wearer see things that are close or things that are far away, but not both.
Glasses with bifocal lenses — these let the wearer see things that are far away and those that are close up. For instance, they can be worn for driving and for reading a book. Bifocal glasses often have a noticeable line or half-moon shape in the middle of the lens because the two parts of the lens — the part used for seeing things close up and the part used for seeing things that are far away — are in one lens.
Glasses with trifocal lenses — these let the wearer see things that are far away, in a middle distance, like a computer screen, and close up, like a book.
Eyeglass lenses are often clear, but can be tinted for aesthetic reasons or for use as sunglasses. Some eyeglasses change opacity when exposed to sunlight, transitioning into sunglasses when the wearer steps outside into bright light.
Other types of eyeglasses include:
Progressive lenses — these lenses are multi-focal, like bifocals and trifocals, but they don't have the line across the front like bifocals often do.
Adjustable lenses — the focus on these glasses can be adjusted by wearers while they are wearing them. The way this works is that each lens is filled with a liquid. The wearer can move a slide or toggle on the glasses that changes the shape of the liquid, which changes the focus of the glasses.
Aspheric lenses — these are thinner than most other types of glasses lenses and are often used for aesthetic purposes when a wearer wants to avoid a very thick lens or the "Coke bottle glasses" look, like the glasses with the thick lenses below.
Plano lenses — these lenses have no focal point – they're basically just clear sheets of glass or plastic. They're used in glasses that are worn purely as accessories, or used in one side of a pair of glasses when a person has bad eyesight in one eye, but fine eyesight in the other.
All types of glasses need to be cleaned regularly with a microfiber cloth and a cleaning solution or a mild mix of dish soap and lukewarm water. This helps ensure that the wearer can see properly and can also keep the lenses from getting scratched by debris. Glasses should be stored in a hard case when not in use to keep them from getting dirty and to protect them from damage.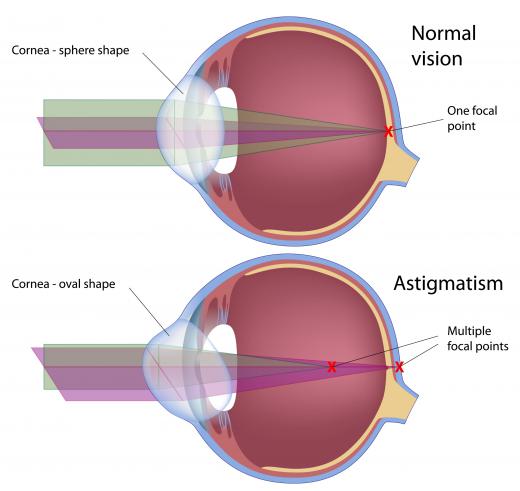 Most eyeglass lenses require a prescription in the United States, but there are mildly corrective non-prescription glasses available for reading, or less commonly, for nearsightedness. Though these glasses are usually cheaper than prescription glasses, they are not tailored to the person wearing them, and in some cases can exacerbate eye problems.
Contact Lenses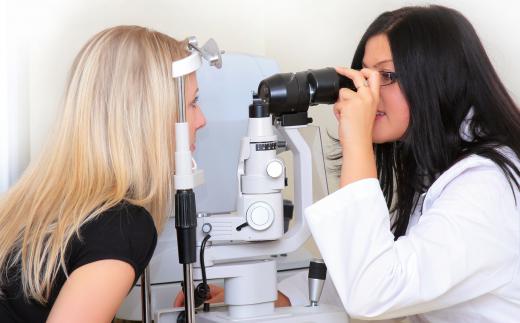 Contact lenses are small, round lenses that are placed directly on the eye's surface. Most modern contact lenses are made of plastic or silicone, though older contact lenses were made of glass. Most contacts are almost invisible when worn, except for contacts that are intentionally colored. Some contacts are intentionally tinted or colored so that the wearer can see them more easily if they fall out, or for cosmetic reasons.
Single-use varieties, which are worn once and discarded at the end of a day.
Daily varieties, which are only worn during the day and placed in a sterile solution at night.
Extended wear varieties, which are worn day and night for at least six nights.
Continuous wear varieties, which are worn even longer.
Even the longest-wearing varieties of contact lenses are usually discarded after about a month.
All types of contacts except for daily use contacts need to be cleaned and stored in a sterile environment when they are not being worn. Caring for contacts is particularly important, since they come into direct contact with the eye. Unclean contacts can encourage or cause problems with the eyes including eye infections, corneal abrasions, and in rare cases, blindness. Some contacts need to be cleaned differently than others, and there are a variety of contact cleansers, including enzymatic cleaners and ultraviolet cleaners, so wearers should always follow the instructions of their ophthalmologist.
In the US, all contacts are prescription-only, even non-focal ones and colored ones. Though some vendors sell contacts to those without a prescription, they are illegal, and should not be bought from.
Intraocular Lenses
Intraocular lenses are actually implanted into the eyeball, sometimes to replace a lens that has been removed or has become unusable due to cataracts or glaucoma, but also simply to correct vision. Most intraocular lenses are monofocal, meaning that wearer may have trouble focusing at distances other than the one that the lens is designed for. They are primarily focused for distance vision, though multifocal intraocular lenses do exist. Intraocular lenses can be placed in about 30 minutes by an experienced ophthalmologist in an outpatient procedure. Recovery time after getting intraocular lenses is usually about two to three weeks.
Since intraocular lenses are not removed, they do not require care once they are in the eye, but during the recovery period after the lens is implanted, the wearer cannot do heavy exercise or things that raise his or her blood pressure.
How Corrective Lenses Work
Corrective lenses work by bending light to move the focal point of the light coming into the eye closer or further away. In a normal eye, the natural lens of the eye bends this light to the right length for it to focus on the retina, the back of the eye, and the eye can focus without help, but some people's eyes bend the light so it focuses before the retina or at a point behind the retina, which makes their natural vision unfocused.
People with myopia, or nearsightedness, have an eye shape that causes the light to focus in front of their retina, so they need lenses that move their focal point further away to make it possible to see things in the distance. Farsighted or hyperopic people have eyes that focus the light at a point behind their retina so they need lenses that bring the focal point closer so that they can see objects close up. The picture below shows a cross-section of light focusing in a normal eye on the top, a farsighted eye in the middle, and a nearsighted eye on the bottom.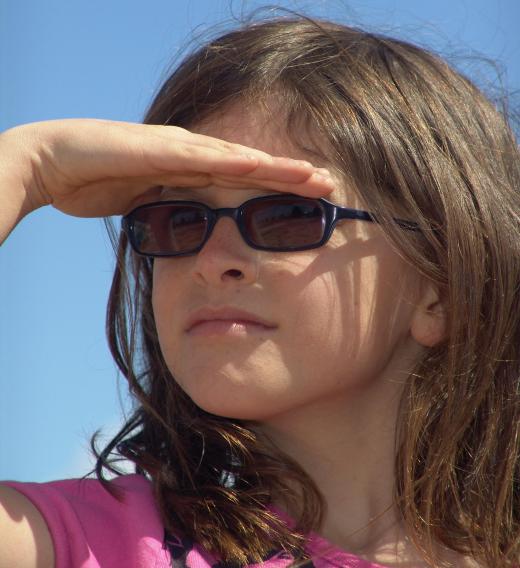 The depth of the curve of a corrective lens, the thickness of the lens, and the precise shape of the lens can all be used to change the focal point. Even small changes in the degree of the curve of a lens can make a significant impact to vision. Lenses for those with myopia are convex, shaped like a thin, tall football, while lenses for hyperopia are concave, with the middle part being thinner than the ends.
There are also special types of corrective lenses for those with astigmatism. While those with myopia, or nearsightedness, have longer or egg-shaped eyeballs and those with farsightedness have eyeballs that are shorter than normal, those with an astigmatism have irregularly shaped corneas — not eyeballs — which makes their vision blurred. People with astigmatism need a special type of corrective lens called a toric lens, which bends light more on one part than the other.
The strength of a corrective lens is measured in diopters, which is written in a plus or minus form in a lens prescription. So a lens with a 2.5 diopter measurement for a person who is nearsighted would be written as "-2.5" on his or her prescription or contact lens box. The lenses below are classified according to their diopter, and are used by ophthalmologists during an eye exam to help determine what level of prescription a person needs.
Most people can only distinguish between quarter-diopter changes, so most corrective lens prescriptions are written in quarter-diopter amounts (+1.00, +1.25, +1.50, etc.) In the US, diopter measurements are written in the negative for nearsightedness and in the positive for farsightedness, though this can be the opposite in other countries.
Pros and Cons of Corrective Lenses
Some studies suggest that in those with borderline myopia or hyperopia — particularly children — wearing corrective lenses may lead to dependence on the lenses and may cause their eyesight to worsen, but this has not been conclusively proven. For most people, wearing corrective lenses of an appropriate prescription will not cause their vision to worsen.
Wearing corrective lenses with an incorrect prescription can cause eye strain, headaches, and dizziness, and wearing unsuitable contact lenses, particularly those that do not fit the eye properly, can lead to serious eye problems, including scarring.
Despite this, corrective lenses are valuable for correcting vision, and can be a necessity to drive, do some types of work, read, or for a good quality of life.
Pros and Cons of Specific Types of Lenses
Glasses
Glasses are often cheaper than contact lenses and intraocular lenses, though choosing designer frames can greatly increase the cost.
Glasses also do not have to be cleaned as often as contacts do.
Glasses are sometimes better for correcting astigmatism.
Some people also prefer the way glasses look or find that glasses fit their personal style better than contacts or intraocular lenses.
Glasses can be worn by almost everyone.
Glasses are easier to take on and off than contacts, and can be taken off and put back on quickly.
Glasses can fall off, and are sometimes fragile.
Glasses fog up.
Glasses can have a glare and reflection, though this can be mitigated with a anti-reflective coating.
Glasses do not provide as good peripheral vision as other types of lenses.
Some people find glasses bulky and feel that they do not suit their personal style.
Glasses often do not work well for playing sports.
Contacts
Contacts provide natural vision with good peripheral vision, unhindered by glasses frames.
Contacts don't fog up, and don't cause glare or reflections like glasses sometimes do.
Contacts are often better for sports.
Aesthetically, some people prefer not wearing glasses, or consider wearing contacts a more natural look.
Contacts require frequent cleaning.
Some find contacts uncomfortable, and they are sometimes difficult for those with small eyes to wear.
Contacts can fall out, and are difficult to find if they fall out.
Contacts can be more expensive than glasses.
Many types of contacts have to be taken out for sleeping, which can be tedious.
Intraocular lenses
After getting intraocular lenses, the person no usually no longer needs glasses or contacts.
In those who get intraocular lenses after cataracts, the cataracts almost never return.
Intraocular lenses are an alternative for those who cannot get LASIK surgery.
Intraocular lenses can be implanted in a quick, outpatient procedure.
Intraocular lenses are often more expensive than either contacts or glasses, depending on a person's insurance policy.
They require implantation into the eye, which can come with complications.
Many times intraocular lenses can only be implanted into people over 40, since eye growth can disrupt the lens.
Many types of intraocular lenses are monofocal, and limit the person's focal point to that of the lens. Since most intraocular lenses are focused for distance vision, the person may still need reading glasses.
Alternatives to Corrective Lenses
The most basic alternative to corrective lenses is simply not using them and living with the impaired vision. Other alternatives for correcting vision include:

Refractive eye surgeries like radial keratotomy, automated lamellar keratoplasty, and limbal relaxing incisions.
Laser eye surgery, like LASIK, LASEK, and laser thermal keratoplasty.
Orthokeratology, which is a procedure for reshaping the cornea by wearing rigid, gas-permeable contact lenses, usually at night, that gradually change the shape of the cornea.
Additional Resources
Videos
Video 1 — A tutorial on cleaning glasses.
Video 2 — A tutorial on cleaning contact lenses.
AS FEATURED ON:
AS FEATURED ON:

By: Nikolay Pozdeev

Eyeglasses.

By: Alila

A normal eye and one with astigmatism.

By: daniel rajszczak

An eye exam by an optometrist can help determine the need for corrective lenses.

By: Africa Studio

Corrective lenses are used to correct vision problems.

By: Monkey Business

Laser eye surgery may reduce the need to wear corrective lenses.

By: naxaso

Corrective lenses can be used for farsightedness, making it easier for people to see up close.

By: Innovated Captures

An incorrect prescription can cause eye strain and headaches.

By: Miravision

Some people prefer glasses that will transition into sunglasses when in contact with bright light or sunlight.