What are Dopaminergic Pathways?
Neurons, the cells in the brain, communicate by sending chemicals called neurotransmitters to other cells. Dopaminergic pathways are neural networks in the brain that transmit dopamine, a type of neurotransmitter. There are four major dopaminergic pathways in the brain: the nigrostriatal pathway, the mesolimbic tract, the mesocortical tract, and the tuberoinfundibular pathway.
Neurons in the brain are built like trees, with branches coming out of the cell body on all sides and a long trunk projecting away from the body. The neuron sends electrical signals down the trunk of the tree, called the axon. At the base of the axon, the neuron releases neurotransmitters, which travel across a gap called the synapse to interact with another neuron. The neurons in the dopaminergic pathways have long axons which run the entire length of the pathway.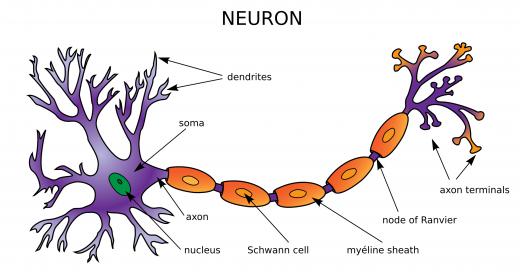 The neurotransmitter dopamine can have a large variety of effects on the brain, depending on location and concentration. It plays a role in cognitive functions such as learning, and also regulates some reward and punishment activities. In the midbrain, especially the substantia nigra, it is involved in motion regulation.
The nigrostriatal dopaminergic pathway arises in the substantia nigra. This pathway is important in regulating movement. In Parkinson's disease, there is less dopamine functioning in this pathway, which leads to the motor symptoms of the disease.
The mesocortical tract, another one of the dopaminergic pathways, connects the ventral tegmentum, a part of the midbrain, to the frontal lobes of the brain. This pathway regulates some emotion and motivation. In schizophrenia, this pathway may be disrupted, leading to irregularities in emotion such as flat affect.
The mesolimbic tract also begins in the midbrain, however, it travels through the limbic system of the brain. This circuit is involved in emotion, motivation, and reward. The mesolimbic tract is another one of the dopaminergic pathways disordered in schizophrenia.
The fourth of the dopaminergic pathways is the tuberoinfundibular pathway. This tract runs from the hypothalamus to the pituitary gland. At the pituitary gland, it sends signals regulating the secretion of hormones.
Antipsychotic drugs work by blocking some types of dopamine receptors in the dopaminergic pathways of the brain. This action, however, is not limited to the mesocortical and mesolimbic tracts, which are implicated in schizophrenia. When these drugs interact with the neurons in the nigrostriatal pathway, they can cause a movement disorder called tardive dyskinesia. These antipsychotic drugs can also interfere with the functioning of the tuberoinfundibular pathway.
AS FEATURED ON:
AS FEATURED ON:

By: Vector Art Design

Neurons communicate by sending neurotransmitters to other cells.

By: Forgiss

A disrupted dopaminergic pathway can lead to a flat affect in those with schizophrenia.

By: Athanasia Nomikou

The mesolimbic tract travels through the limbic system of the brain, and is one of the dopaminergic pathways.