What Are Estrogen Blockers for Men?
Research studies have shown that some estrogen blockers for men have a significant effect on the amount of testosterone in the blood. Estrogen is a testosterone conversion by-product in men, and higher than normal estrogen levels generally indicate lower than normal testosterone levels. When certain estrogen blockers for men are used, this leads to an increased amount of testosterone in the blood. This, in turn, is believed to increase muscle growth and strength in men. Some contend this gives male athletes taking estrogen blockers an unfair advantage, but no similar effect has been confirmed in women using estrogen blockers.
Estrogen blockers for men, which are also called anti-estrogen supplements, are popular among athletes and body builders. Most substances used as estrogen blockers are thought to act as aromatase inhibitors. Aromatase is an enzyme that is essential in the conversion of testosterone to estrogen. By blocking the action of this enzyme, it is believed that testosterone levels will rise as estrogen levels decrease. There are medications that act as aromatase inhibitors, primarily used for patients with estrogen-sensitive cancers and to treat men with hormone imbalances, but most body builders and athletes use herbal and dietary supplements thought to inhibit the production of estrogen.
Chrysin is one popular substance touted as an estrogen blocker for men. Derived from the passionflower and other sources, chrysin was believed to act as an aromatase inhibitor. A recent study has raised questions about chrysin's effectiveness in altering hormone levels in humans. No evidence was found of an increase in testosterone blood levels during the study. The substance does have anti-inflammation and antioxidant properties, though.
Maca is another ingredient frequently found in commercial estrogen blockers for men. Long used in traditional herbalism in the Andes to increase fertility, it has not been found in scientific studies to alter hormone levels in humans. Diindolylmethane, a plant chemical found in cruciferous vegetables such as broccoli, is another ingredient in some popular anti-estrogen supplements for body builders. This substance may be active in estrogen metabolism as well as having anti-inflammatory and immune boosting properties. Estrogen blockers used in medical treatment of cancer and hormone imbalances, as mentioned above, are not available without a prescription.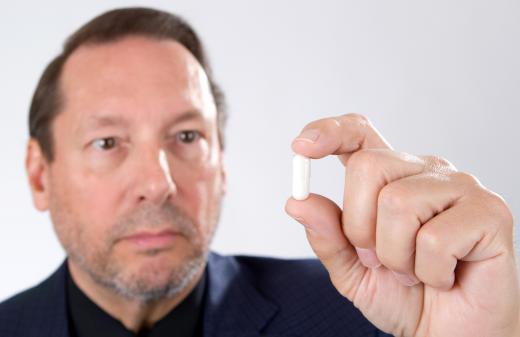 In addition to the belief that estrogen blockers for men increase muscle mass and strength, research suggests these substances may play a role in preventing male hair loss. A study using lab mice suggests that it is the presence of estrogen rather than the lack of male hormones that may lead to hair loss. As men age, it is natural for estrogen levels to rise, which may be a factor in age-related balding. Other factors that may cause an increase in estrogen in men include alcohol consumption and obesity. Many suspect that hormone mimicking chemicals in the environment also raise estrogen levels.
AS FEATURED ON:
AS FEATURED ON:

By: magann

Estrogen levels may affect balding.

By: FikMik

Studies with lab mice have shown that high levels of estrogen may contribute to hair loss.

By: sframe

Estrogen blockers for men typically increase the amount of testosterone in the blood.

By: CURAphotography

Estrogen blockers are believed to be useful in increasing muscle mass and strength in men.

By: Simone van den Berg

Alcohol consumption and obesity are two risk factors that can cause increased estrogen in men.

By: s_lena

Maca has long been used in traditional herbalism to increase fertility.