What Are Mediastinal Lymph Nodes?
Mediastinal lymph nodes are anatomic structures that play an important role the body's lymphatic system. They are located in a region of the body called the mediastinum, which is part of the chest cavity between the heart and lungs. Unlike some of the body's other lymph nodes, they cannot be felt through the skin and can only be evaluated using radiographic techniques. These lymph nodes can be enlarged due to conditions such as cancer, infection, and sarcoidosis.
Structures that filter lymphatic fluid and help eliminate substances, lymph nodes are located throughout the body. While some have a more superficial location and can be felt through the skin, others are located in deeper regions of the body. The mediastinal lymph nodes, for example, are located centrally in the chest cavity, in the area between the lungs. They surround the trachea, esophagus, aorta, pulmonary veins, and the central portion of the lungs.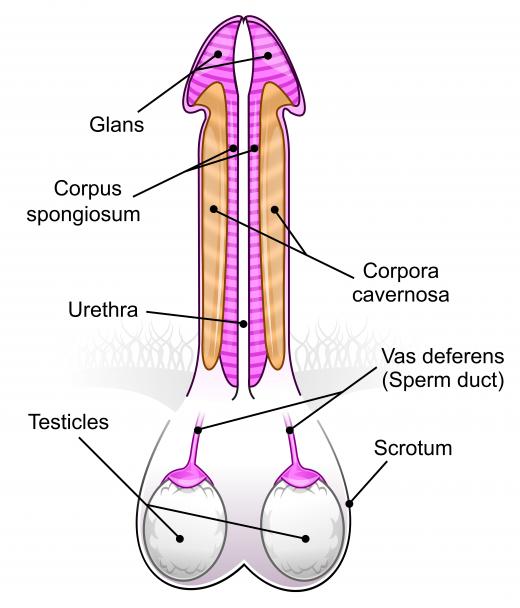 Detection of enlarged mediastinal lymph nodes relies on imaging studies, as these structures cannot be felt through the skin. An X-ray of the chest, for example, can show a widening of the mediastinal region. A more definitive diagnosis is often performed by doing a computed tomography (CT) scan of the chest. When evaluating to see if the nodes are enlarged secondary to the spread of a cancer, positron emission technology (PET) scans can identify these nodes as well.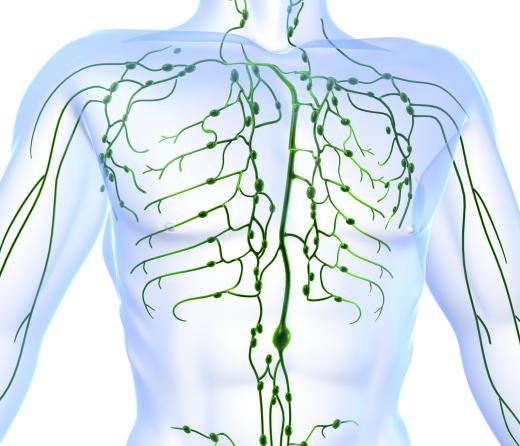 These lymph nodes can become enlarged for a number of reasons. Cancers, including non-Hodgkin's lymphoma, chronic lymphocytic lymphoma, or testicular cancer, could cause this problem, for example. Lung disease caused by a number of pathologic agents, including different types of bacteria and fungi, can also cause it. Enlarged lymph nodes in the chest are also associated with sarcoidosis, which is a condition that can cause lung problems, heart disease, and eye problems.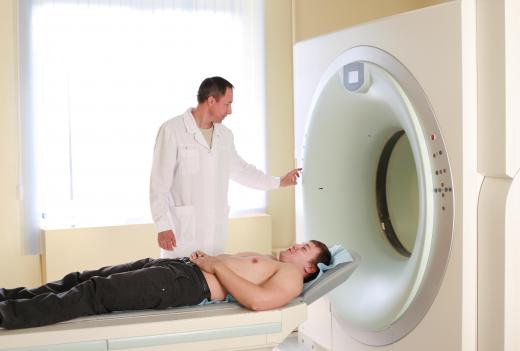 Abnormal nodes can sometimes be accessed surgically for a number of reasons. If a patient is suspected to have cancer, surgeons might try to take a sample to see if they have been affected by its spread. This provides important information about the prognosis of the cancer patient, and also helps determine what sort of treatment is best suited for that patient's disease. If a patient has enlarged mediastinal lymph nodes for unknown reasons, getting a sample of these structures can be important because a microscopic examination of the contents can help in diagnosing the underlying condition.
AS FEATURED ON:
AS FEATURED ON:

By: isyste

Enlarged mediastinal lymph nodes may occur as a result of testicular cancer.

By: Sebastian Kaulitzki

The lymphatic system.

By: Konstantin Sutyagin

If mediastinal lymph nodes are suspected, an individual may have to undergo a CT scan for confirmation.

By: snapgalleria

Mediastinal lymph nodes surround the trachea.

By: joshya

Different types of lymphoma can cause mediastinal lymph nodes to become enlarged.