What are Moisture Wicking Socks?
Moisture wicking socks are specialty footwear that are designed to keep feet dry inside of shoes during a range of outdoor and physical activities. The description "moisture wicking" says more about the sock's purpose than its exact composition, though most are made from a combination of different synthetic materials. Coolmax®, the original moisture wicking material, was developed by DuPont™, but socks made from this material are now available from many apparel companies. Different brands tend to have different formulas, and some combine traditional ingredients with more "all natural" fibers like wool. No matter their exact composition, they typically work by helping transfer moisture from the foot to the sock's outer layers to keep feet dry.
Main Uses
People wear these socks for a variety of different activities, but they're typically most popular for outdoor sports and physical activities in which a person is exposed to a lot of environmental moisture, prone to a lot of foot sweat, or both. Dry feet are important for a number of reasons. The first, for most people, is comfort; wet, sweaty feet can be a distraction and aren't usually pleasant. Moist socks are also prone to slipping, which can cause blisters and other skin irritations. Odor is also sometimes a problem. Wet clothing is also faster to freeze, which can be a concern during the winter months, and as a result, these socks are often really useful when it comes to preventing freezing and frostbite on the toes and foot.
How They're Made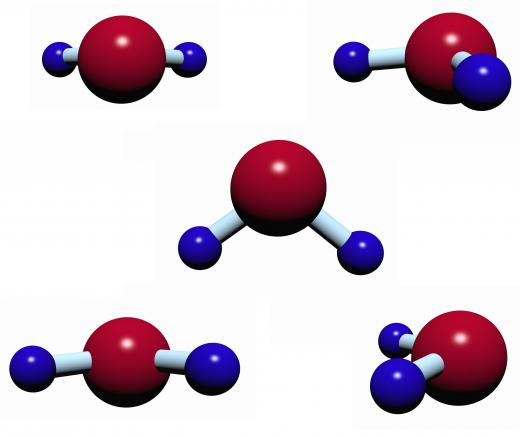 Moisture wicking socks are usually made of a blend of synthetic microfibers such as spandex, nylon, and polyester. The science of moisture wicking is rather straightforward. Sweat is 99% water, and in many cases it's easiest to understand the process by examining the molecular composition of water. Known chemically as H2O, water molecules have one oxygen atom joined to two hydrogen atoms. On a molecule of water, the two positively charged hydrogen atoms form on one side of the much larger and negatively charged oxygen atom, creating a polar molecule that is positively charged on one end and negatively charged on the other.
Opposite charges attract, and water molecules stick to each other in a process known as cohesion. Wicking fibers are created with positive and negative charges on their surfaces to attract water molecules, creating capillary action and forcing the water molecules through the fabric to the other side. Many socks in this category are also treated with chemicals that aid in the wicking process and, as a result, they have special care instructions. Some are hand-wash only, and others can't go in dryers, at least not on high heat. It is important for all consumers to read the label on these sorts of socks before attempting to wash and dry them.
Role in Layering
Though these socks can be worn on their own, outdoor enthusiasts, hikers, and those participating in winter sports will often layer moisture wicking socks under thick, warm wool socks to help prevent sweat-related problems. Moisture wicking material moves sweat to the outside of a person's clothing so that it can evaporate, though it's usually most effective if it's close to the source of the moisture from the beginning — it can be difficult for the material to work properly if placed against a soaked cotton sock rather than a sweaty foot, for instance.
Layering usually has to be done with some intentionality. It's usually important that the top layer not be made of cotton or any another material that will trap and retain the moisture, since this can defeat the overall purpose. Even if moisture is wicked from the skin, if it gets trapped between the outside of the foot and the shoe a person is still likely to experience problems. Wool or synthetic materials are usually better choices.
Other Advantages
Moisture wicking socks can also be used to control foot odor. During physical activity or simply throughout the day, drawing moisture away from the foot can help reduce the build-up of odor-causing bacteria. Many socks are also treated with odor-reducing chemicals or have copper fibers woven into them to help eliminate bacteria and reduce odor.
AS FEATURED ON:
AS FEATURED ON:

By: Robert Neumann

Moisture wicking socks help keep feet warm and dry.

By: Ioana Davies (Drutu)

Moisture wicking socks are designed to draw water molecules away from the skin.

By: dragon_fang

Moisture-wicking socks help prevent frostbite in cold weather.

By: Marina Karkalicheva

Moisture wicking socks are recommended for people participating in winter sports to keep feet dry.

By: Elenathewise

Moisture-wicking socks are usually made of synthetic microfibers.