What is Wicking Material?
When working out or participating in sports, many athletes and recreationalists choose to wear clothing made of wicking material, which pulls moisture away from the body to keep the athlete dry and comfortable. Some clothing made of wicking material is waterproof as well, keeping outside moisture from precipitation, etc. away from the body. The general idea behind wicking-type material is to keep the skin dry and comfortable to avoid chafing and swings in body temperature.
Synthetic fibers such as polyester and even teflon are often used to make wicking materials that are lightweight and comfortable, though natural fibers such as wool also wick moisture effectively. Wool tends to be less comfortable than some of the synthetic materials, however, and though cotton can wick moisture to a certain extent, it is very slow to dry and is better used as a middle layer.
This material wicks moisture by encouraging a capillary action — that is, the material uses a tube-shaped pattern to encourage water to move away from the skin. Water generally moves downhill toward gravity like other substances, but when moving through tubes, it tends to move upward, away from gravity. When water makes contact with the tiny tube-shaped fabric, the moisture is pulled from the skin and into the tube, keeping the skin dry.
Clothing made of wicking material is typically, though not exclusively, used in a layering system. For example, when participating in winter sports, many people will wear a base layer — a layer of clothing closest to the skin — to wick moisture away from the skin. This base layer will then be worn beneath a warmer middle layer and a waterproof outer layer, thereby providing warmth, waterproof ability, and wicking ability. This is the best combination for outdoor sports in which the wearer must stay warm and dry. Keeping the moisture away from the body keeps the wearer's body temperature from fluctuating due to cool moisture building up on the skin.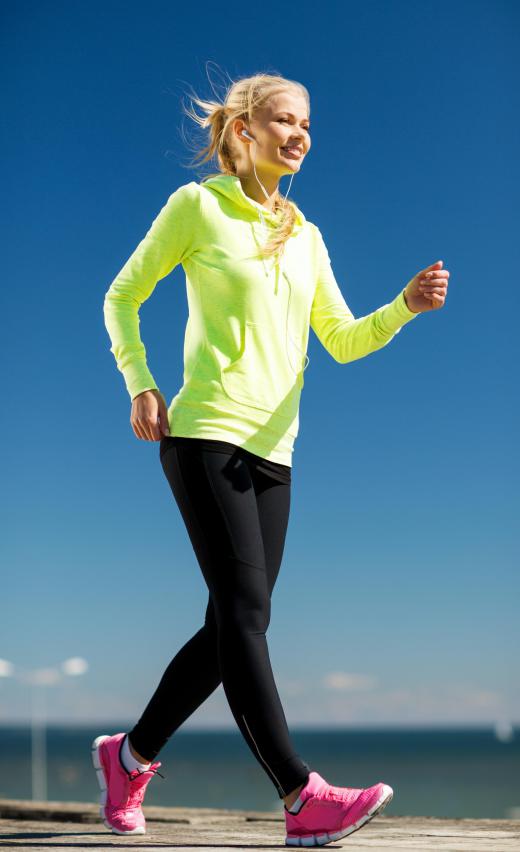 Summer athletes use clothing made from wicking material as well, either with layers or by itself. Thin wicking material can be used to make sports bras, shorts, athletic t-shirts, and socks, which can all be used in conjunction with other layers or simply worn alone in warmer conditions. Moisture wicking socks are particularly helpful, since blisters and hot spots are more likely to form on the foot when the foot sweats and the moisture stays in contact with the skin.


By: camerawithlegs

Many people wear a base layer to wick moisture away from the skin when participating in winter activities.

By: Boggy

Many athletes choose to wear clothing made of wicking material.

By: Karen Roach

A sports bra made out of wicking material.

By: Robert Neumann

Moisture wicking socks may help prevent blisters from developing on feet.

By: Syda Productions

Wicking material promotes comfort by keeping moisture away from the skin.

By: Tijana

The wicking material in a tank top helps to keep the athlete cool.