Monocytes are a type of leukocyte or white blood cell which play a role in immune system function. Depending on a patient's level of health, monocytes make up between one and three percent of the total white blood cells in the body. They can be counted as part of a blood test, and changes in their levels can indicate changes in a patient's health. As a general rule, a low monocyte count is a good sign, and a high count indicates that a problem is present.
These cells are made in the bone marrow, and they spread through the body in one to three days. They can develop into either dendritic cells or macrophages. Dendritic cells belong to a group of cells known as antigen presenting cells, because they acquire antigens and show them to T cells so that the T cells learn to recognize dangerous antigens. Dendritic cells typically present antigens to T cells before they are fully developed, so that the T cell can respond appropriately after it has been shown an antigen.
Macrophages are cells which eat other cells. Classically, they attack any foreign material, such as a bacteria or virus, consuming it so that it cannot hurt the body and preserving an antigen so that the body will be able to recognize the foreign material in the future. Macrophages can also eat cells in the body which have been infected by a pathogen, to curb the spread of the pathogen and keep the body healthy.
Levels of monocytes in the blood tend to rise when someone has an infection, because more of these cells are needed to fight it. Monocytes can also increase in response to stress and other factors. A high monocyte count may be referred to as monocytosis, and it is typically addressed by determining why the count is so high, and addressing the problem. For example, if monocytes are elevated because of an inflammation caused by a viral infection, the patient would be given medication to kill the virus and bring down the inflammation.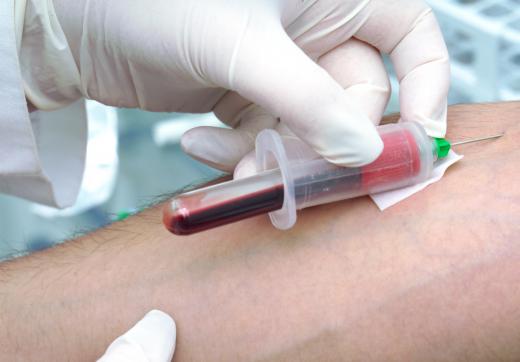 Typically, when a monocyte count is requested, the lab will also run other tests on the blood to generate a complete picture. The normal values can vary widely, making it important for patients to discuss the results of blood tests with doctors, rather than trying to puzzle them out on their own. Because many things can cause a high value, having a high count is not necessarily a cause for major concern.
AS FEATURED ON:
AS FEATURED ON:

By: apple1

A diagram showing different types of white blood cells, including monocytes.

By: Creativa

Stress may cause a high monocyte count.

By: Tim UR

Monocytes can be counted as part of a diagnostic blood test.

By: vvoe

Macrophages promote tissue growth and repair following an injury.

By: Photographee.eu

It's important for patients to discuss the results of their monocytes blood test with their doctor.