What Are Primobolan Side Effects?
Primobolan side effects include acne, hair loss, thinning hair, voice changes, body hair growth, menstrual problems, aggression, and insomnia. The side effects of the steroid are mild and less common than side effects with many other steroids. Women are affected by many of the common side effects more often than men are because the drug does not convert to estrogen after use, like many other injectable steroids do.
Primobolan is banned in the United States by the the U.S. Food and Drug Administration because it is a bodybuilding supplement that does not have legitimate medical uses, as some other anabolic steroids do. Since the drug is not approved for medical use, the side effects are not heavily monitored or studied. The drug could cause other less common side effects in some individuals. Bodybuilders and athletes should consult heavily with their doctors before using Primobolan or any other steroid as a performance-enhancement drug.
The steroid is classified as an anabolic androgenic steroid, meaning that it can cause virilization side effects in some women who use the drug. These Primobolan side effects can cause women to grow more body hair or develop a deeper voice. Menstrual changes are also a concern for women who use Primobolan, since the drug may affect fertility or contribute to other reproductive health problems.
Acne is one of the most common Primobolan side effects. Breakouts on the chest, shoulders, and back are the most common places to suffer acne side effects, though acne lesions and pustules can form on the face as well. This side effect occurs in both men and women. Prescription acne medications can help ease acne caused by steroid use.
Hair loss and thinning can occur in both women and men as a result of Primobolan use. In men, this side effect often appears as a receding hairline, while women may notice thinner hair over their entire head. Drugs, such as minoxidil and ketoconazole, and other medical treatment to thicken the hair can help minimize the impact of this side effect.
Other Primobolan side effects include increased unexplained aggression, insomnia, and an increase in sweat production, even when the user is not working out. These side effects occur with many other steroids as well, and there are no definitive medical treatments to minimize or eliminate these side effects if they occur. They usually resolve on their own after the person stops using the drug.
Let's take a closer look at some of Primobolan's adverse reactions.
Hirsutism
Studies show that excessive androgens (hormones such as testosterone) in the female body can develop male-like features. Androgenic compounds tend to increase hair growth in women. Therefore, androgenic steroids can cause hirsutism (excessive hair growth in the ladies).
Many believe that the synthetic variants of testosterone cause a more significant amount of hair growth. However, any androgenic steroid can contribute to hair growth in women. Some athletes do not consider it a problem, while others find it a significant side effect. 
Voice Changes and Enlarged Clitoris
As already mentioned, using anabolic steroids like Primobolan induces the conversion of the female body to a more male-like form. 
In a study, ten athletes took steroids (believed that anabolic steroids improve muscle strength).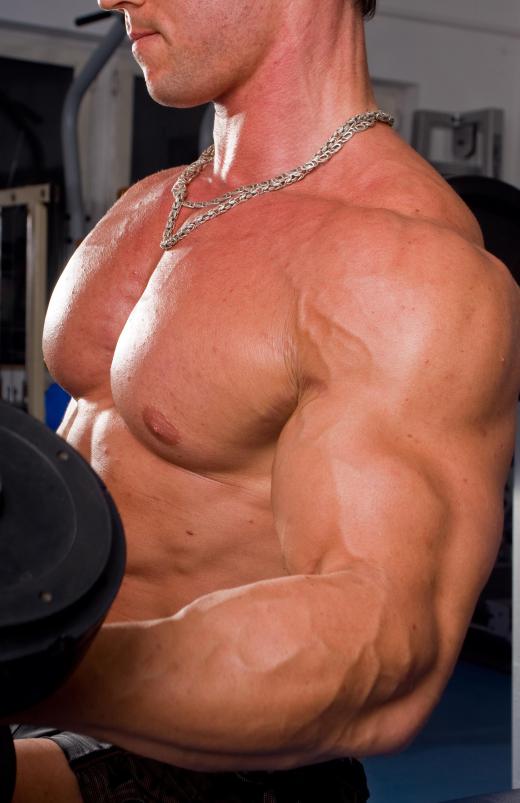 The most prevalent changes noted by researchers included deepening and hoarseness of voice and increased facial and body hair. All the members also had enlargements in the size of the clitoris and irregular menstrual cycles. There was also an increase in aggressive behavior.
Sometimes, the voice changes induced by an androgenic anabolic steroid like Primobolan are temporary and go away after discontinuing the steroid. However, long-term usage can bring permanent changes. 
As per a case study, a female bodybuilder used anabolic steroids for six weeks and noted changes in her voice. This case of a 27-year-old was followed for a good 20 years to manage the pitch and frequency of the bodybuilder's voice. Treatment involved multiple surgical interventions indicating that steroids can have long-term devastating effects on the female body.
Less Common Side Effects
Some other less common side effects of Primobolan include: 
Gynecomastia
Primobolan can increase the size of breasts in males, i.e., gynecomastia. Studies show that the use of anabolic steroids is directly linked to gynecomastia in bodybuilders. The condition can be managed using liposuction and other surgical procedures.
Hypogonadism
Excessive and prolonged use of anabolic steroids (like Primobolan) can cause reduced production of sex hormones in men, i.e., hypogonadism. The good news is that these complications are easily manageable.
Cardiovascular Effects
Primobolan is a member of the androgenic-anabolic steroids (AAS). Therefore, it has cardiovascular effects similar to other AAS. Wrestlers and bodybuilders often suffer from the adverse effects of chronic steroid abuse. 
Evidence suggests that the steroid causes an increase in the size of the heart, i.e., cardiac hypertrophy, and can also lead to a heart attack (myocardial infarction). The fat levels of the blood (serum lipoproteins) are also altered with prolonged steroid use. It can even cause sudden cardiac death.
Management of Hair Loss/Thinning Caused By Primobolan Use
Men and women suffering from hair loss and hair thinning due to Primobolan use can try different medicines. Besides minoxidil, drugs like finasteride are commonly used to stop hair loss. 
However, the culprit drug must be discontinued before management is begun.
Patients with severe alopecia (hair loss) can revert to micro-needling techniques and hair transplants.
Why Was Primobolan Invented?
Metenolone enanthate was introduced in 1960 and started selling under the brand name "Primobolan" in 1962. Before Primobolan became a popular bodybuilding drug, it had several medical uses. 
The drug was prescribed for the treatment of malnutrition and muscle loss resulting from illnesses, operations, and infections. That is because the steroid increases protein synthesis in the body and thus faster growth of skeletal muscles.
The anabolic steroid was given to increase the weight of infants weighing less than average. It was also recommended for patients with post-operative muscle loss, breast cancer, and osteoporosis.
Primobolan has also proven effective in treating conditions like HIV/ AIDS as it contains excellent immune-boosting properties and helps prevent muscle loss and bone density. 
Injectable vs Oral Primobolan
Primobolan is available in oral and injectable forms. Injectable Primobolan is considered more effective than the oral counterpart and has a longer half-life of up to 10 days due to the enanthate ester attached to it. Note that the compound will remain in the system for several weeks after the last dose before it completely exits your system; it's just that half of the dose will taper out of the body after the average period of 10.5 days. 
Accordingly, retaining optimal levels of the drug in the system does not require daily administration, and injecting it twice a week after a three-day gap works well to maintain blood levels of the drug at optimal levels.
In contrast, oral Primobolan has a half-life of about 5 hours and a detection time of several weeks. However, it requires higher levels of doses to be effective and give the best results. 
It has low liver toxicity and is best suited for those nervous about using injections to take the steroid but heavier on the pocket too.
AS FEATURED ON:
AS FEATURED ON:

By: Klaus Eppele

Primobolan side effects may include acne.

By: fmarsicano

Menstrual problems may be a side effect of primobolan.

By: Gajus

Primobolan use may cause fertility problems.

By: V&P Photo Studio

Body hair growth may occur as a side effect of primobolan.

By: Csák István

According to the USFDA, Primobolan is a bodybuilding supplement that has no medicinal use.

By: blazic27

Thinning hair can be a side effect of Primobolan use.

By: bramgino

Those taking Primobolan may experience insomnia.