What are the Benefits of Mangosteen Capsules?
Mangosteen capsules are nutritional supplements whose contents are derived from the tropical fruit called the mangosteen. Unrelated to mangoes, these fruits are known to have been used locally for many years to combat a number of ailments. The popularity of mangosteen capsules for use as a dietary supplement increased dramatically in the early to mid-2000s, as well as the consumption of mangosteen juice for the same purpose. The capsules are usually marketed as a way to increase the antioxidant content of one's diet.
The potential benefits of mangosteen capsules are many. Indeed, there is anecdotal evidence to suggest that the nutrients found in the mangosteen fruit can prevent or cure almost every common ailment. Claims suggest that mangosteen may, among other things, slow the aging process, reduce allergy symptoms, improve the immune system, prevent Alzheimer's Disease, lower cholesterol and blood pressure, and fight fungal, viral, and bacterial infections.
Mangosteen capsules are known to contain many important chemicals and nutrients. Some of these include the class of nutrients known as xanthones. Xanthones have been tested in laboratory conditions and have been found to have cancer-fighting properties when studied in test tubes. Additionally, mangosteen has been found to fight infections and inflammation in test tube studies.
Further studies must be done, however, to determine what constitutes a safe level of xanthones in the human body. This is because there is some evidence to suggest that overexposure to these chemicals can be toxic to the functioning of mitochondria, which are essential to the life of individual bodily cells. Mitochondrial impairment can lead to lactic acidosis, a painful and serious medical condition.
According to research, most of the important nutritional benefits of the mangosteen fruit lie in the outer covering or rind of it. In southeast Asia, the mangosteen rind has been used for many generations for medicinal purposes. The rind was made into a tea which was used to treat diarrhea, bladder infections, and venereal diseases. A topical ointment could also be made from the rind to treat skin conditions.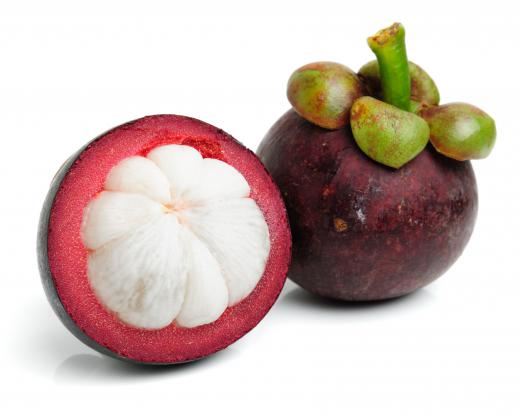 Most often, mangosteen capsules incorporate the rind into their composition, thereby taking full advantage of the fruit's nutritive benefits. A good method to use in evaluating which mangosteen capsule to use is to consider its Oxygen Radical Absorbance Capacity (ORAC) number. The higher the ORAC number, the more antioxidant properties the supplement has. Foods are also assigned an ORAC number, and this can be a convenient way to measure one's antioxidant intake in general.
AS FEATURED ON:
AS FEATURED ON:

By: David Stuart

It has been claimed that mangosteen may reduce allergy symptoms.

By: nyul

Mangosteen may help lower blood pressure.

By: WavebreakMediaMicro

It has been claimed that mangosteen may help slow the aging process.

Whole and cut mangosteen.

Mangosteens.

Unripe fruit growing on a mangosteen tree.

By: tashka2000

Mangosteen juice is used as a dietary supplement.