What are the Benefits of Taking Methotrexate for Rheumatoid Arthritis?
Methotrexate is a disease-modifying anti-rheumatic drug that was first developed to treat cancer but was found to be effective as a treatment for rheumatoid arthritis. It has been found to reduce symptoms and halt or even reverse disease progression when administered to rheumatoid arthritis patients. The benefits of taking methotrexate for rheumatoid arthritis include its relative ease of administration, its low toxicity, its efficacy, its rapid onset of effect and its low cost compared to other rheumatoid arthritis treatments.
Taking methotrexate for rheumatoid arthritis is effective because the drug lowers immune response — and thereby reduces inflammation — by preventing cells from metabolizing essential nutrients. Individuals who take methotrexate for rheumatoid arthritis generally see a dramatic improvement in their symptoms in six to eight weeks, and symptoms generally continue to improve as long as the rheumatoid arthritis sufferer continues treatment. Methotrexate for rheumatoid arthritis treatment is usually administered in a weekly oral tablet dose. Initial doses usually begin at 10 milligrams per week and are gradually increased to 20 milligrams per week by the end of the first eight weeks. The upper dosage limit is usually 25 milligrams per week, but this dosage can be exceeded on a case-by-case basis.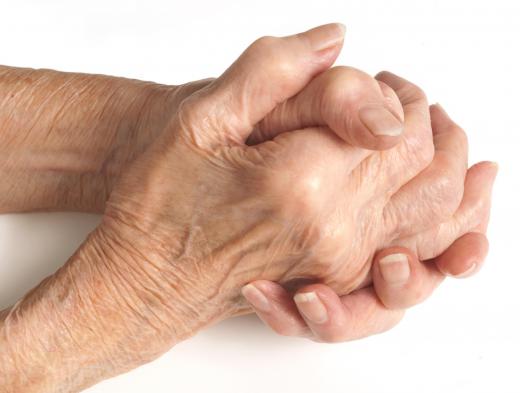 People who take methotrexate for rheumatoid arthritis take a relatively small dose compared to those taking the drug for cancer treatment. Such patients, however, can still experience severe and even life-threatening side effects including nausea, anemia, hair loss, lung disease and liver damage. Taking the drug in smaller, more frequent doses, taking the drug at night, or taking the drug subcutaneously might prevent nausea.
Routine blood tests may be administered to check for anemia, but periodic liver biopsies might be required to check for liver damage. Physicians might choose not to prescribe methotrexate to rheumatoid arthritis patients who have a history of heavy alcohol use or abuse, because of the risk of liver damage. Women who are pregnant or planning to become pregnant should not take the drug, and male methotrexate use might also increase the risk of birth defects.
AS FEATURED ON:
AS FEATURED ON:

By: Fenton

Methotrexate can reduce arthritis inflammation.

By: Nenov Brothers

Methotrexate has been found to halt and even reverse the progression of rheumatoid arthritis.

By: maska82

Arthritis causes pain and inflammation in the joints.

By: Tracy Whiteside

Females develop rheumatoid arthritis three times more often than males.

By: designua

Rheumatoid arthritis an autoimmune disease that commonly causes joint inflammation in the hands and feet.

By: bst2012

Genetics and family history are among the risk factors for developing arthritis.